Peanut Butter
The first on our list of accidentally vegan foods is peanut butter. This one is just a tad obvious, but peanut butter is so named because of its consistency, not because it contains any actual butter. Instead, peanut butter is made of mashed peanuts, salt, oil, and sometimes preservatives – that's it.
That's great news for vegans everywhere, whether you are a bodybuilder trying to maximize their macros or simply a hungry everyman searching for a simple snack. 
One note is that it's important to review your peanut butter before buying. Some varieties do contain honey, which isn't compatible with all vegan lifestyles.
Reese's Puffs
Everybody remembers the catchy Reese's Puffs commercials from the early 2000s, the ones that advertised their peanut-butter-chocolate flavor. But despite the advertisement for chocolatey delight, Reese's Puffs are a vegan cereal by most definitions (more on that in a moment).
While you might expect chocolate to require dairy, the General Mills corporation is thinking on an entirely different level. The chocolate flavor comes from Hershey's cocoa and the light brown appearance of some of the puffs comes from caramel coloring. In other words, they are totally dairy free.
The one asterisk is that Reese's Puffs do contain Vitamin D3. This nutrient can sometimes come from animal sources like sheep's wool, though it can also come from lichen (source). General Mills does not list whether their D3 is sourced from animals, so it is up to you to assess if Reese's Puffs are right and truly accidentally vegan.
Ritz Whole Wheat Crackers
When I want a light snack to go with cheese or strawberry-rhubarb jam, crackers are the best bet – but the problem is that many crackers contain whey, butter, or other dairy ingredients.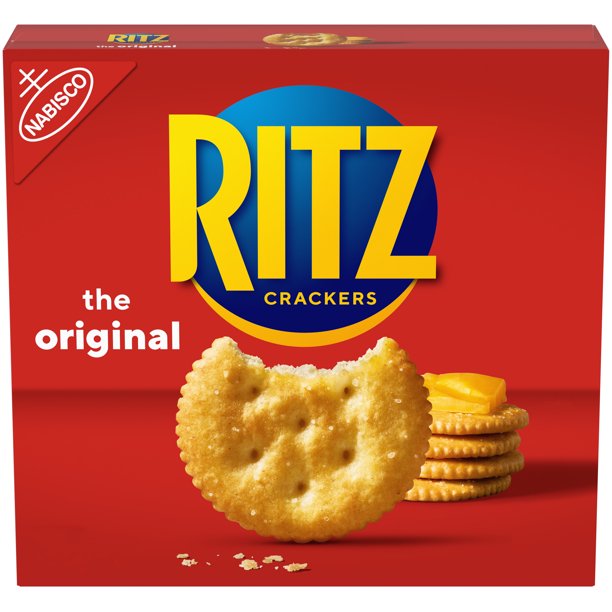 This, however, is not a problem for standard Ritz crackers, including both the original and the whole wheat varieties. 
Ritz's light finish, satisfying crunch, and buttery flavor do not come from any non-vegan malfeasance, but from a combination of wheat, soy, standard baking ingredients, and good old-fashioned cracker baking expertise. 
The upshot is that if it's a cracker you crave, Ritz is there for you.
Dave's Killer Bread
Bread is one of the most challenging things to navigate when going vegan. Although most types of bread do not
require any dairy or eggs to make, plenty of brands still add milk, whey, and other non-vegan ingredients for cheap flavor. But not Dave's Killer Bread.
The brand was created by formerly incarcerated person Dave Dahl and has received acclaimed for its high fiber and protein – not to mention its delicious taste. And, as a bonus for vegans, all Dave's products are free of dairy or eggs.
The benefit of Dave's is that, as an "accidentally" vegan food, you never get the sense that you're losing out on anything – it feels like you're eating run-of-the-mill bread, not space food, which is always a plus.
Oreos
Along with Reese's Puffs and chocolate syrup (more on that in a moment), Oreos are one of the most surprising accidental vegan foods.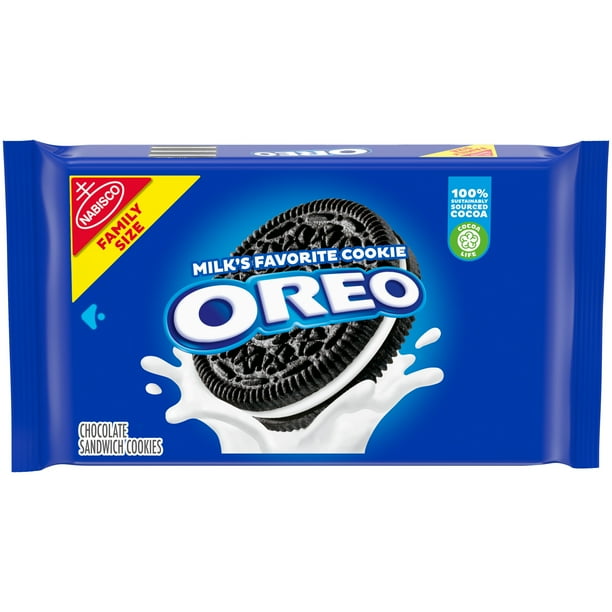 That's because, when you taste Oreos, they don't taste like they have any ultra-organic ingredients or alternative sweeteners – they just taste like good, average sweets. But the fact of the matter is that despite their chocolatey exterior and delicious creamy interior, standard Oreos (and most other flavors) don't contain milk, cream, or other problematic ingredients. 
This makes them an excellent alternative to snack cookies like Chips Ahoy, which do contain chocolate chips with dairy in them.
Does that mean you should be scarfing down Oreos every chance you get? No, for reasons we'll discuss at the end of this article. But if you have a hankering for a slice of chocolate cookie heaven and can exercise mindful eating, then Oreos can be a fun treat every once in a while.
Ghirardelli Caramel Hot Cocoa Mix
This might come as a shock, but even a chocolate brand as famous as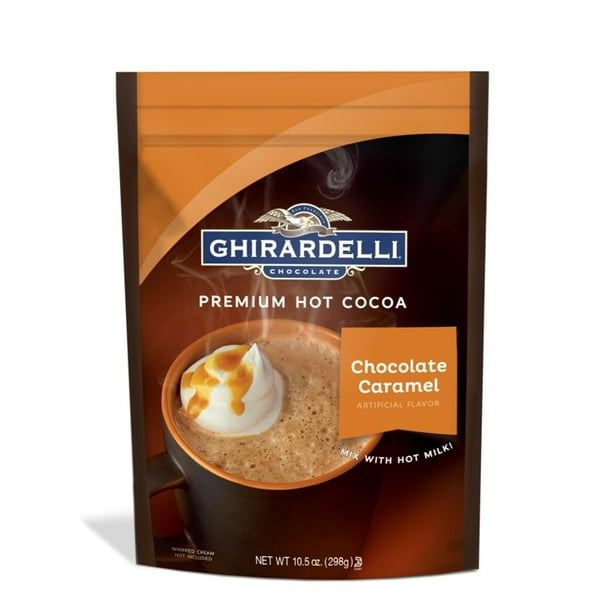 Ghirardelli and even a beverage as famously dairy-abundant as hot cocoa can be vegan!
Ghirardelli's Caramel Hot Cocoa Mix contains just a few ingredients, including soy lecithin, vanilla, and – here's the kicker – unsweetened chocolate. Long story short, there is no dairy to be found in this chocolatey delight!
It's unclear exactly why Ghirardelli's hot cocoa mix is vegan, but a likely reason is that it would be redundant. Since hot cocoa mixes are usually mixed in with milk, there's no need to add more milk to the powder itself – it could overdo the flavors, and it costs less money to use unsweetened chocolate.
Hershey's Chocolate Syrup
Next on the vegan chocolate train is Hershey's Chocolate Syrup. This ambrosiac substance has been a treat for chocolate lovers for generations, but many do not know that it does not contain any milk! 
While a traditional or homemade chocolate sauce would probably use some milk for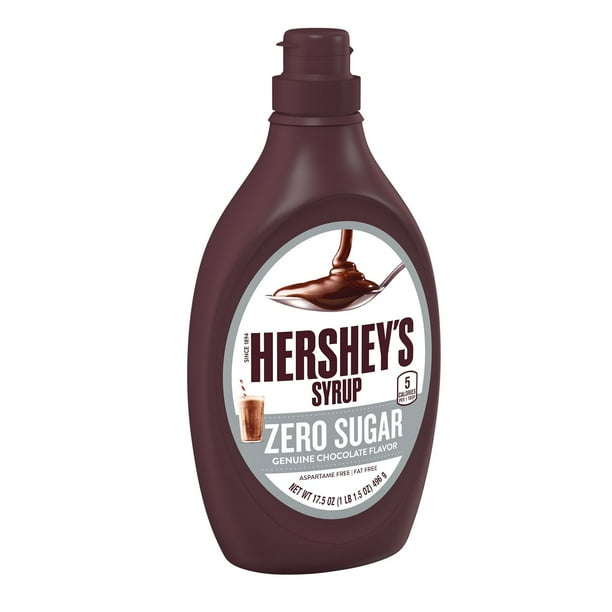 consistency or sweetness, Hershey's recipe uses corn syrup and high fructose corn syrup to fill both of these needs. The result is that the syrup ends up tasting delicious, and does not require chocoholics to participate in any animal cruelty.
Ramen
This one may come as less of a surprise, but ramen is a common food that's also usually vegan. 
If you're interested in the kind of ramen you buy in bulk packets at the grocery store, such as Nissin Top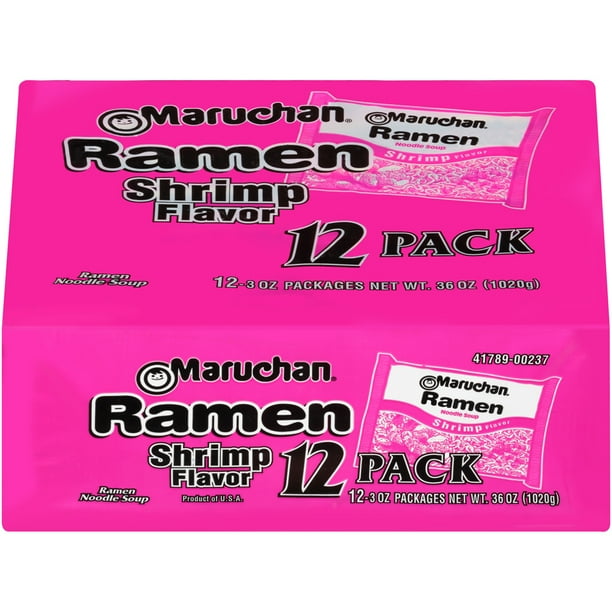 Ramen, you have vegan options. The Soy Sauce and Chili flavors are vegan, so they're an easy option if you have a ramen fix.
But if you just want the noodles or prefer to add flavors yourself, then ramen noodles themselves are always accidentally vegan. Ramen noodle recipes almost always avoid eggs or dairy, simply using wheat instead. As a result, if you'd like some noodles, you can tear them out of the package and throw away the flavor packet.
Spicy Sweet Chili Doritos
The final accidental vegan food is another surprising one. At this point in your tenure as a vegan, you may think that savory, cheesy chips are completely out of your purview. You probably think that Doritos are the last thing you can eat. But if you think that, you'd be wrong.
Doritos is most famous for its Cool Ranch and Nacho Cheese flavors (the ones in the blue and red bags, respectively), and as their name suggests, they incorporate milk ingredients. But the less famous sibling to these flavors is none other than Spicy Sweet Chili, which comes in a warm purple bag and contains no dairy.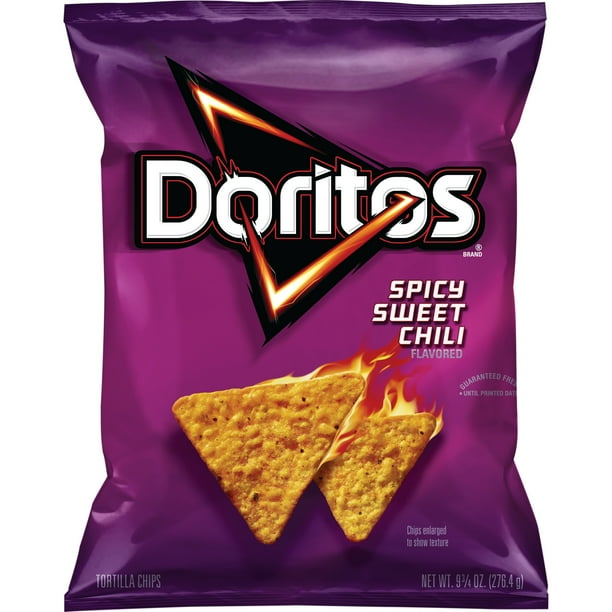 This is great news for chip lovers: although they are not the most popular flavors in the Doritos catalog, the Spicy Sweet Chili chips are still an excellent addition to any vegan pantry and make a great snack on the road.