Last month, Angelenos celebrated the grand reopening of Tail O' the Pup, the city's beloved hot dog-shaped restaurant that has been slinging franks since 1946. For the first time since closing in 2005, Tail O' the Pup is back with a newly revamped menu, and this time, the LA icon is slinging vegan hot dogs. 
Originally designed by architect Milton J. Black in 1939, the iconic restaurant is the city's most famous example of mimetic architecture, a style of design that incorporates a building's function into its visual elements. The landmark restaurant, restored by its new owner the 1933 Group, is shaped like its signature dish complete with buns, sausage, and a generous layer of mustard. 
The 1933 Group—best known for its careful, historic restorations of restaurants across LA including the barrel-shaped Idle Hour bar in North Hollywood—conducted extensive research to revitalize the menu at Tail O' the Pup, including meeting with former employees for insight into reiterations of the original menu over time. 
Today, Tail O' the Pup offers nine hot dog varieties alongside hamburgers, french fries, and dairy-based soft serve. Historic menu items such as the 1946 Pup (featuring a split and grilled sausage on a toasted bun topped with grilled onions and housemade mustard) and the 1976 Pup (a classic, fuss-free hot dog with ketchup and mustard) offer a taste of nostalgia. Newer varieties include the Chili Pup (topped with housemade chili, mustard, and raw onions), Cheezie Pup (made with dairy cheese and mustard), and the Chicago Pup (featuring raw onions, a dill pickle spear, diced tomatoes, sport peppers, sweet relish, mustard, and poppy seeds), among others.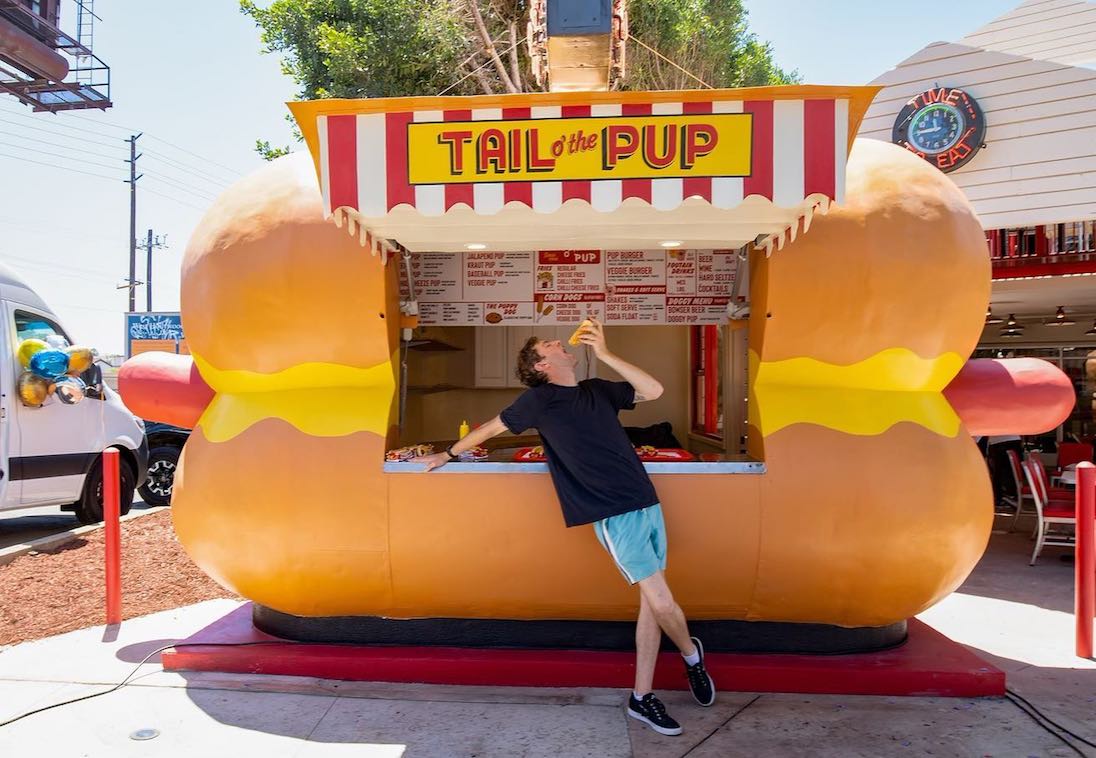 Courtesy of Tail O' the Pup
While hot dogs at Tail O' the Pup aren't vegan as is, customers can opt for vegan franks made by Field Roast, plant-based chili, and dairy-free cheese for an additional upcharge of $1.50 for sausages and cheese and $2.00 for chili. For another $1.50, patrons can swap the standard bun for a gluten-free, vegan bun. Plant-based burgers also have a place on the menu at Tail O' the Pup, where they're topped with vegan cheese, grilled onions, tomato, butter lettuce, ketchup, and house mustard on a vegan bun.
Despite the city's warm reception of this iconic institution, a few Angelenos have expressed discontent at the addition of vegan-friendly options, citing that they veer too far from the original menu, reports the WeHo Times. But for the 1933 Group, embracing inclusive dietary options was of utmost importance. 
"Our team is dedicated to creating tasty dogs, snacks, shakes, and more that satisfy modern tastes while honoring Tail O' the Pup's history," reads the restaurant website. "We work tirelessly to source high quality ingredients and develop housemade recipes with our guests in mind, and we are proud to feature a diverse menu featuring vegetarian and gluten-free options." 
Bobby Green, co-owner of the 1933 Group, and Tail O' the Pup General Manager Jacob Cusano reiterate the importance of evolving menus to better suit modern palates. "As times progress and people's taste buds, change it only makes sense to evolve the menu as well," Green and Cusano told VegNews. "We know we didn't do the exact same menu, not because we didn't want to hold the history, but because we wanted slightly healthier and better quality products. Our menu will expand [in the future] so be on the look out for our new items." Luckily for the plant-based crowd, Cusano also notes that Tail O' the pup is continuing to research and develop new menu items with vegans in mind.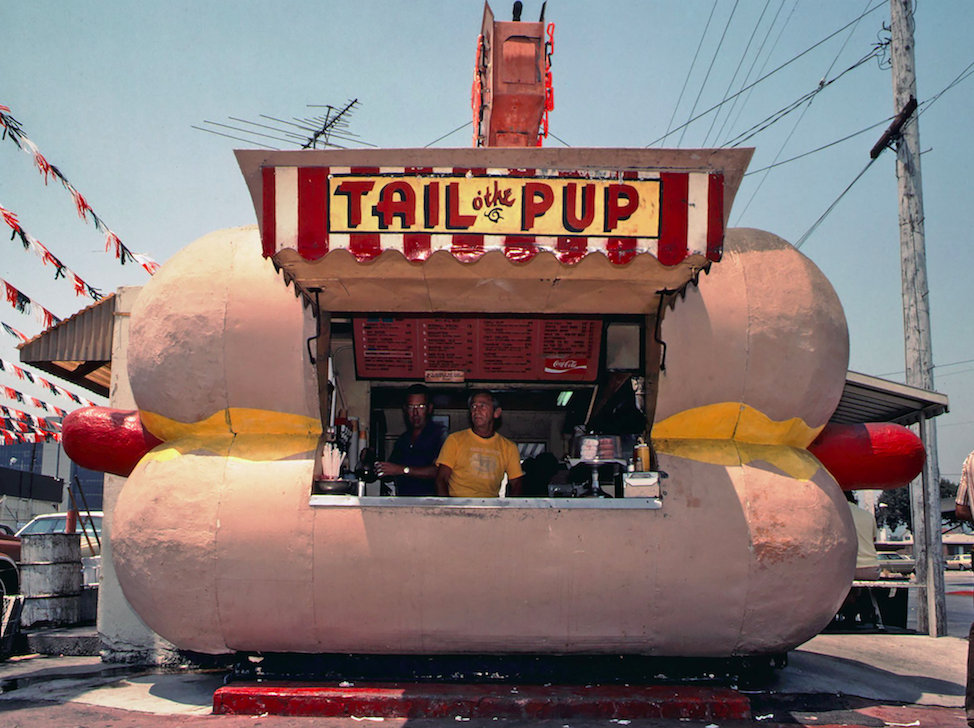 Courtesy of Tail O' the Pup
The history of Tail O' the Pup
An icon worthy of celebrity status itself, Tail O' the pup has earned recognition from some of the world's most famous stars throughout the years. In fact, its origins can be traced to celebrity couple Veloz and Yolanda Casazza, a dance duo best known for their ballroom dancing. 
The pair had always dreamed of running their own restaurant, but after their architect finished designing the hot-dog-stand-turned-restaurant in 1939, World War II put their plans on hold. The couple felt it was best to wait until the war ended before they officially opened Tail O' the Pup, and in 1946, they were finally able to unveil their hot dog stand to the world. 
The stand was a hit, and soon, celebrities began flocking to Tail O' the Pup for a taste of its buzzed-about hot dogs. Jay Leno, The Go-Go's, and the late Betty White were among their clientele. And today, the restaurant's new location—where world famous rock band The Doors recorded a number of songs—is also rich in celebrity history. 
Despite the restaurant's early success, Veloz and Yolanda Casazza ultimately sold the hot dog stand in 1976. The new owner, Eddie Blake, operated the restaurant until 2005 when it closed for more than a decade. While the iconic hot dog stand was wheeled into storage, the Valley Relics Museum swooped in to save it, and ultimately sold the stand to the 1933 Group, who had been eyeing it for decades. Green first came across Tail O' the Pup on a trip to Los Angeles before moving to the city to work as a child actor. He hasn't stopped thinking about it since, and last month, his dream of revitalizing the concept—complete with a modern menu of meatless options—came to fruition. 
For the latest vegan news, read:Why This Entrepreneur Went From Farming Pigs to Making Vegan BaconHow This Vegan-Friendly Bakery Rose Above Anti-LGBTQ Hate CrimesBrazil's Vegan Meat Giant Takes Over 4 LA Restaurants for 4 Weeks
Happy birthday, VegNews! To celebrate, we're having a mega subscription sale—complete with incredible vegan prizes.
CHECK IT OUT
Happy birthday, VegNews! To celebrate, we're having a mega subscription sale—complete with incredible vegan prizes.
CHECK IT OUT