Disney properties are much more than a collection of theme parks; they offer experiences that bring out the joy in everyone, at any age, making even a typical Tuesday seem magical. VegNews had the privilege of attending a vegan tasting on such a Tuesday as part of one of many California Adventure food celebrations—the annual Food and Wine Festival. 
For the first time since the festival's inception, Disney dedicated one restaurant to a completely plant-based menu. From March 3 to April 25, the Paradise Garden Grill eschewed all animal ingredients and churned out a delicious array of vegan options with flavors that spanned the globe. 
While this menu was limited to the duration of the festival, it served as a springboard to more plant-based innovation in the park. California Adventure Park is setting itself up as not just the home of the Marvel Campus and the original Soarin' ride, it's asserting itself as a culinary destination for every kind of eater. 
From roasted cauliflower buffalo mac and cheese to a dazzling vegan Ghirardelli sundae, here's a taste of California Adventure's promising vegan food scene. 
Disney for adults
Before Star Wars: Galaxy's Edge opened in Disneyland and started pouring alcohol into its Blue and Green Milks, California Adventure Park was the first California-based Disney property to offer alcohol outside of Downtown Disney. From frozen margaritas at Rita's Baja Blenders to thoughtfully selected wines at Wine Country Trattoria, park-goers over 21 could heighten that flying-high pixie dust feeling with their preferred libation.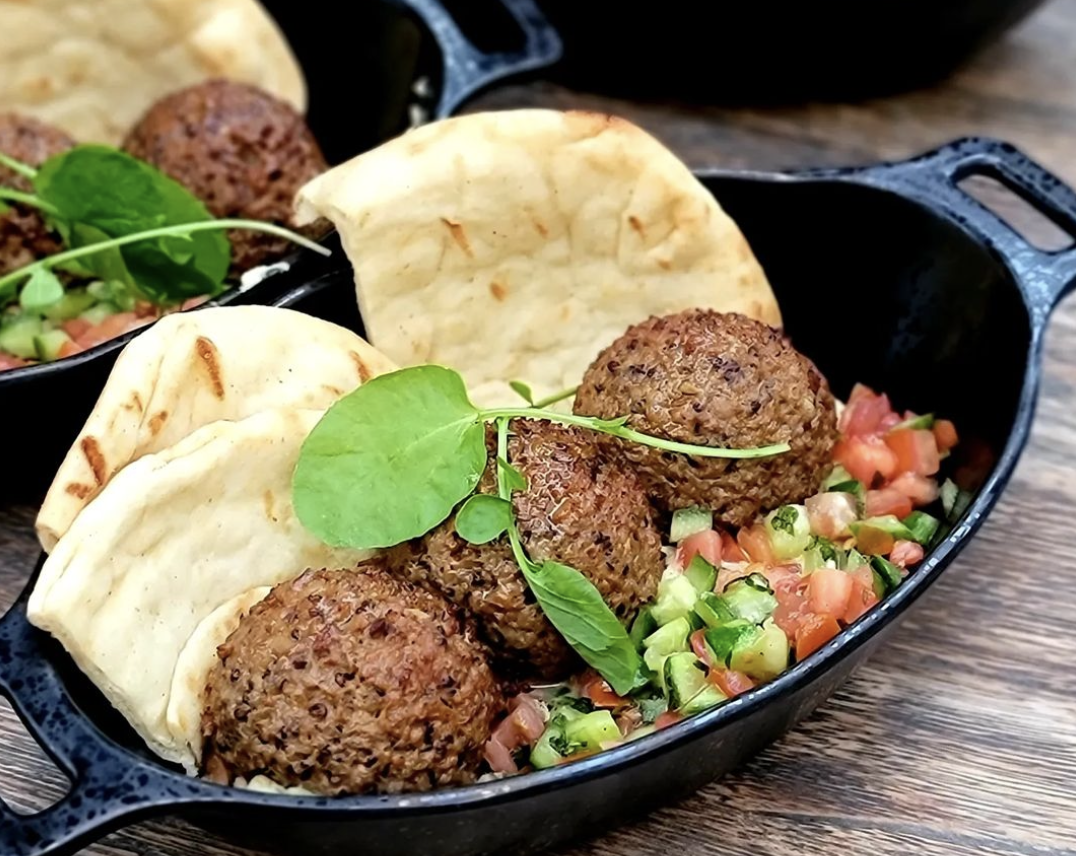 @happiestveganonearth/Instagram
California Adventure also houses two fine-dining restaurants—Carthay Circle and Wine Country Trattoria—both catering more toward adult guests rather than families with children. The suburb service, exquisite ambiance, and chef-curated menus tell adults that Disney is not just about rides, parades, and characters—there is a more refined and sophisticated way to do Disney. And yes, vegan options are available at both of these locations. See below for details. 
The annual Food & Wine Festival also plays to a more adult audience. From the complex Impossible Al Pastor Tacos to the selection of beer and wine across 12 different kiosks, it's clear that California Adventure is as much of an adult playground as it is for those still waiting to be tall enough to ride the Incredicoaster. 
Vegan tasting at Paradise Grill
No longer is it acceptable to offer French fries and a fruit cup and claim to have vegan options. The plant-based offerings at Disney parks have been steadily on the rise, and this year, the company took a leap by crafting an all-vegan menu at Paradise Garden Grill for a limited time. And when we say leap, we're talking a Herculean leap. 
The five-item Food & Wine menu at Paradise Garden Grill featured global flavors and a tantalizing diversity of tastes, textures, and cooking methods. Two elements unified the dishes: a heavy dose of carbs and a dominant Impossible presence. 
As our hosts chatted about the other vegan options at the park, our "one-bite" rule was immediately broken as we devoured the dishes put in front of us. First, we tackled the Bulgogi Fried Rice with kimchi, house pickled cucumbers, green onions, and sesame seeds. This is a dish we returned to as the others came out, picking out tender bites of vegan egg and scooping up the well-seasoned, perfectly cooked fried rice.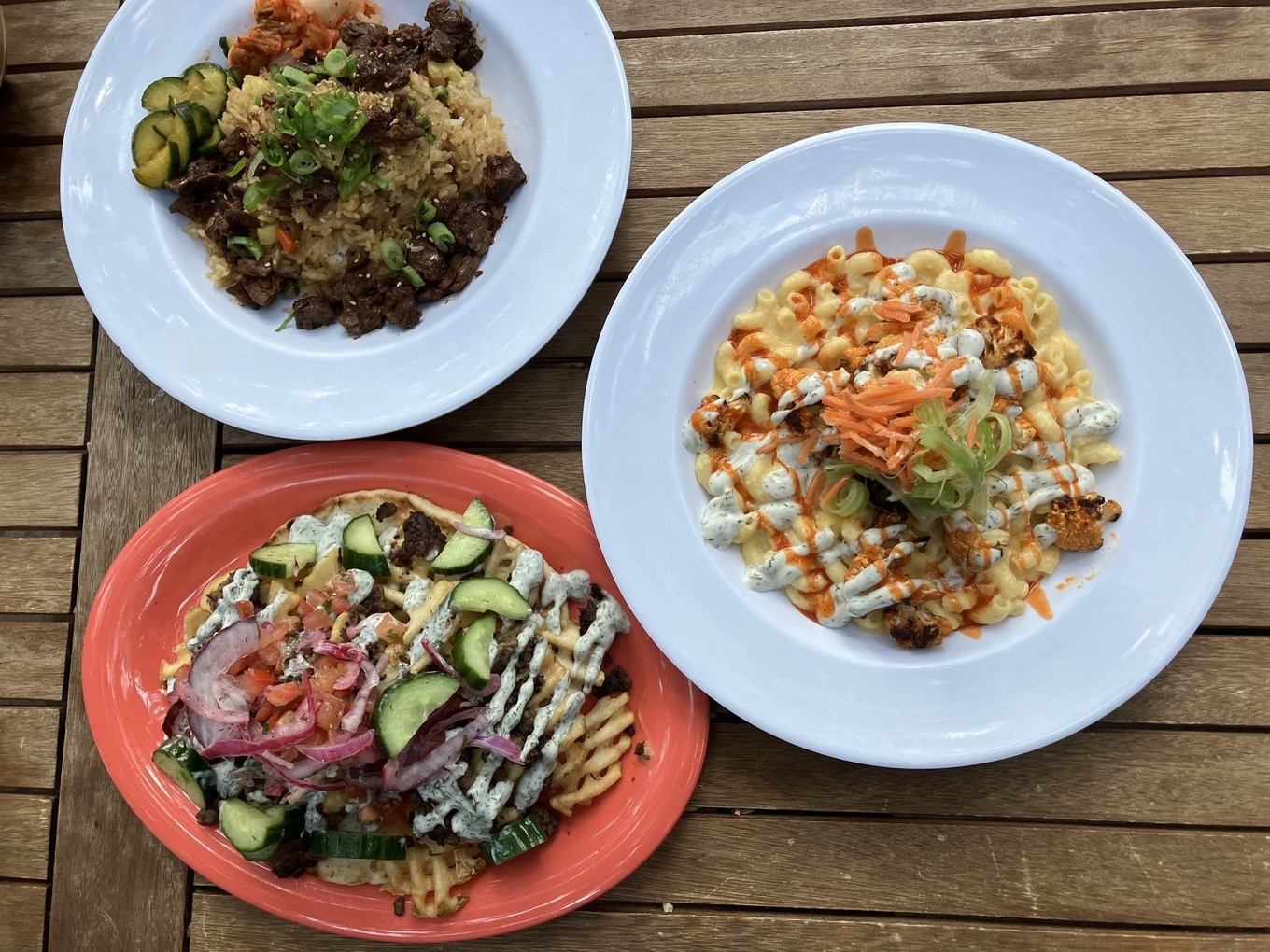 VegNews
Next, we marveled at the tower of Impossible Gyro Fries. Crispy waffle fries served as the bed for spiced Impossible grounds, house-made cauliflower cheese sauce, diced tomato and cucumber salad, and a deliciously dill-forward vegan tzatziki. It took us a while to discover that this all rested on a warm, fluffy pita.
A Roasted Cauliflower Buffalo Mac and Cheese followed, made with in-house cauliflower cheese sauce and a delicate salad of shaved carrots and celery. The creamy dish reminded us of Stoffer's frozen mac and cheese in the best way possible. 
To round out the savory options, a thick Torta de Chilaquiles appeared, or what we later called a chip sandwich. The colossal handhold included freshly made Telera bread stuffed with green chilaquiles, chorizo beans, chipotle crema, pickled onions, and a generous amount of avocado. This needed to be broken down with a fork and knife. 
Finally, our bite of the night arrived: dessert in the form of a bubbling peach and blueberry cobbler. Mere crumbs remained. 
Unfortunately, these items will not be extended a spot on the Paradise Garden Grill permanent menu, but we were told the kitchen is always innovating and open to menu updates throughout the year.  
"The Disney California Adventure Food & Wine Festival is a great opportunity for our team to innovate and come up with creative new things for our guests to try," Chef Kamilah Robinson said. "This year, we were entrusted to come up with plant-based dishes and we created an entire menu that appeals to all guests."  
Vegan options at California Adventure
Guests can find vegan options at almost every dining establishment in California Adventure, but some are more intriguing than others. Below we've listed the must-trys and the reliable staples so you're prepared for every kind of park experience, from a leisurely Magic Key Holder half day to a "We have to go on every ride" mad dash. Enjoy. 
Lamplight Lounge
Formerly Ariel's Grotto, this revamped space got a new look, a new name, and a new menu with plenty of plant-based options. Our Disney hosts couldn't recommend this place more. While most fine dining restaurants offer only one vegan option, this prime waterfront spot features four: a Pastrami-spiced Impossible Burger, a Brussels Caesar, Vegan Nachos, and Vegan Potato Skins (the latter two are off-menu items; ask and you shall receive). 
Vegde.Co
Lucky Fortune Cookery
Impossible has seemed to replace tofu in this San Fran-themed eatery. Our hosts mentioned it may still be available off-menu, but those looking for a more composed dish can order the vegan Impossible Banh Mi. It's also available in kids' sizes for those who just need a savory snack … or for families with actual kids.  
Shawarma Palace
Those looking for a quick yet substantial bite between rides can rely on this Marvel Campus kiosk. The stand offers two savory vegan options: a hearty Impossible Breakfast Sha-warm-up wrap and an Impossible Victory Falafel. Both are great to grab and go and devour as you wait upwards of 90 minutes to ride Radiator Springs Racers. 
Cocina Cucamonga Mexican Grill
Not in the mood for Impossible before taking on Guardians of the Galaxy? Try out the potato-based Tacos Dorados de Papa. They're crispy, flavorful, and not quite as heavy as some of the vegan meat-based options in the park. 
Carthay Circle
If it's your very merry unbirthday or if you're celebrating another special occasion, make reservations at Carthay Circle (way, way in advance). Don't be anxious when you don't see a little green leaf next to any menu options; the kitchen makes custom off-menu dishes by request. Last we dined here, we were served a gorgeous Tower of Vegetables that, while it may seem unsubstantial, truly wowed us in flavor and left us fully satisfied. 
Wine Country Trattoria
On a warm SoCal evening, there's no place we'd rather be than dining al fresco on this restaurant's Tuscan-themed patio with a vegan-friendly glass of wine and a generous plate of pasta. Open for lunch and dinner, the plant-based menu includes a light Spaghetti Aglio Olio with seasonal vegetables, a layered Tomato Salad with housemade vegan ricotta, and a delightfully sweet but balanced Torta della Nonna for dessert made with vegan pastry cream, non-dairy whip, almonds, and fruit compote. We'd make reservations just for the torta; you don't find a vegan-composed dessert like this every day.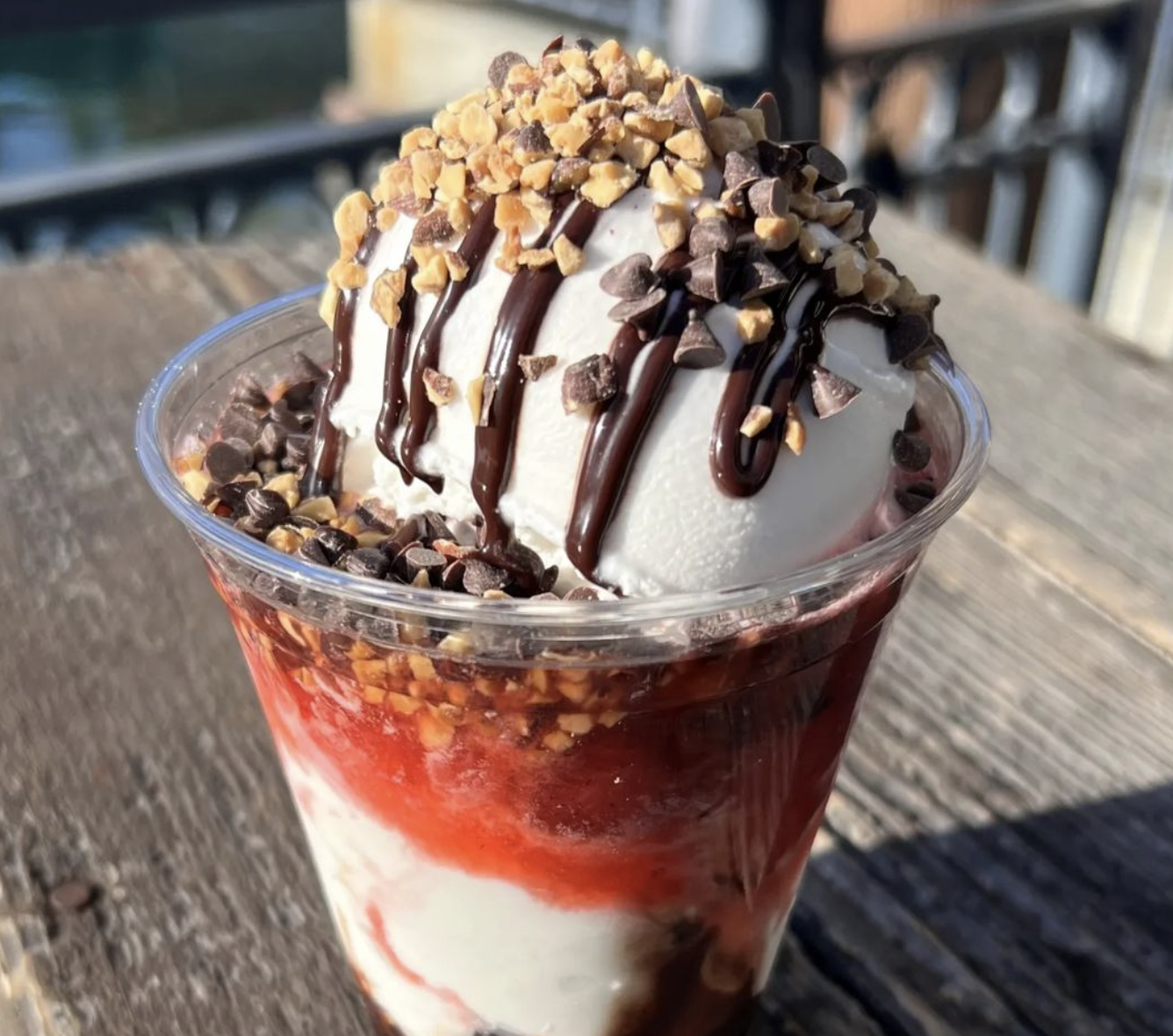 @sorriky 
Ghirardelli Soda Fountain and Chocolate Shop
We're actually not here for the chocolate—even Ghirardelli's dark chocolates often contain dairy (the 72% Twilight Delight is vegan, though). We're here for the ice cream. For a sweet end to cap off a magical night (or cool down during a hot summer afternoon), order the Non-Dairy Hot Fudge Sundae. This frosty treat is everything a sundae should be. Two generous scoops of creamy vanilla coconut are layered with chocolate chips, vegan hot fudge, thick non-dairy whipped cream, a dark chocolate square, and a bright red maraschino cherry.      
Fiddler, Fifer & Practical Cafe
Only those under a magic spell wouldn't recognize this as a Starbucks. No, it's not innovative or unique to Disney parks (other than the cute printed cups you won't find at your local Starbucks), but it is a very reliable staple when you need something to power through a 12-hour day of Disney magic (and likely as many miles if you've got a Park Hopper). Expect to find your usual vegan Starbucks beverage here, just at a slightly higher price point. 
Snacks and concessions
Popcorn, frozen treats, and iconic Mickey pretzels are all vegan and can be found at several kiosks throughout California Adventures. The fresh popcorn at all kiosks is made with coconut or canola oil (it varies) and is vegan-friendly. For a sweeter treat, the caramel popcorn specifically at the Buena Vista Street popcorn cart is also free from dairy. 
The ice cream stands carry three fruity vegan options: the Olaf Frozen Lemon Strawberry Bar, Outshine Fruit Bar, and a nutty Chocolate Covered Banana. 
Need to post a photo with a salty, soft Mickey Pretzel? Find them at Bayside Brews and Pacific Wharf Distribution Center.
Fruits and veggies
California Adventure's vegan options go way beyond greasy theme park food—but they can still be pretty heavy (speaking from experience, the Incredicoaster should not be the first ride you enjoy after sitting down to a five-item meal at Paradise Garden Grill). For a whole food palate cleanser, check out Mortimer's Market, Fairfax Market, or Fillmore's Taste-in. Each of these open-air stands sells a variety of fresh fruit and giant pickles. We're glad these aren't the only vegan options at the park, but we're also grateful for the choice between carb-on-carb Impossible creations and pure, fresh food.
For more vegan theme park eats, read: