Fungi are organisms that sit at the intersection of the plant and animal kingdom with characteristics from both but in a world of their own. One benefit of occupying this liminal space is that mycelium—the fast-growing root systems of mushrooms—makes for a formidable, whole-cut vegan meat that delivers the taste of animal meat but without any of the cruelty associated with slaughtering a sentient being. 
And while all of this might sound like science fiction—or someone narrating that Fantastic Fungi film we all loved—mushroom meat is something you can taste right now, in the informal setting of vegan fast-food chain PLNT Burger.
Owned by forward-thinking celebrity chef Spike Mendelsohn, PLNT Burger is among the first restaurants in the country to add mycelium-made vegan chicken made by Colorado-based Meati Foods to its menu.
"It's no secret we love mushrooms at PLNT Burger. One of our best selling burgers is the PLNT Mushroom BBQ Bacon Burger, we've also had a lot of fun and success with our Chicken Fun-guy sandwich in the past," Mendelsohn tells VegNews. "When we heard Meati had developed a mushroom root chicken patty, we could not resist exploring this superfood and its ingredients." 
"It's absolutely delicious and nutritious and we're so happy to share it with our PLNT Burger family," he says.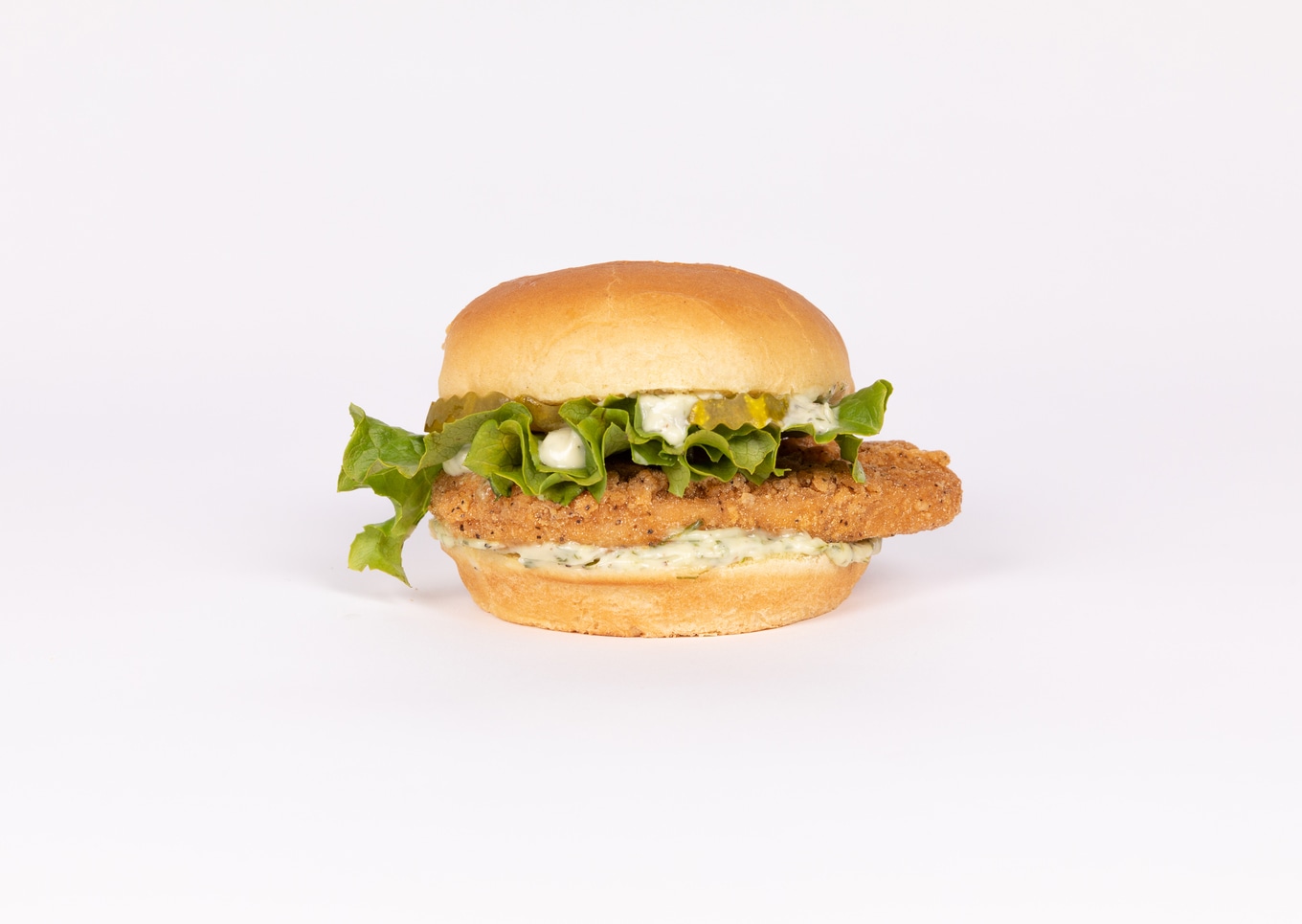 Meati Foods
The Crispy Chik'n Sandwich features a breaded Meati filet that is prepared just like chicken and stuffed between soft potato buns alongside vegan mayo, lettuce, and pickles. And if you're craving something with a kick, the Spicy Crispy Chik'n Sandwich is the same build but turned up with hot sauce and vegan pepper jack cheese. 
The Meati chicken sandwiches are now on the menu at all 13 PLNT Burger locations across New York, Washington, DC, Massachusetts, Virginia, Pennsylvania, and Maryland. Through the end of April, the new chicken sandwiches come with a 50 percent off BOGO deal and a $1 kickback toward future Meati items at PLNT. 
Meati's vegan meat 
Meati was founded in 2016 by Tyler Huggins, who gained his know-how growing up on a bison ranch. The mission? To make better meat, period. 
Meati Foods
"Meati's debut on-menu at PLNT Burger furthers our mission to bring our nutritious offerings to customers nationwide in an accessible and delicious way," Christina Ra, Vice President of Marketing and Communications at Meati, tells VegNews. "We know the demand for Meati is there, proven by early category leadership in retail, as well as frequent feedback from consumers looking for Meati."
"We're thrilled to bring people yet another way to eat Meati, and doing so with an ethos-aligned partner like PLNT Burger has been ideal," Ra says. 
Outside of its availability at PLNT, Meati's mycelium meats are on select menus at David Chang-owned restaurants in Los Angeles and NYC. Meati also just launched its vegan chicken and steak in the retail sector at Sprouts Farmer Markets nationwide.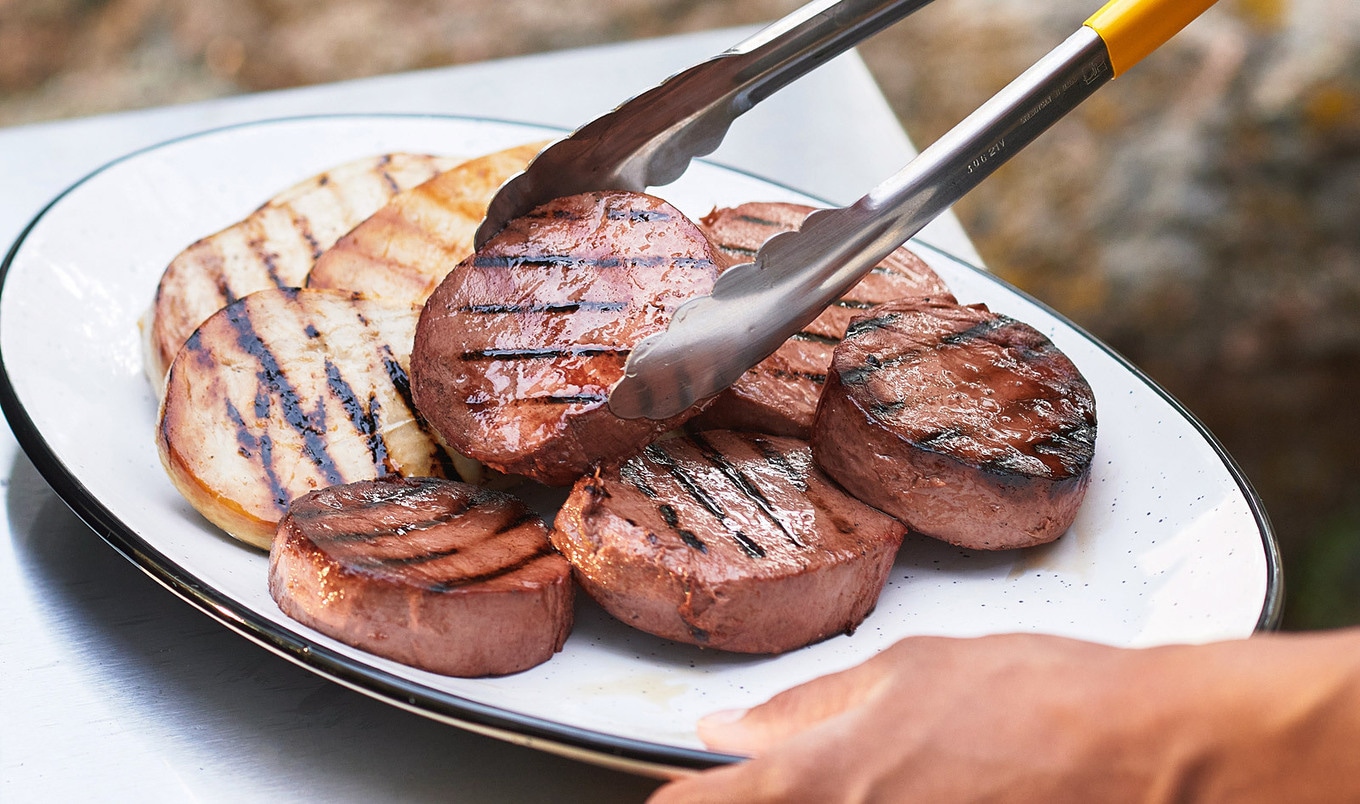 Meati Foods
"Mycelium's potential is unmatched today in terms of its quality, whole-food protein composition, and its scalability," Ra says. "Working with Meati mycelium, which we've dubbed, 'mushroom root,' allows us to deliver great texture, protein, fiber and micronutrients, without the fat, cholesterol, and environmental footprint." 
To support its expansion into foodservice and retail, the company is currently scaling the production of its mycelium meats at what it calls the "Mega Ranch," a facility in Colorado capable of producing more meat (of the vegan variety) than any individual cattle ranch in the country. 
"In our Mega Ranch, we're able to grow a teaspoon of mycelium spores into hundreds of cows' equivalent of food in just a few days," Ra says.
By late 2023, Meati aims to produce 45 million pounds of mushroom meat at Mega Ranch with an eye on further expansion to a facility it calls "Giga Ranch"—all with the purpose of changing the way meat is made for good. 
"Mycelium is providing a very real solution to our most pressing issues surrounding food security and health today, and has the potential to relieve the negative impact of conventional meat for a  healthier and more sustainable food system," Ra says. 
The mushroom meat revolution takes root
Meati is one of several companies that are focusing on mycelium as a meat alternative. On the East Coast, eco-minded entrepreneur Eben Bayer has been in the mycelium business for more than 15 years, operating Ecovative—which focuses on developing sustainable materials such as packaging using the magic of mycelium.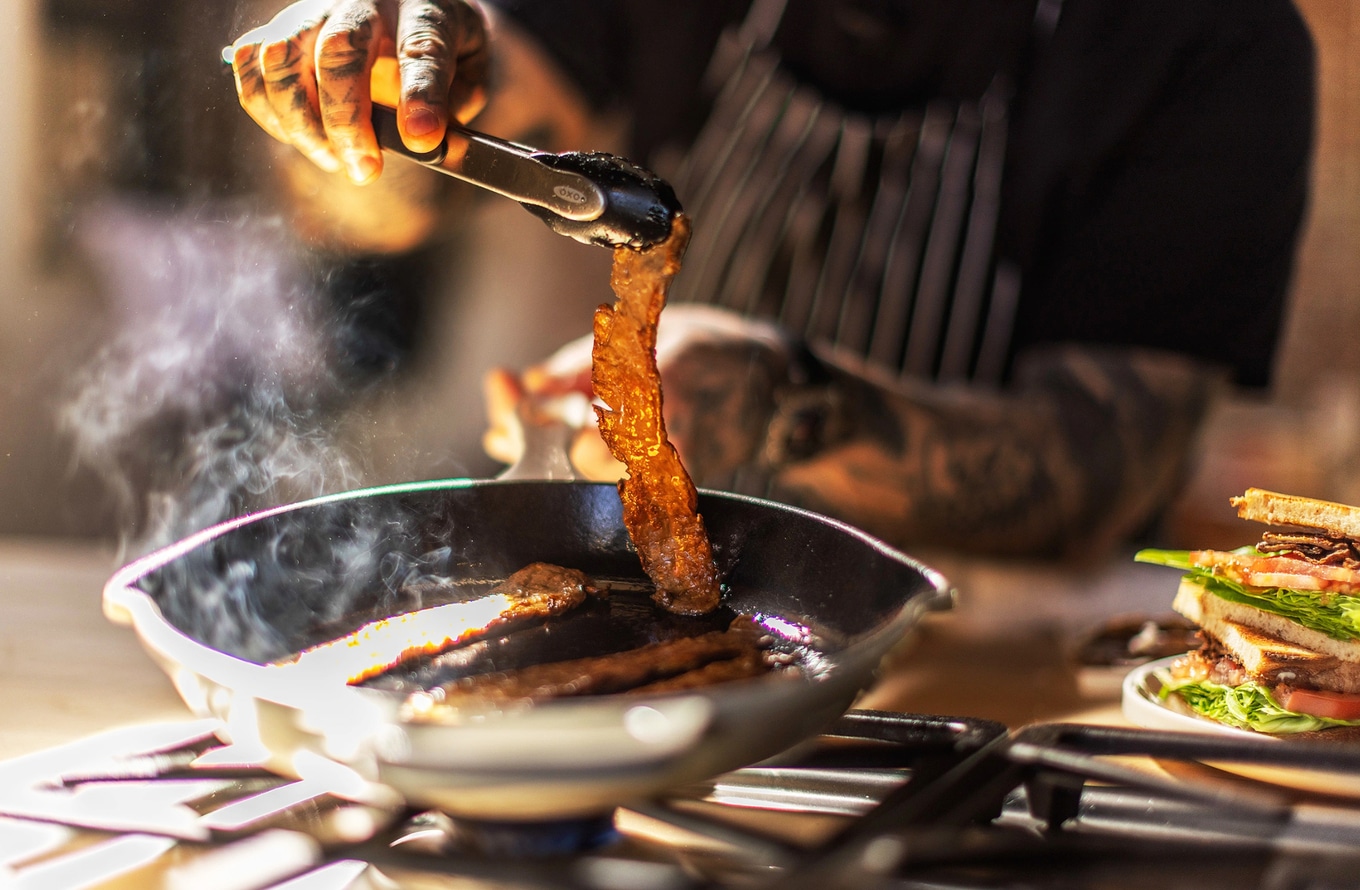 MyForest Foods
Bayer expanded his reach into the food industry with the launch of MyForest Foods, under which he is currently using mycelium to produce a convincing alternative to pork bacon. Like Meati, MyForest is in a major growth phase at its newly opened Swersey Silos in Green Island, NY where the company's patented AirMycelium process significantly reduces land and water usage compared to traditional animal farming while delivering tasty vegan bacon to consumers. 
Bayer believes that mycelium will play a pivotal role in the future of food, particularly meat, as the planet continues to heat to unstable temperatures. "Fungi and mushroom attributes are much closer to 'meat' than plants," Bayer tells VegNews. "Beef Steak Polypore, Chicken of the Woods, and Lobster Mushroom are called as such for a reason—they already have similar meat-like properties. 
"When factoring that with mycelium's texture, which chews like animal meat, we are just starting to scratch the surface of mycelium's potential as a food ingredient," Bayer says.
Over on the other side of the country in Sacramento, CA, The Better Meat Co. (BMC) recently hosted a mycelium-powered dinner. Called "Night Under the Fermenters" the event invited guests to sample a multi-course meal made possible by rhiza—a fungi-derived microbe it uses as a nutritious base for all kinds of foods from foie gras to turkey slices to desserts. 
The dinner featured bites of mycelium to get the party started and continued with courses such as a salad topped with mycoprotein bacon, rigatoni made meaty with a mycelium fennel farce (a type of forcemeat), and cubes of fungi made to mimic chicken breast. Guests were given a mycelium-powered muffin to go—made using a flour BMC created.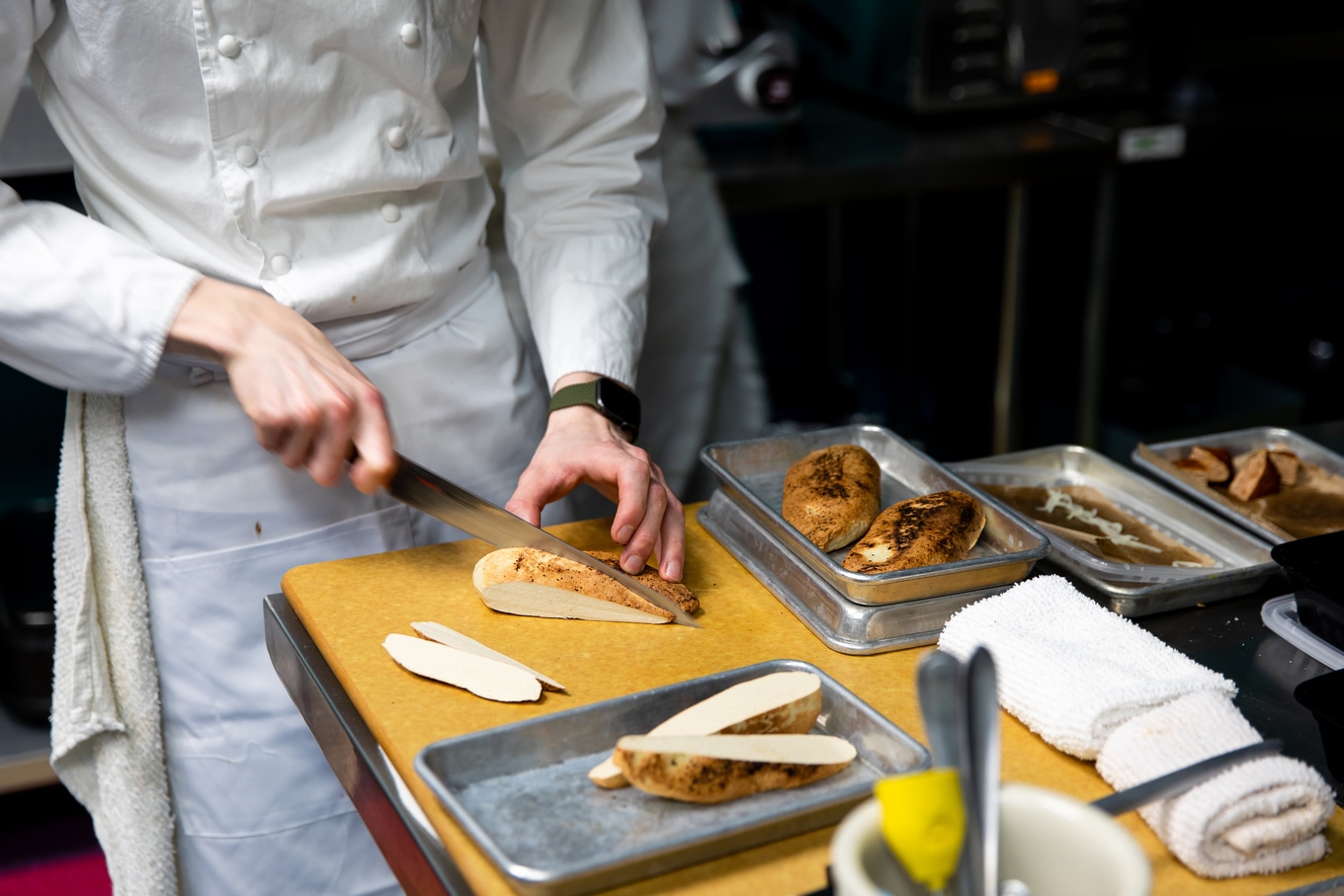 The Better Meat Co.
While Meati and MyForest Foods are consumer-facing companies, BMC is an ingredient company first and does not exclusively work with mycelium. One of its first commercialized products is "chicken plus," a blended nugget created with major chicken company Perdue that features a 50/50 blend of plant and animal protein. BMC is also working with meat giants Maple Leaf Farms and Hormel on products. 
However, mycelium—which BMC is still working to scale—presents fascinating opportunities and the company recently added a Scientific Advisory Board to help it stay at the forefront of the emerging industry. 
"We're primarily focused on mycelium right now because it is more meat-like, it's cheaper to produce, and we think it's a superior product," Bromley says. "There are literally thousands of species of fungi that could potentially be used for meat analogues. We're focusing on one particular one right now. With fungi, we've just scratched the surface." 
Because mycelium does not require the kind of processing that plant-based ingredients such as peas undergo to become plant-based burgers, Bromley believes the nutritious mushroom root has vast appeal and potential. 
"This is the type of thing that can be used to solve a lot of hunger issues because it's cheap to grow," Bromley says. "There's a lot of potential here not just in terms of meat substitutes but feeding the population. Which is really important."  
Meati, BMC, and MyForest Foods are all harnessing the power of mycelium to build a better meat industry—one where we can live in a way that promotes animal, human, and planetary health.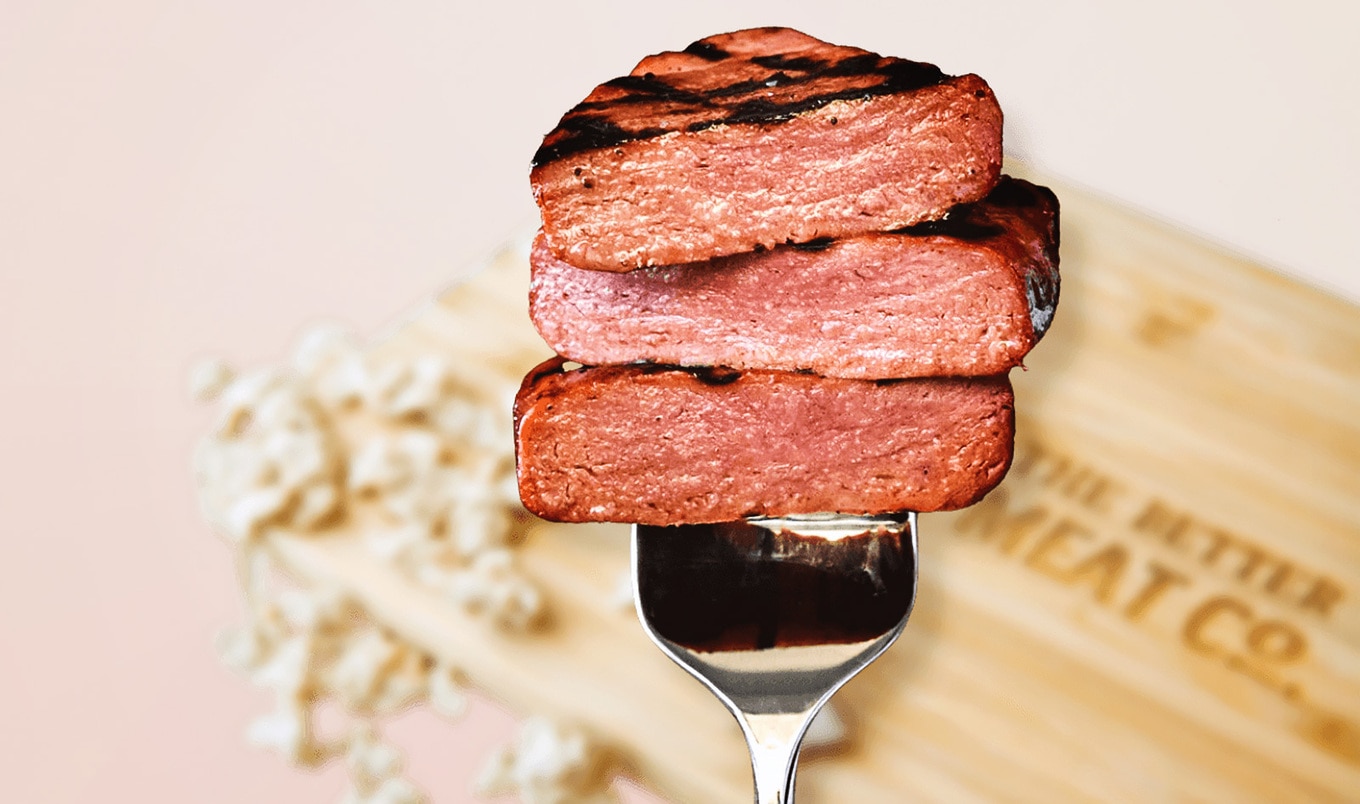 The Better Meat Co.
"Innovations like mycelium technology will provide new opportunities for food industry players to support their bottom line all while satisfying consumer needs," Bayer says. "All of this can take place while nurturing the planet and not harming any animals." 
"Thanks to mycelium, we can have our meat and eat it too," he says.
For the latest vegan news, read: