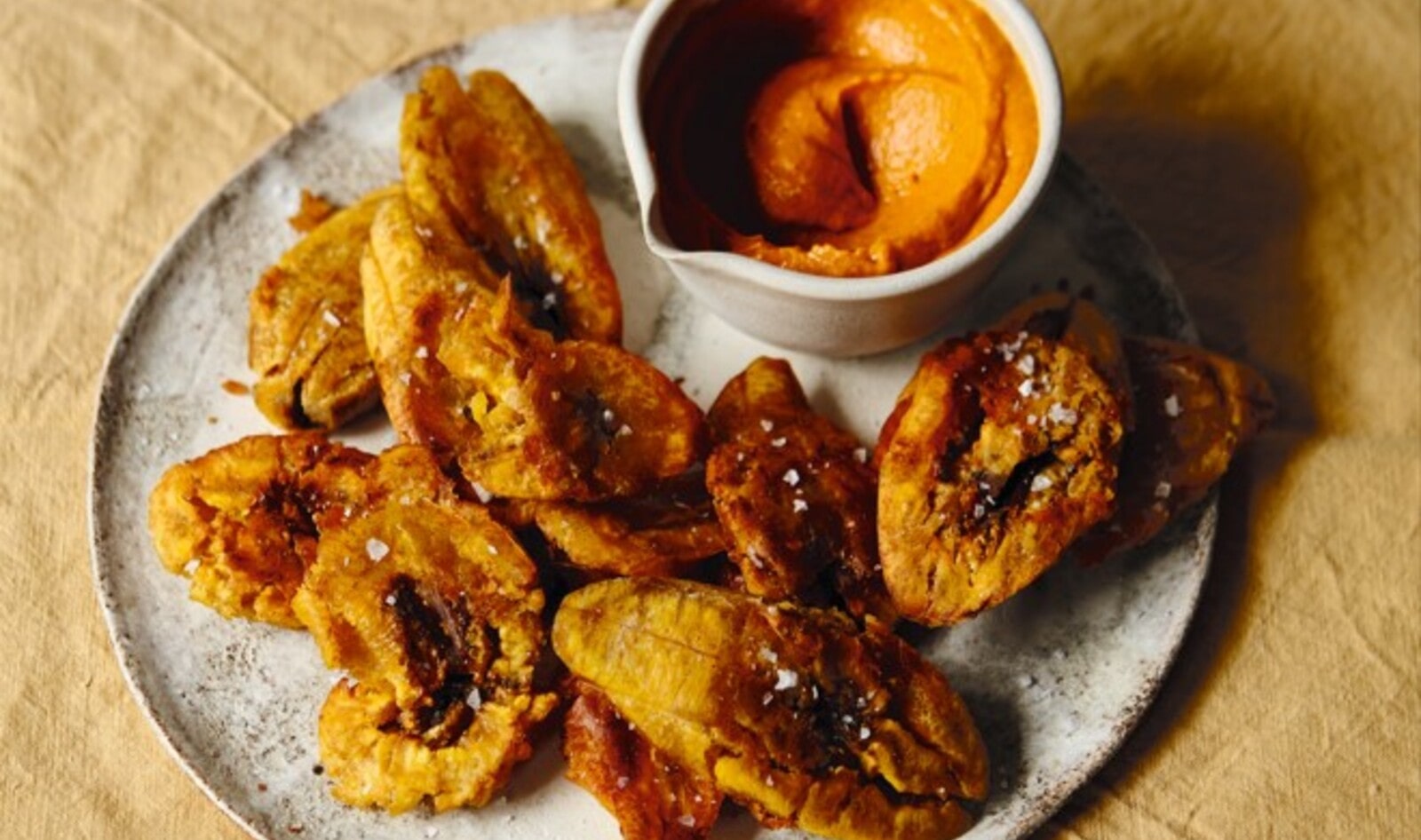 Carrots are the perfect vegetable for dips like this spicy kimchi carrot dip from the Plentiful cookbook as they have a touch of sweetness that isn't too overwhelming. They also make for a great vehicle for spices and really love to be roasted. Served with crispy tostones, this is the perfect little snack or side dish to whip up for a late-afternoon vibe.
What you need:
For the Spicy Roasted Carrot Dip: 
4 carrots, chopped
4 tablespoons olive oil, divided
1 tablespoon coriander seeds, roughly ground
1 tablespoon cumin seeds, roughly ground
1 teaspoon ground cinnamon
4 garlic cloves, unpeeled
¾ cup vegan cream cheese
2 heaping tablespoons vegan-friendly kimchi
3 tablespoons kimchi juice
¼ teaspoon salt 
¼ teaspoon black pepper 
For the tostones: 
2 green plantains, peeled and cut diagonally into thick slices
Olive oil, for frying
Flaky salt, for sprinkling
What you do:
For the Spicy Roasted Carrot Dip, preheat oven to 375 degrees. Onto a baking sheet, place carrots, drizzle with 2 tablespoons of olive oil, coriander seeds, cumin seeds, cinnamon, and garlic cloves. Toss and sprinkle with salt and pepper. Roast in oven for 30 minutes, or until browned and caramelized. Remove from oven. 
To a food processor, add roasted carrots and spices (peeling garlic), cream cheese, kimchi, kimchi juice, and remaining 2 tablespoons of olive oil. Blend until smooth and transfer to a serving bowl.
For the tostones, in a skillet over medium-high heat, add enough oil to coat bottom of skillet. Fry plantain slices for 3 to 4 minutes, flipping to cook on both sides. Remove and place on a paper towel-lined plate, then transfer to a cutting board and press a glass down on top to flatten pieces. Fry again for 2 more minutes until crispy. Drain again on paper towel-lined plate and immediately sprinkle with flaky salt.
Arrange tostones around dip on a serving plate to serve.