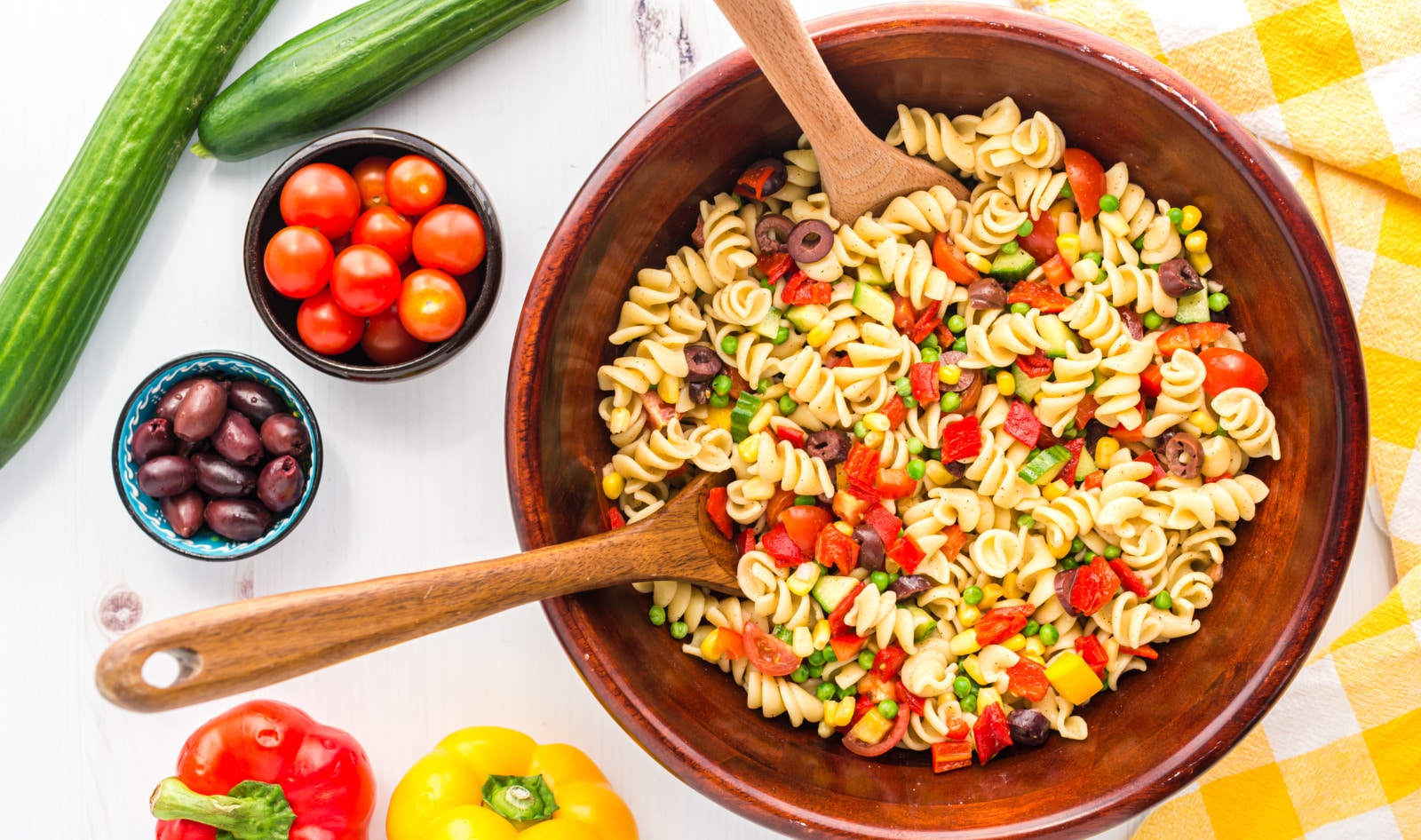 To develop the flavor of this pasta salad from Dreena's Kind Kitchen even further, make it a day in advance and store in the refrigerator to let the vinaigrette fully flavor the salad. Swap in chopped roasted peppers, grated carrot, corn, grilled vegetables, green peas, or whatever you have on hand in this easily adaptable recipe.
What you need:
For the Italian Vinaigrette: 
2 teaspoons nutritional yeast
1½ teaspoons dried basil
1 teaspoon salt
½ teaspoon dried oregano
½ teaspoon garlic powder
¼ teaspoon celery seed
¼ teaspoon crushed red pepper flakes
⅛ teaspoon black pepper
¼ cup red wine vinegar
¼ cup water
2 tablespoons maple syrup
1 tablespoon lemon juice
1½ teaspoons tahini
1 teaspoon Dijon mustard
For the pasta salad: 
4 cups cooked and cooled fusilli pasta  
1 cup chopped bell pepper 
1 cup diced cucumber 
1 cup quartered cherry tomatoes 
½ cup chopped zucchini
½ cup chopped artichoke hearts
½ cup sliced and pitted kalamata olives 
3 tablespoons diced red onion 
3 tablespoons chopped sun-dried tomatoes 
Italian Vinaigrette 
½ teaspoon salt
¼ teaspoon black pepper
What you do:
For the Italian Vinaigrette, into a blender, add all ingredients and blend until smooth. Store in an airtight container in the refrigerator until ready to use. 
In a large bowl, combine pasta, bell pepper, cucumber, tomatoes, zucchini, artichoke hearts, olives, onion, and sun-dried tomatoes. Add vinaigrette and stir until pasta and vegetables are coated. Stir in salt and pepper, and serve.
For more recipes like this, check out: