This foolproof Apple and Blueberry Crumble features tender apples, juicy blueberries, and a buttery oat crumble in every bite. It's the ultimate dessert for summer and fall!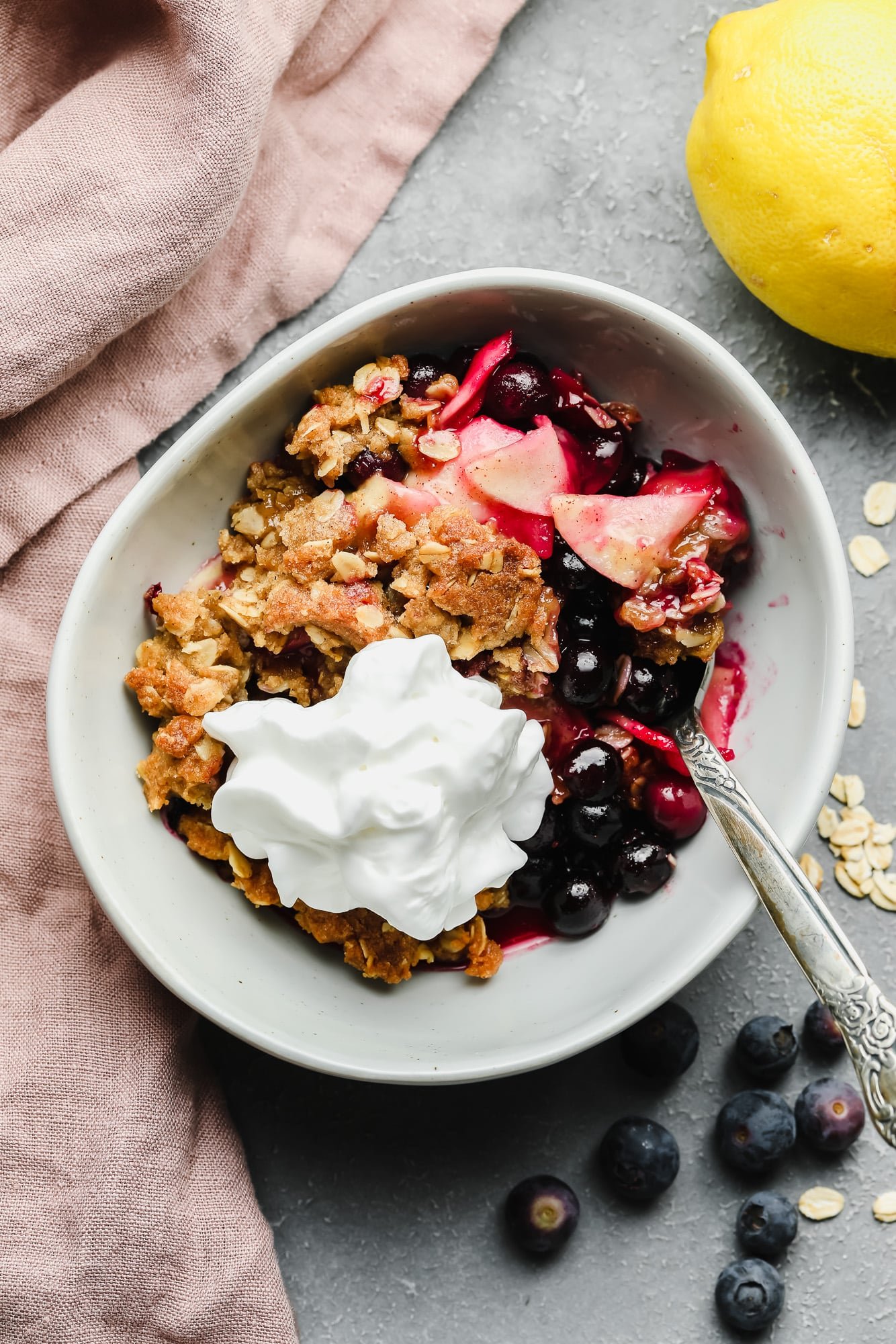 This Apple and Blueberry Crumble is an easy and rustic dessert that makes fresh, seasonal fruit the star of the show. The filling is bursting with sweet, juicy apples and tart blueberries while the cinnamon-infused and buttery oat crumble on top is the perfect finishing touch. Every bite is sweet, warm, and comforting!
Just like my Apple Crumble, this easy apple blueberry crumble comes in handy when you need a foolproof dessert in a pinch. It's easy to assemble and can even be prepared a day before baking! Once it's out of the oven, serve the warm and bubbly crumble with scoops of vanilla ice cream and dig into this perfect summer dessert.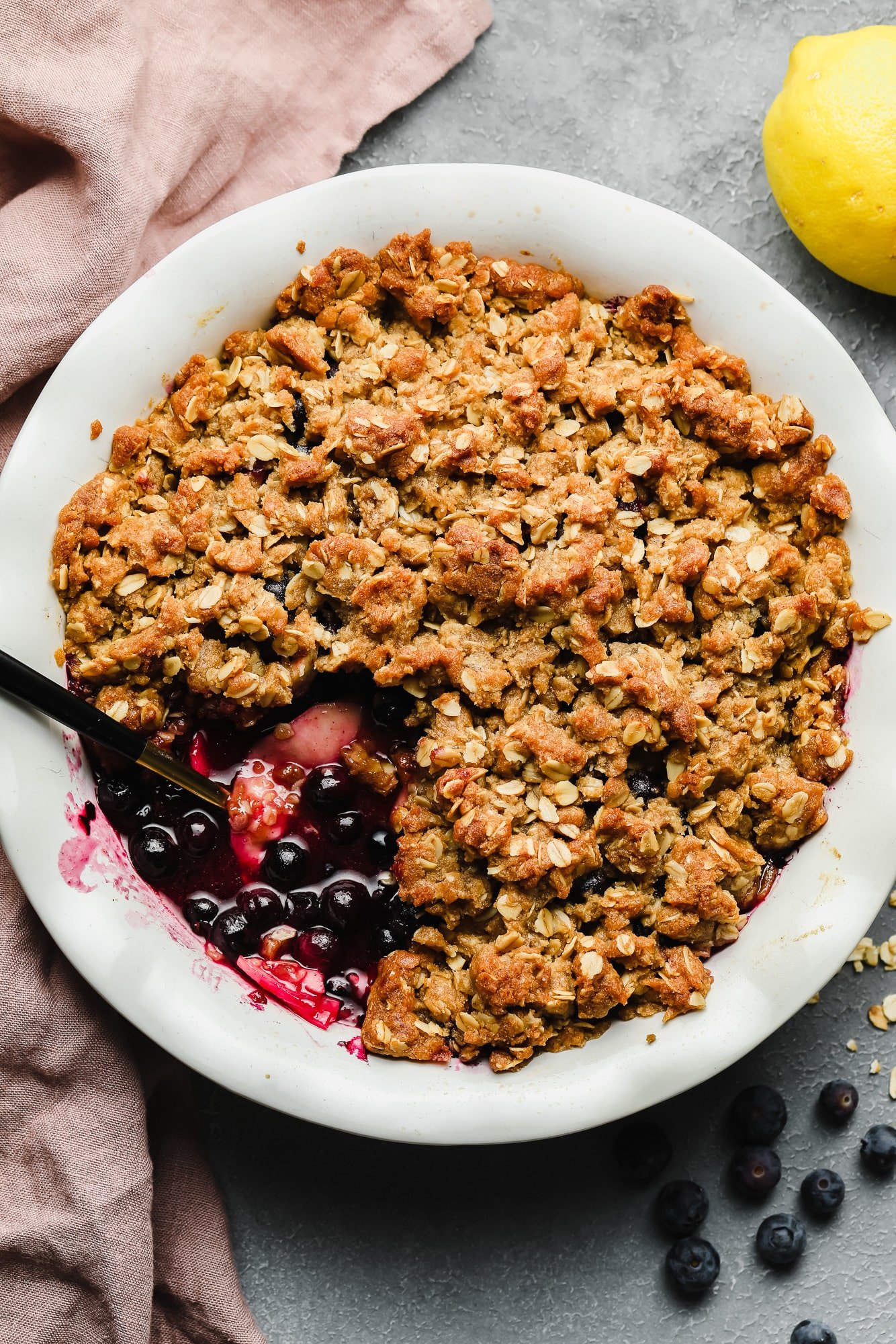 Ingredients needed (with substitutions)
Blueberries – Fresh blueberries are in season from April to September in North America. You can put them to use all summer long in this vegan blueberry crumble, as well as my Blueberry Muffins, Blueberry Pancakes, and Blueberry Crisp. Frozen blueberries work in a pinch.
Apples – The best apples for crumble are the ones already in your fridge! Just remember to peel and core the apples before tossing them with the rest of the filling ingredients. I like honeycrisp and other sweet varieties, but any apple will do.
Sugar – You need granulated sugar for the filling and brown sugar for the crumble topping.
Lemon juice – Fresh lemon juice is important because it brightens up a normally warm and comforting crumble, and tones down the tartness of the fruit.
All purpose flour – A 1:1 gluten free flour mix will also work.
Cinnamon
Salt
Rolled oats – Or use certified gluten free rolled oats if you want the crumble to be gluten free.
Vegan butter – Melted plant-based butter is poured over the crumble topping to give it its irresistible flavor and crumbly texture. Coconut oil should work well as a substitute.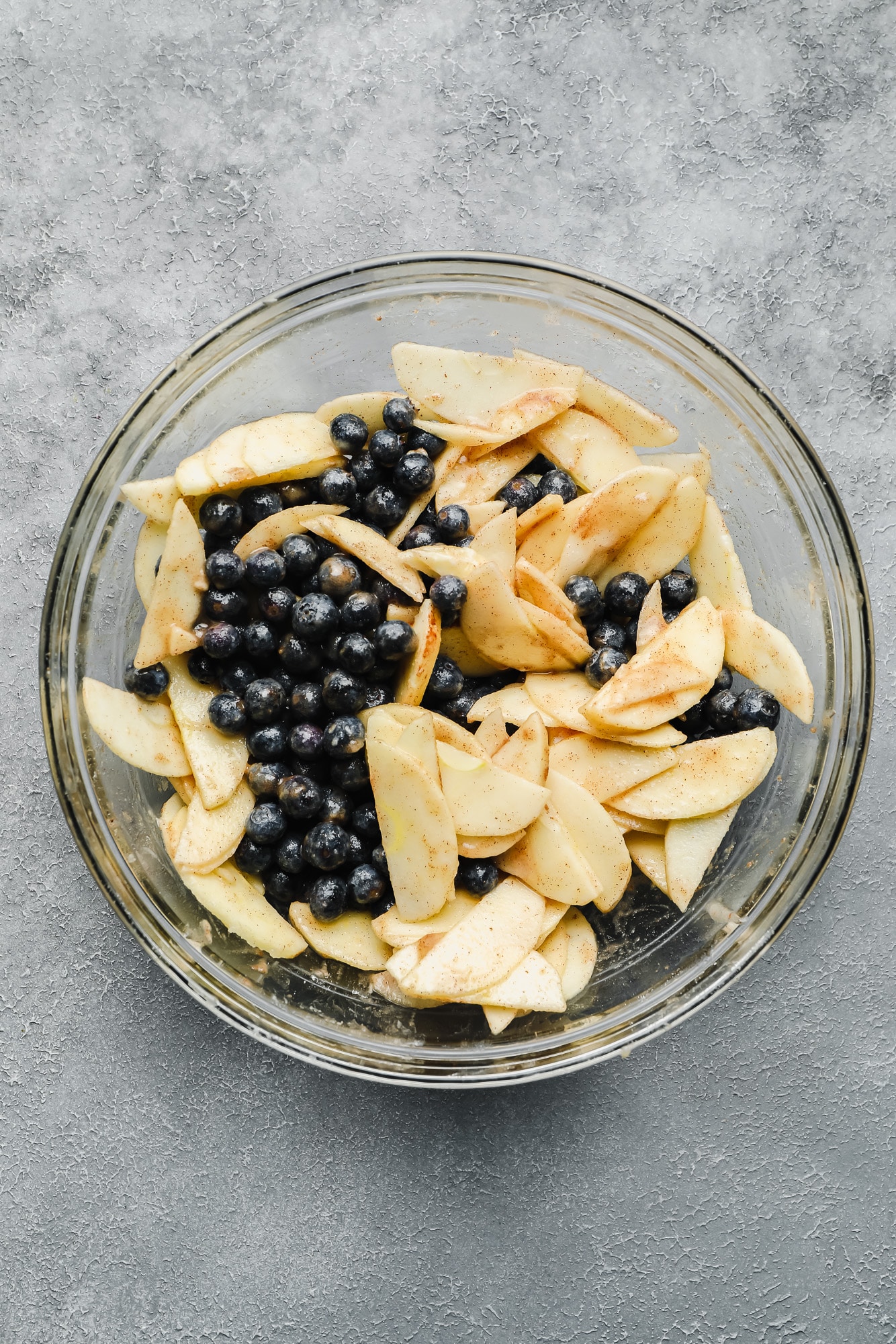 How to make apple and blueberry crumble
Find the complete recipe with measurements in the recipe card below.
Add the blueberries, apples, sugar, lemon juice, flour, cinnamon, and salt to a large bowl. 
Gently toss to combine until the fruit is fully coated. Pour the apple blueberry crumble filling into a prepared baking dish and set it aside.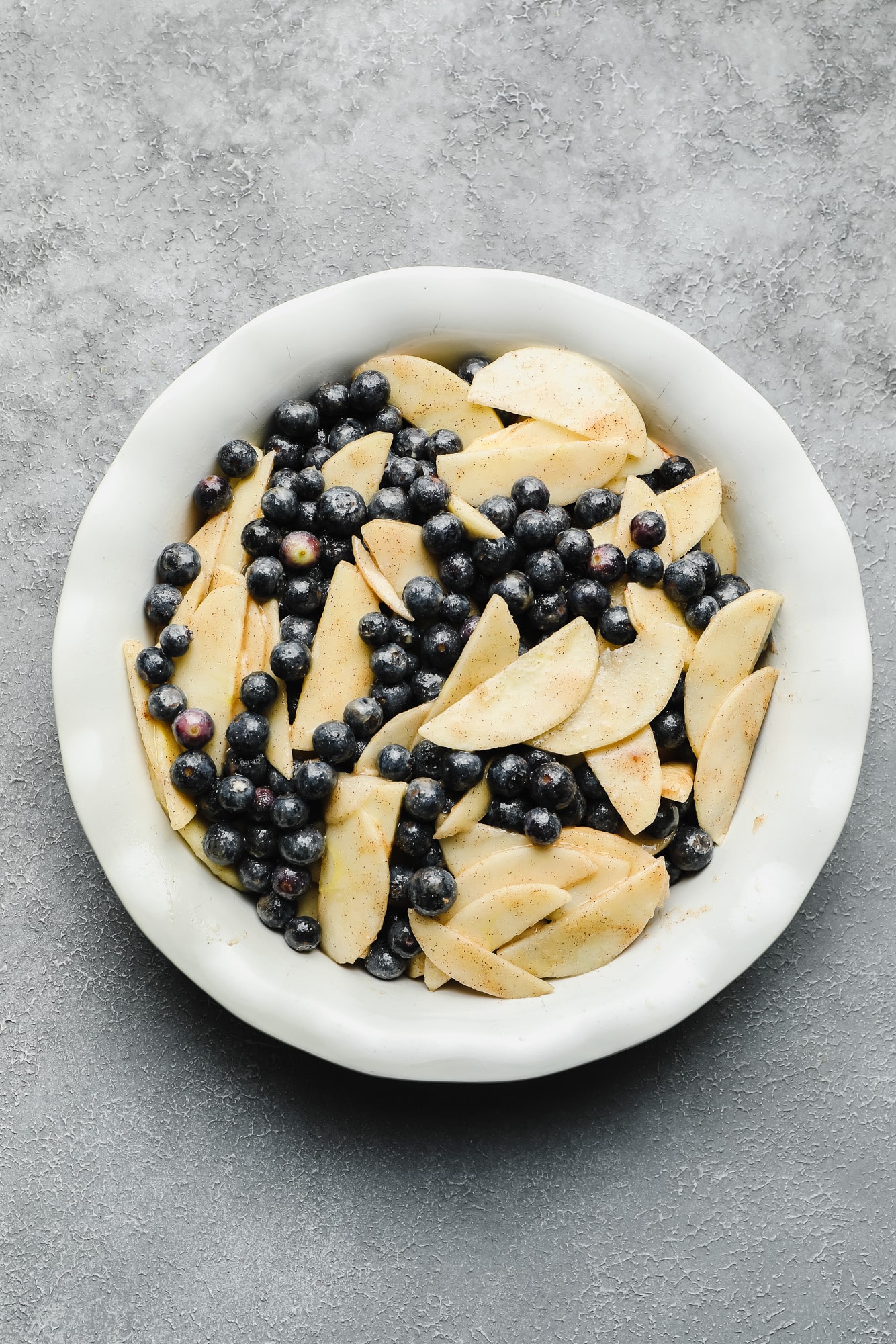 Next, make the crumble topping by stirring the flour, oats, brown sugar, cinnamon, and salt together in a bowl.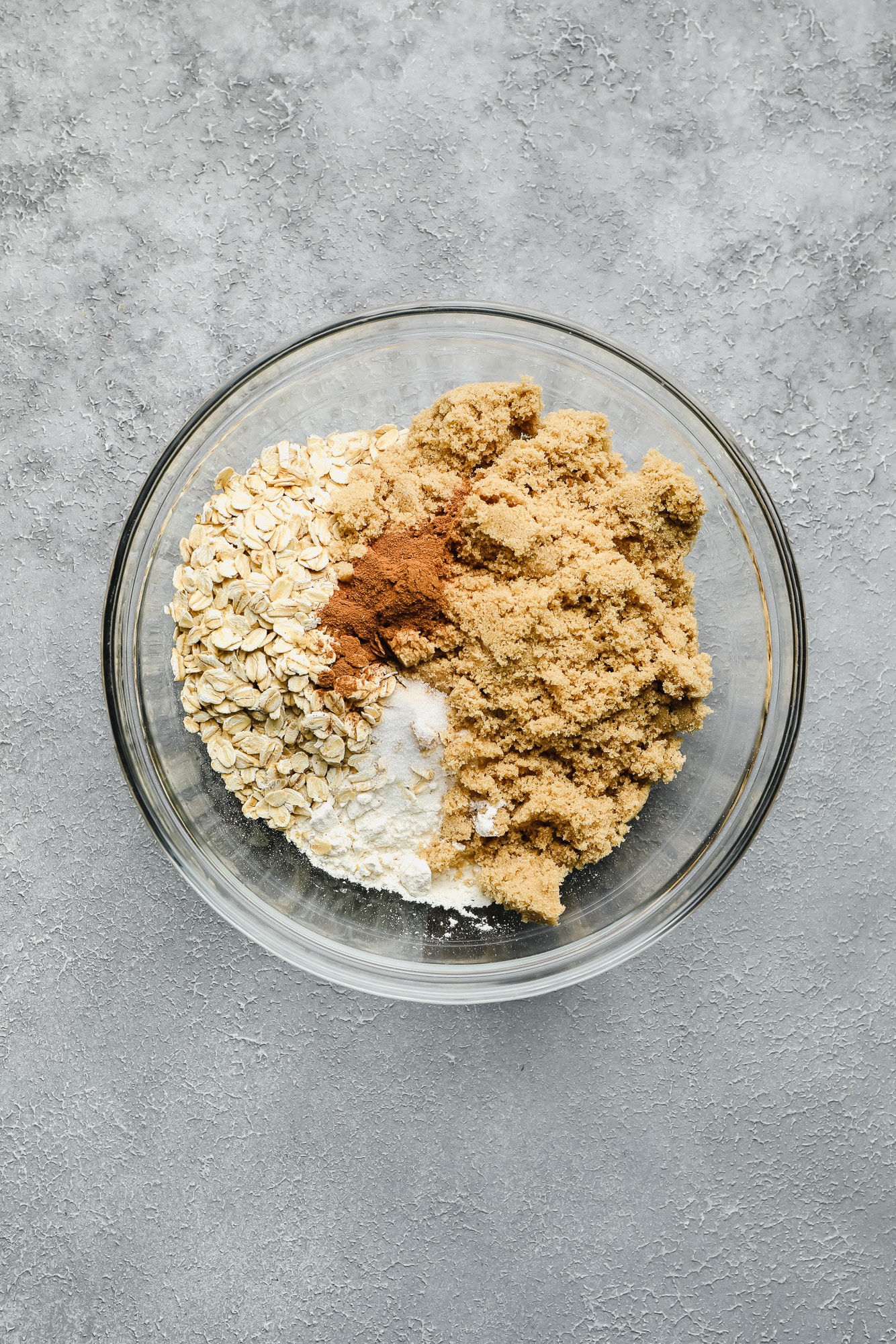 Pour the melted butter over top, then stir until the mixture is crumbly.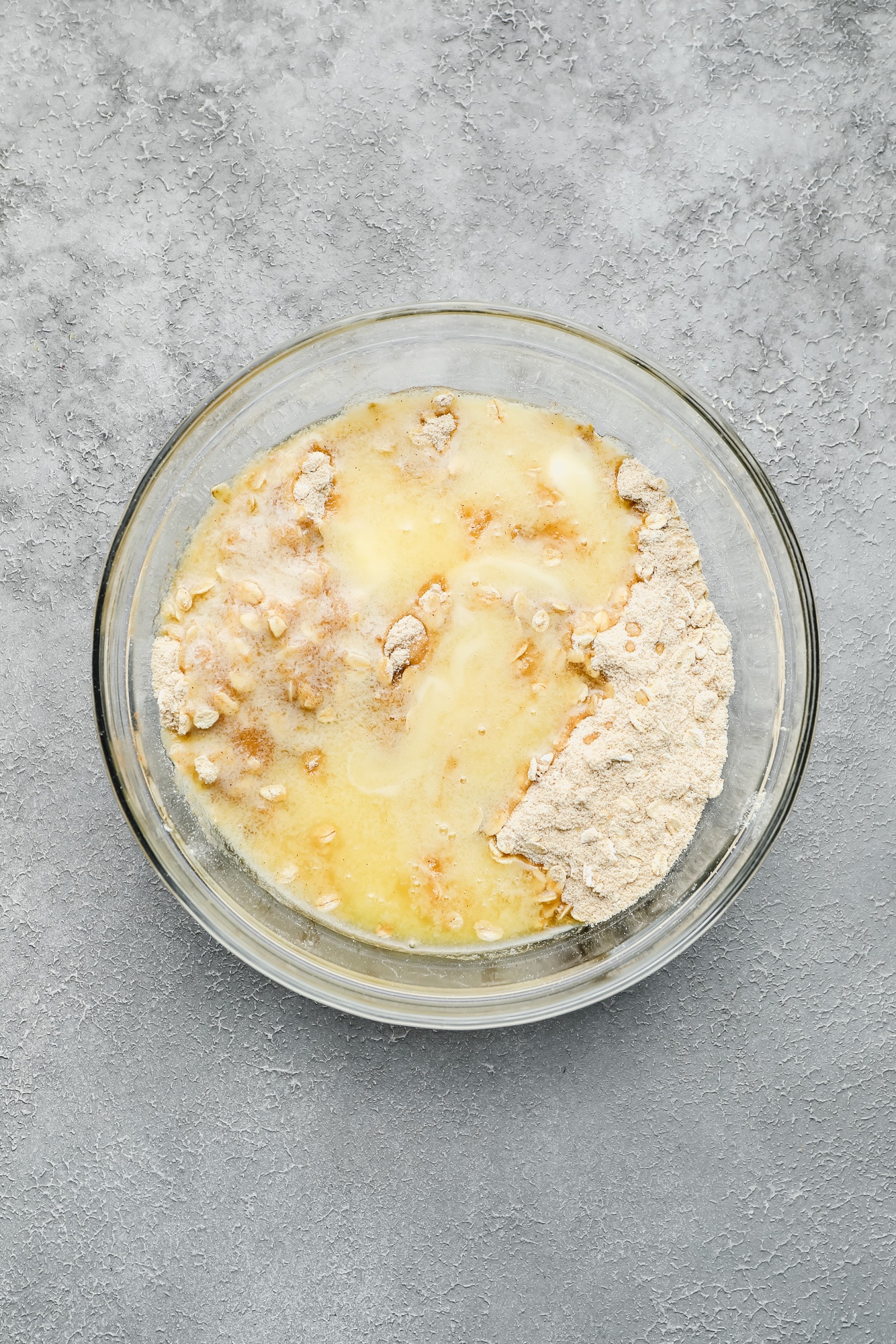 Sprinkle the crumble over the fruit in the baking dish. Bake the crumble until the sides are bubbly and the top is golden brown.
Scoop into bowls with vegan vanilla ice cream and/or caramel sauce drizzled over top, then serve and enjoy. You can also top with vegan whipped cream!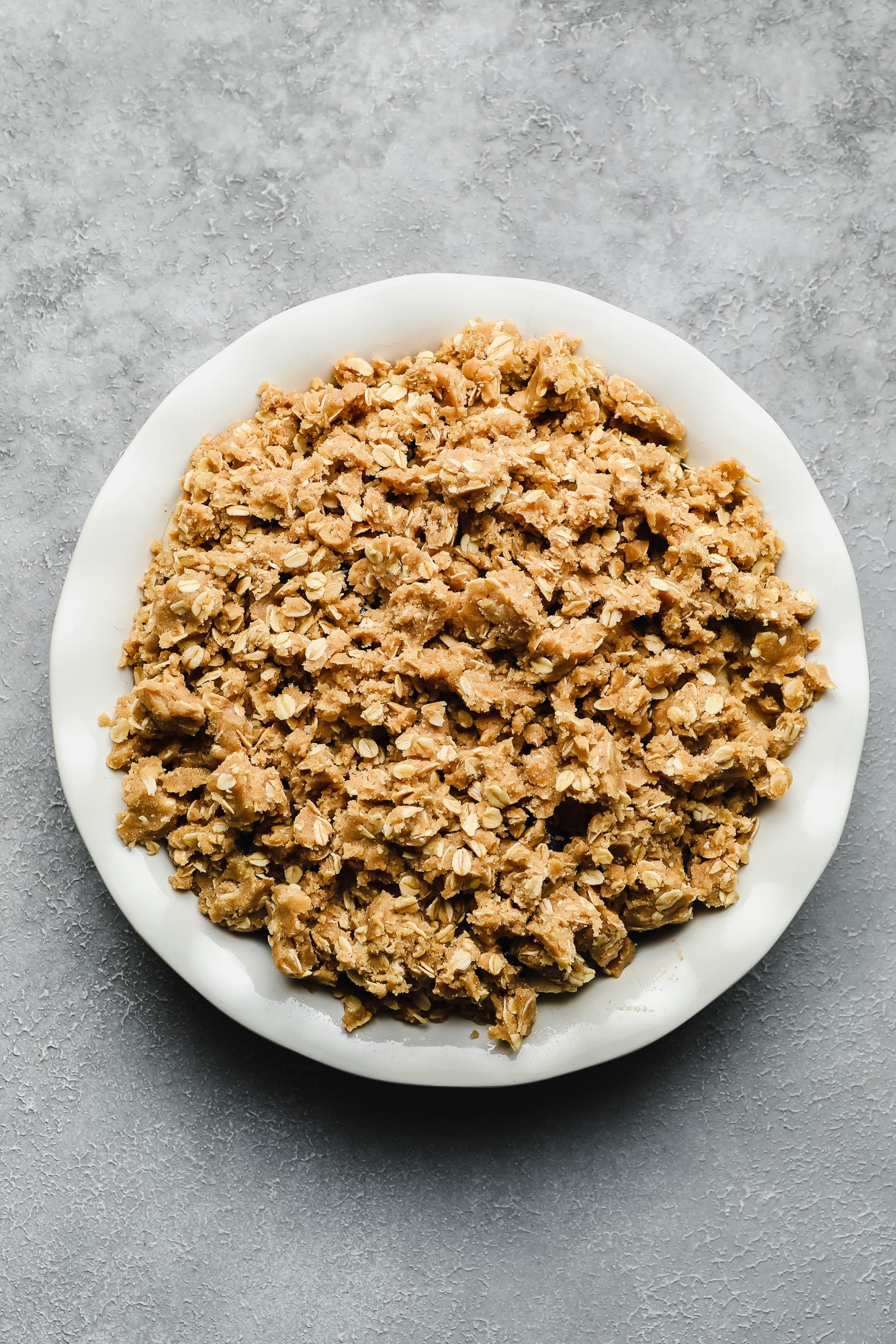 Variations
Frozen blueberries – You can make the crumble with frozen blueberries if that's what you already have at home.
Instead of apples – Instead of pairing the blueberries with apple slices, use fresh or frozen strawberries, blackberries, or raspberries. Peach or pear slices would pair well, too.
Instead of blueberries – If you're all out of blueberries, customize the apple crumble with fresh or frozen cherries or cranberries, plum or pear slices, or rhubarb instead.
Less sweet – Reduce the granulated white sugar in the filling to ¼ cup if you want the crumble to taste less sweet.
Add nuts – Folding chopped almonds, pecans, or walnuts in with the crumble topping will add a delightful soft crunch to every bite.
For serving – Serve the warm apple blueberry crumble in bowls with vanilla ice cream or coconut whipped cream. Finish with salted caramel sauce, crushed or candied nuts, and/or extra cinnamon on top.
Make ahead and storing
You can make the crumble 1 day ahead of serving. Prepare the filling and oat crumble as normal, then store them in separate airtight containers in the fridge. Assemble the crumble and bake the next day.
If you end up with leftovers, store them in an airtight container in the fridge for up to 5 days. The crumble also freezes well for 3 months.
Reheat the leftovers in a 350ºF oven until warmed through.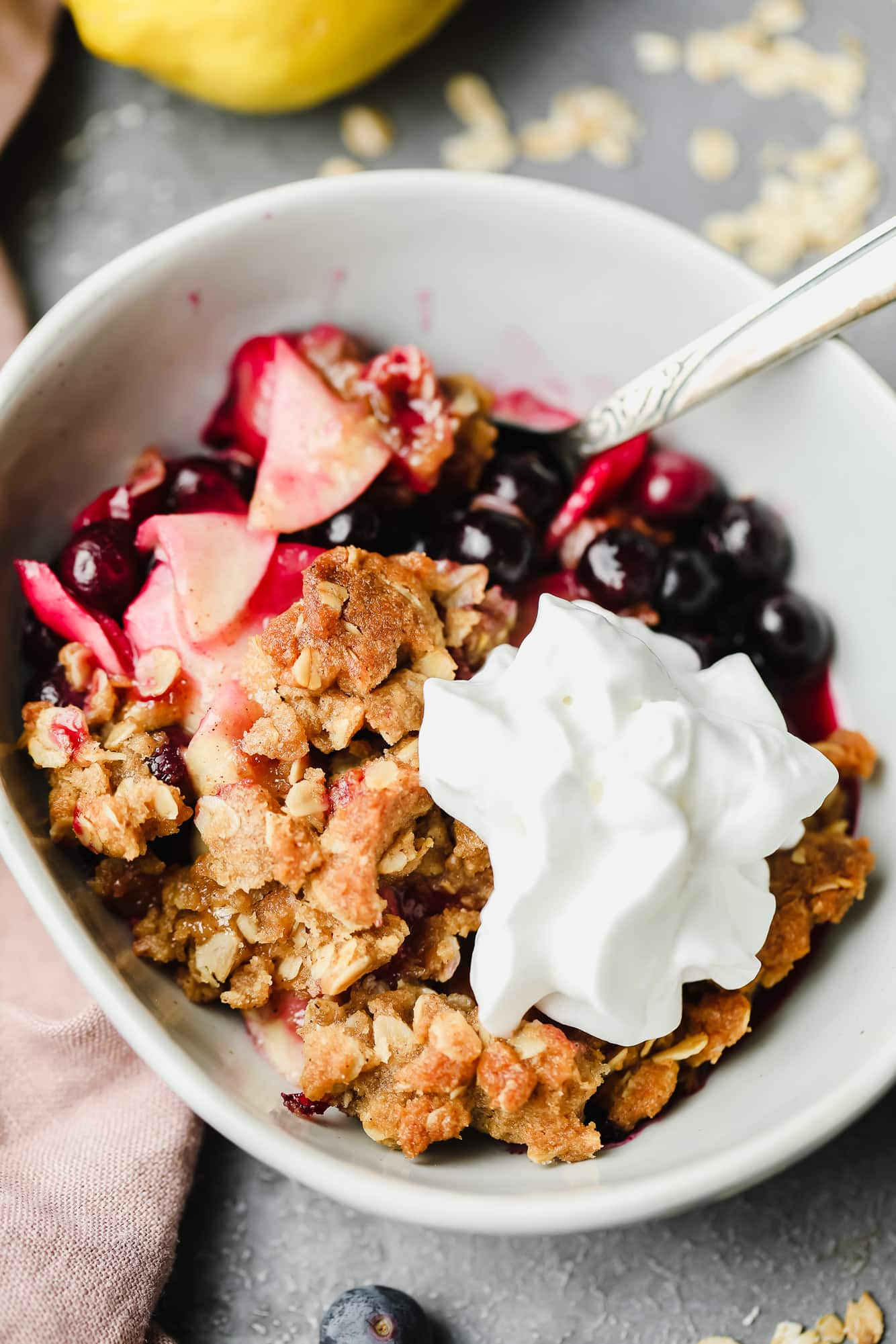 Want more fruity vegan desserts?
Preheat the oven to 350 degrees F and lightly spray a 9-inch pie pan or 2-quart baking dish.

In a large bowl, combine the blueberries, apples, sugar, lemon juice, flour, cinnamon and salt. Stir gently until well combined and the fruit is coated.

Transfer the fruit mixture to the prepared dish and set aside.

In a medium sized bowl, stir together the flour, oats, brown sugar, cinnamon and salt. Add the melted butter and stir until well combined and the mixture is crumbly.

Sprinkle the topping over the fruit in the dish. Use your hands to create some larger chunks of the topping; they will turn into delicious clusters as they bake.

Bake for 35-40 minutes, until the top is golden brown and the apples are tender. The sides will be bubbling.

Serve warm with vanilla ice cream or whipped cream. Enjoy!
You may use frozen blueberries if needed. Instead of apples, feel free to use another fruit, like strawberries, peaches, pears, etc.
For gluten free, use gluten free all purpose flour instead and make sure your oats are gluten free certified. 
May use coconut oil instead of vegan butter.
Calories: 344kcal | Carbohydrates: 63g | Protein: 3g | Fat: 10g | Saturated Fat: 2g | Polyunsaturated Fat: 3g | Monounsaturated Fat: 4g | Sodium: 244mg | Potassium: 170mg | Fiber: 4g | Sugar: 43g | Vitamin A: 595IU | Vitamin C: 9mg | Calcium: 32mg | Iron: 1mg