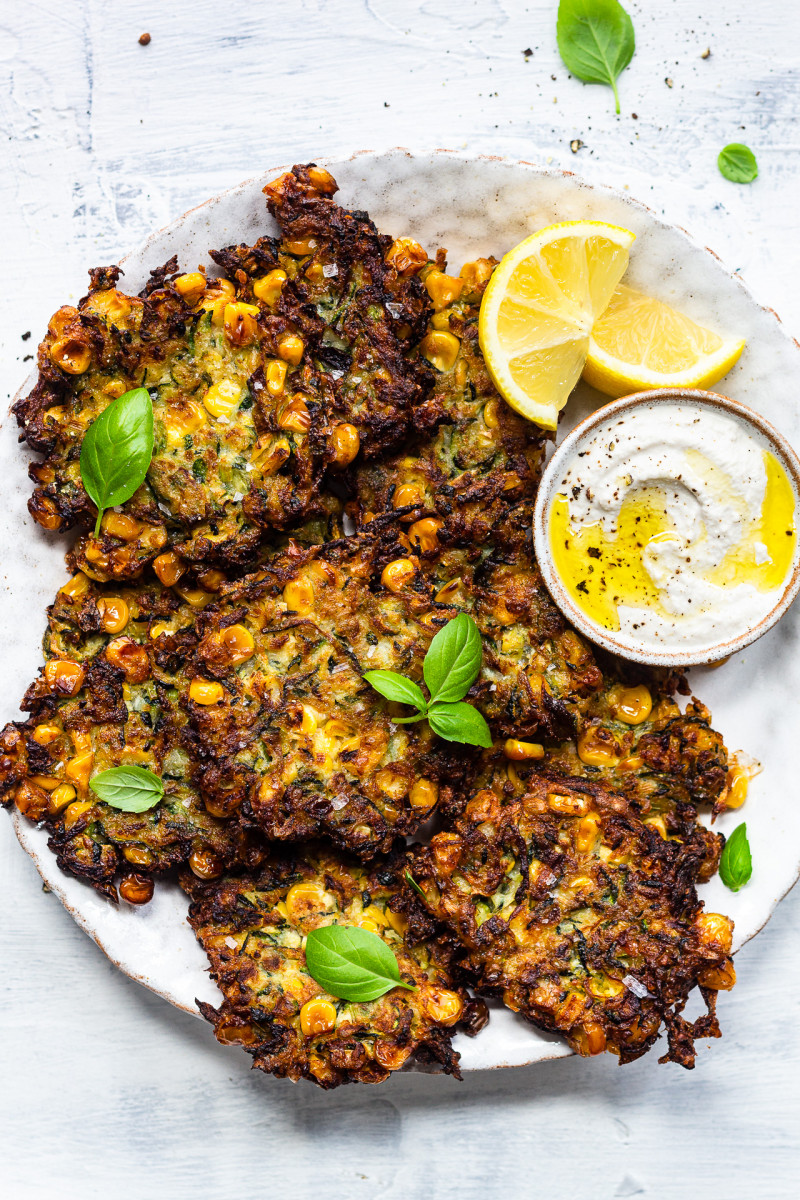 Fritters, who doesn't like them!? Summer is a perfect time for them as there are so many seasonal ingredients that make awesome fritters. Today, I combined two of the summer greatest hits in a single fritter: courgette (also known as zucchini) and sweetcorn. I love them both, separately and together so I figured why not. Plus, every year I get emails from my readers asking what to do with surplus zucchini so I was happy to oblige.
If would rather not mess around with squeezing liquid out of zucchini (I know, I know, it is a bit of a pain) and are a massive corn addict, I have got you! I have two corn fritter recipes on this site already – one for Thai inspired corn fritters here and another for corn fritters with a touch of Indian spices. If you would rather just have zucchini fritters, try these Greek inspired ones or my Greek tomato fritters instead – both inspired by us living on a Greek island for a few years.
Right, so today's fritters are really really simple and not difficult to make. The only thing that isn't anyone's idea of fun is having to extract excess liquid out of courgettes / zucchini, but trust me, it is a must!!! Zucchini is notorious for holding on to lots of moisture and while this can work to your advantage when you make a deliciously moist zucchini cake, for example, you really want to banish almost all of that extra liquid when making fritters or else they will end up soggy!
The second thing I like to do is to chop or process half of the corn kernels quite finely to help the fritters stick together. Corn kernels provide delicious pops of sweetness and texture but they also sabotage these fritters a little by trying to break free from them. It's not their fault, they are quite independent you see! So to make sure they keep in line, I like to mince half of them finely so that they become part of the batter and the fritters don't disintegrate as easily.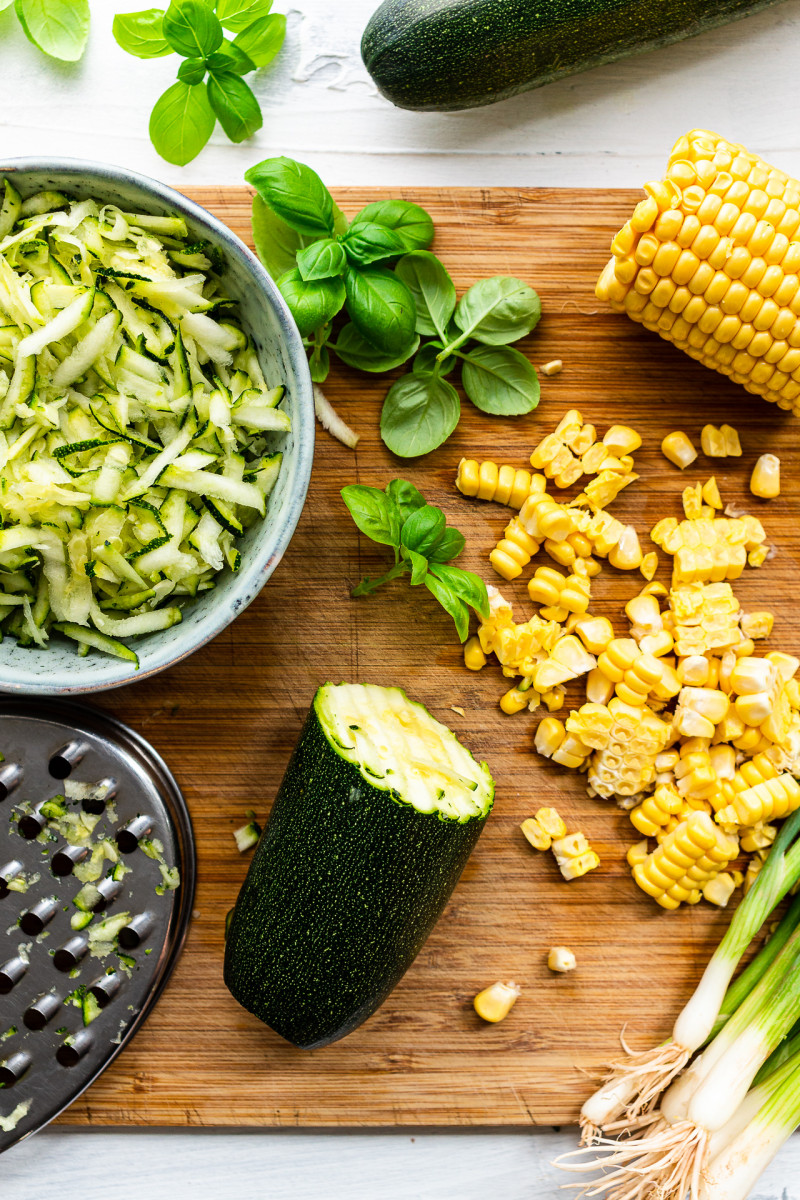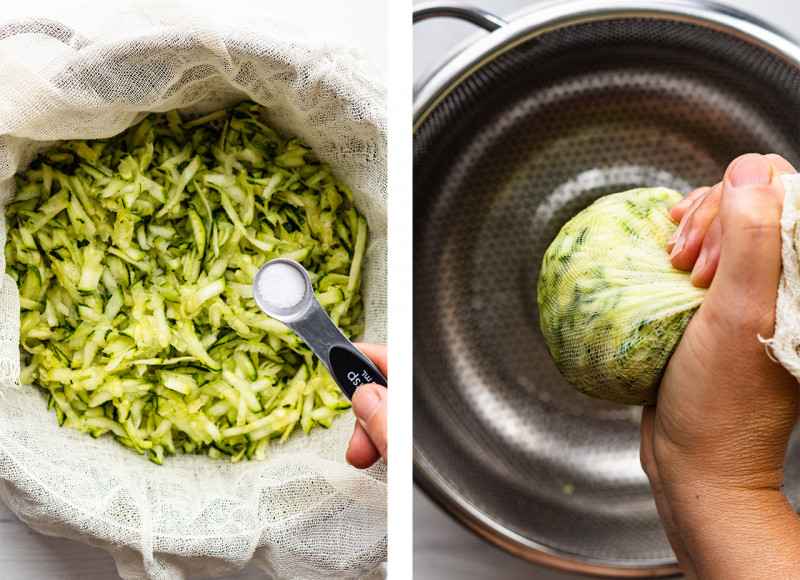 Grate the courgettes / zucchini quite coarsely, salt them and set aside for the salt to extract excess moisture. Squeeze the moisture out into the bowl underneath, be through, courgettes are surprisingly watery.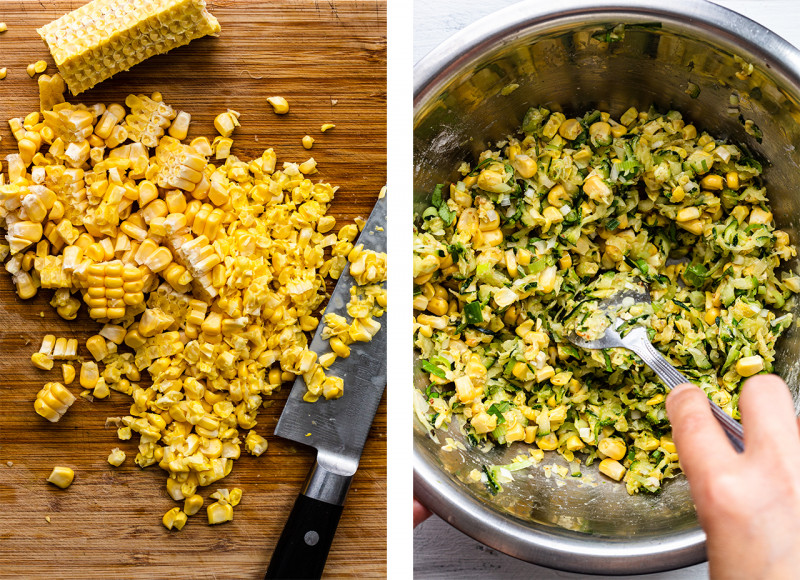 Chop half of the corn kernels finely – you could also mince them with thickened flax in a mini food processor – so that they become part of the batter and the fritters hold together better. Mix all the ingredients in a bowl, mix well and then chill for a few hours.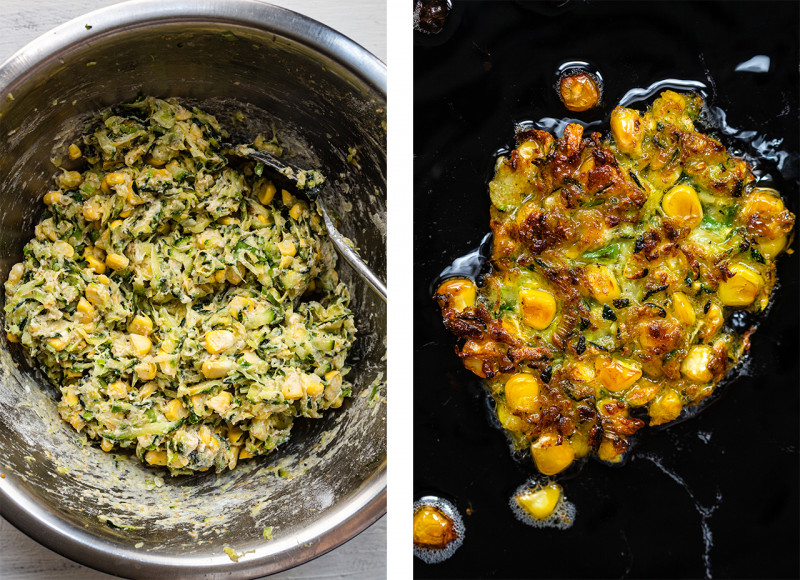 Once chilled, the mixture should stick together well, it should not be too dry or too wet (see photo on the left). Fry a heaped tablespoon of batter per fritter until cooked through and browned on both sides.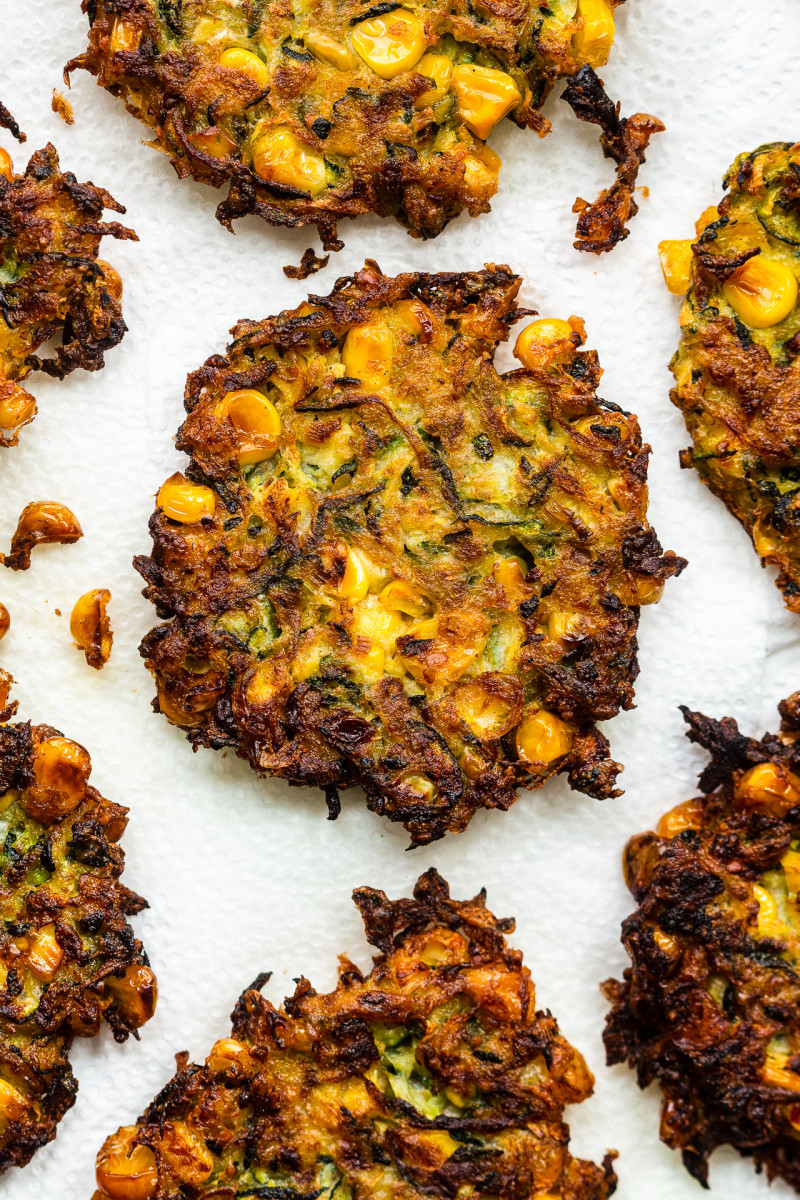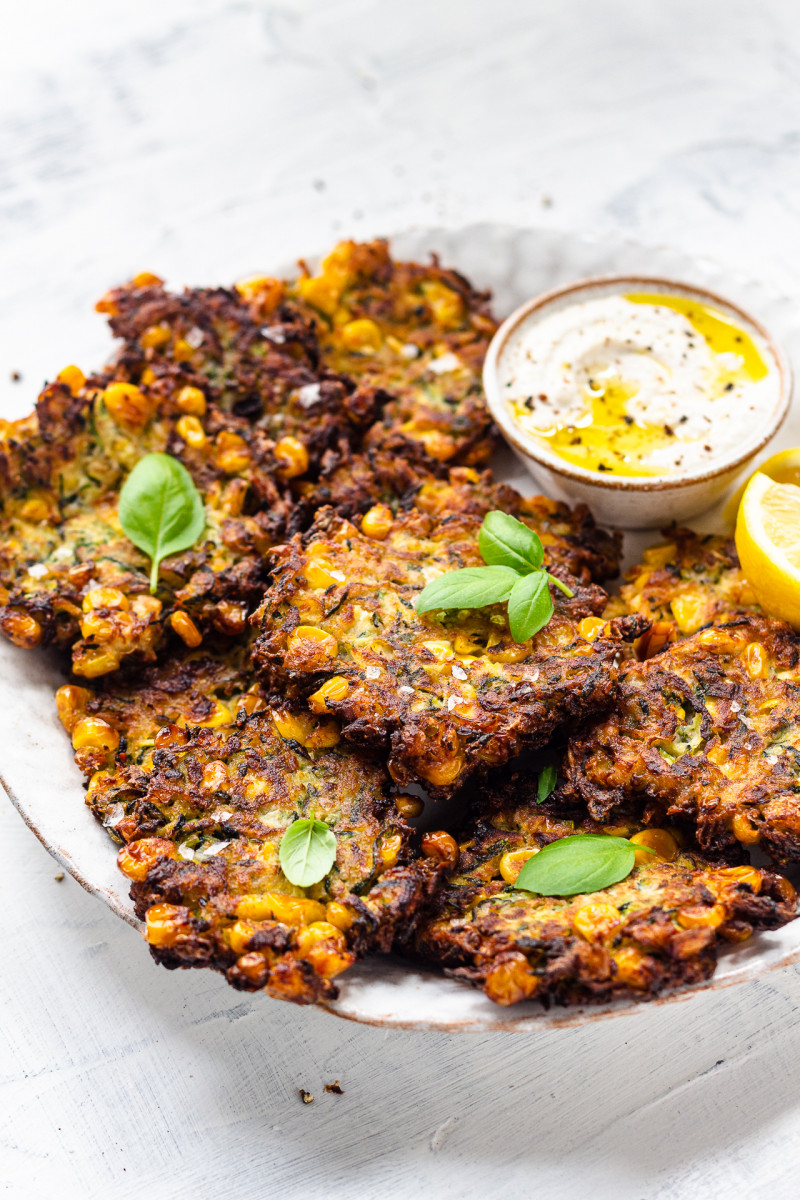 500 g / 17.5 oz courgette/zucchini
1 tsp salt
2 tbsp ground flax / chia
1 cob of corn*
2 spring onions / scallions, finely chopped
a handful of basil leaves, finely chopped
a good grind of pepper
zest of 1 small lemon, optional
45 g / 6 tbsp AP flour or chickpea flour (for GF version)
heaped ¼ tsp baking soda
vegetable oil, for frying
METHOD
Grate courgette/zucchini coarsely, stir the salt through it and let it sit for 10 minutes.
Place grated courgette/zucchini inside a muslin cloth and squeeze as much liquid out of it as you can into a bowl underneath. Be thorough, I ended up with around 360 ml (1½ cup) of liquid – don't throw it away just yet though.
In a small bowl, mix ground flax with 3 tbsp (45 ml) of zucchini liquid (keep another 30 ml / 2 tbsp just in case). Set aside to thicken.
Shave corn kernels off the cob with a sharp knife, chop half of the kernels well – you could also process them in a small food processor with thickened flax, but it's not necessary, chopping them does the job.
Combine squeezed out courgette, corn kernels, thickened flax, finely chopped spring onions, basil leaves, black pepper, lemon zest (if using) in a large bowl. Mix well.
Stir the flour through the mixture – initially the mixture may look a little dry but it will turn into sticky batter in the fridge. Place it in the fridge for a couple of hours to thicken. After resting, the batter should not be runny, but it shouldn't be dry either – it should stick together (see the photo next to the frying fritter). If it's too dry, add another tablespoon of the zucchini liquid.
Stir baking soda through the batter just before frying.
Heat up a medium skillet or frying pan on the stove, once warm, add at least 0.65 cm / ¼" of oil and allow it to come to temperature.
Drop a corn kernel into the hot oil, if it starts sizzling quite vigorously straight away, the oil is ready for your first fritter. If you have a thermometer, the temperature should read 175° C / 350° F.
Lay a slightly heaped tablespoon of batter on the hot oil using. Flatten it very lightly (don't make them too thin as they will fall apart) with the back of a spoon.
Once flattened, leave each fritter undisturbed for about 3 minutes before gently flipping to the other side and frying for another and 2-3 minutes.
Maintaining correct oil temperature is key to good fritters. If the fritters are bubbling too vigorously and browning too aggressively, decrease the heat a little or else they will burn on the outside and remain raw on the inside. If they are barely sizzling and not browning, turn the heat up a little. Overcrowding the pan will cause the oil temperature to drop too much so only fry 2-3 fritters at a time.
Transfer fried fritters to a kitchen towel-lined plate to soak up excess oil. Allow them to cool down a little and set as they are fragile whilst hot.
Serve warm alongside vegan cream fraiche or yoghurt seasoned with garlic, lemon, salt & pepper.
NOTES
*CORN – approximately scant 1 cup shaved kernels, you can use defrosted frozen corn.