Vegan Bolognese is savory, hearty, and made "meaty" with plenty of tofu crumbles! Tossing your spaghetti in this robust homemade marinara sauce is one of the best comfort meals you can treat yourself to. It's an easy weeknight dinner the whole family loves!
If you love hearty pasta dishes as much as I do, make sure to check out my Vegan Baked Ziti and Vegan Lasagna!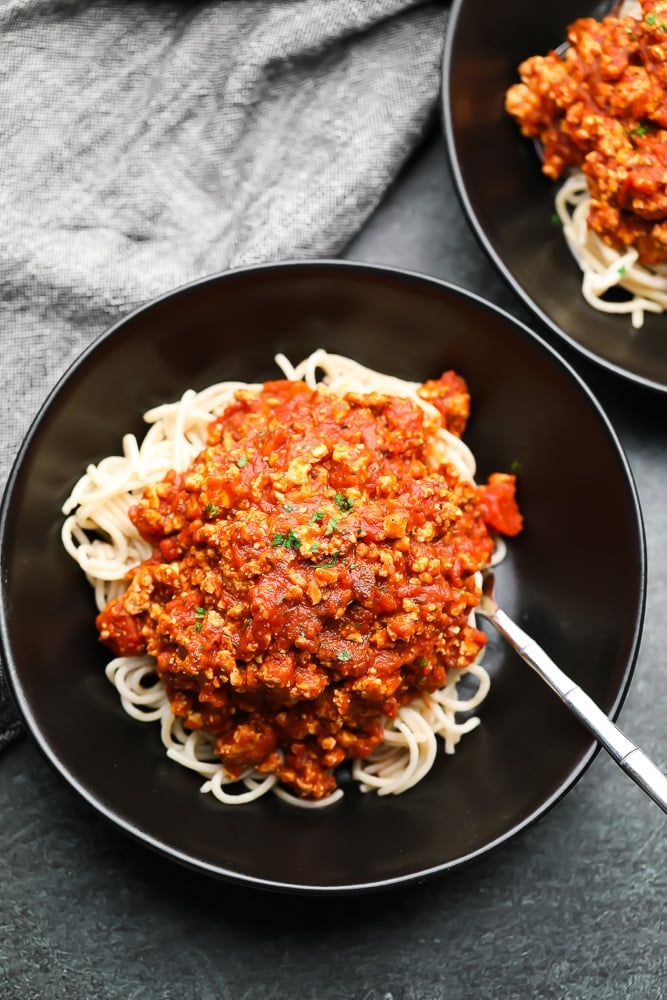 Winter is just around the corner, and I'm preparing for the chilly evenings by remembering all of my favorite comfort food recipes! Stay full and warmed up this fall and winter with dinner recipes like Vegan Broccoli Cheddar Soup, Vegan Chicken and Dumplings, and Lentil Chili!
Why I love this vegan bolognese
It's super filling. Spaghetti noodles always fill you up and they're made even heartier here with the amount of crumbled tofu in this sauce. It's a protein packed sauce that always hits the spot!
So much flavor! Oh yes, there's so much mouthwatering flavor in this simple bolognese sauce! It's created by seasonings like smoked paprika garlic powder that pair perfectly with the marinara sauce. 
One of the best comfort meals. After a long day, nothing's more satisfying to curl up with than a pasta dinner. Make that pasta dinner the best it can be with a warm, "meaty" sauce like this vegan bolognese!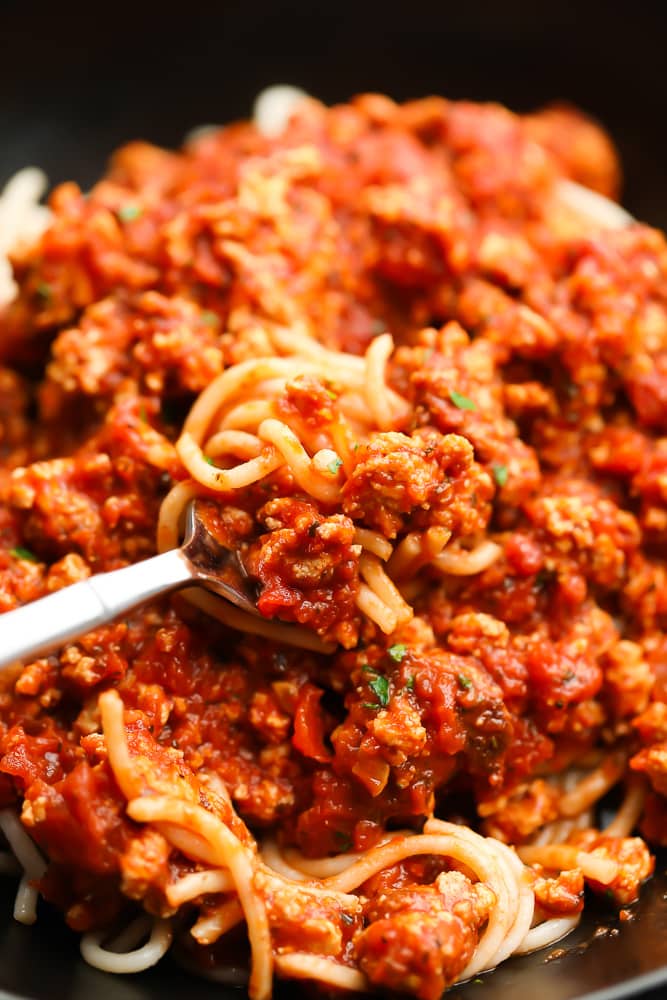 Ingredients needed (with substitutions)
Soy Sauce – I tend to usually use low sodium soy sauce, but you can use regular instead. For a gluten free option, use tamari..
Marinara Sauce – I love Trader Joe's jarred tomato basil marinara, and they have several other ones I like as well. Use what you love, because this will make up most of the flavor in the sauce! You can also make this pretty easy from scratch.
Olive Oil – Omit for oil free, it just helps the tofu brown nicely and not burn in the oven. You can also swap it for avocado oil if preferred. 
Seasonings – You'll need a medley of smoked paprika, garlic powder, and onion powder for this sauce. You can replace the smoked paprika for plain if you don't want the light note of smokey flavor. 
Firm or Extra Firm Tofu – There's no need to press the tofu. Simply remove it from the water and pat it dry. You could try using tempeh for a tofu free option, or just make my lentil bolognese sauce instead. I've also used both Beyond and Impossible "beef" to make a killer Vegan Spaghetti with Meat Sauce. So good!
Spaghetti Noodles – I used brown rice quinoa spaghetti, but you can use any kind you like, white, whole wheat or a gluten free variety.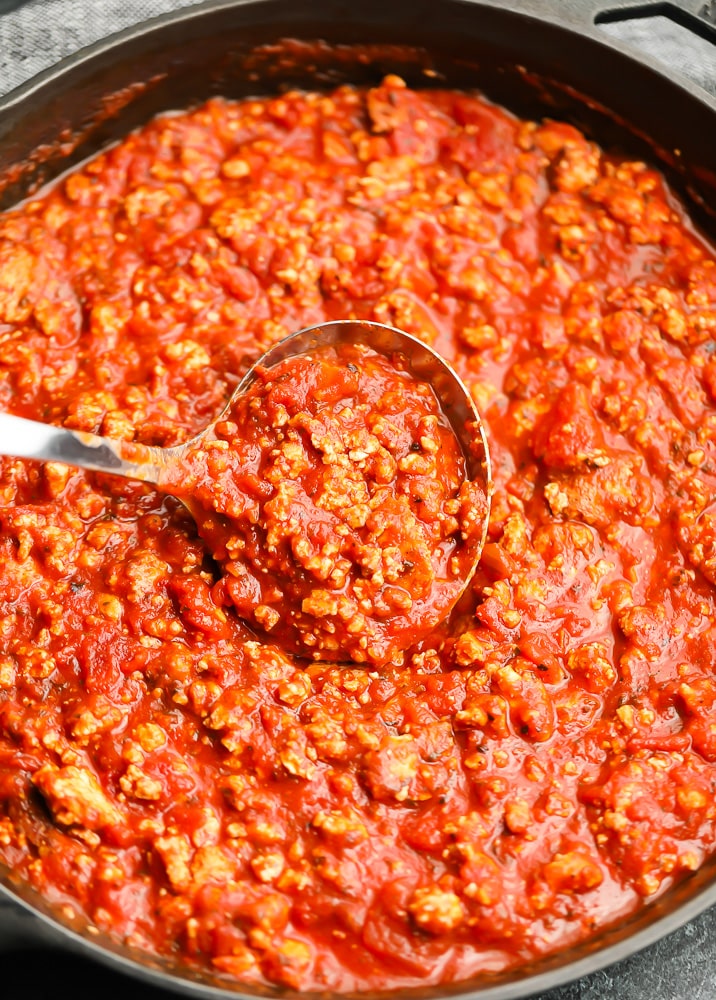 How to make vegan bolognese
Find the complete printable recipe with measurements below in the recipe card.
In a large bowl, add the soy sauce, 2 tablespoons of the marinara, olive oil, smoked paprika, garlic powder and onion powder.
Stir well with a large spoon or whisk.
Crumble the tofu into the bowl. You can use your hands but I usually use a potato masher to mash it, which also crumbles it.
Stir the tofu crumbles into the sauce.
Place in the oven and bake for 25-40 minutes until chewy, but be careful not to burn it.
They are done when they have turned golden brown, are chewy and there is no water on the pan. You can stir them a few times if the edges start to burn.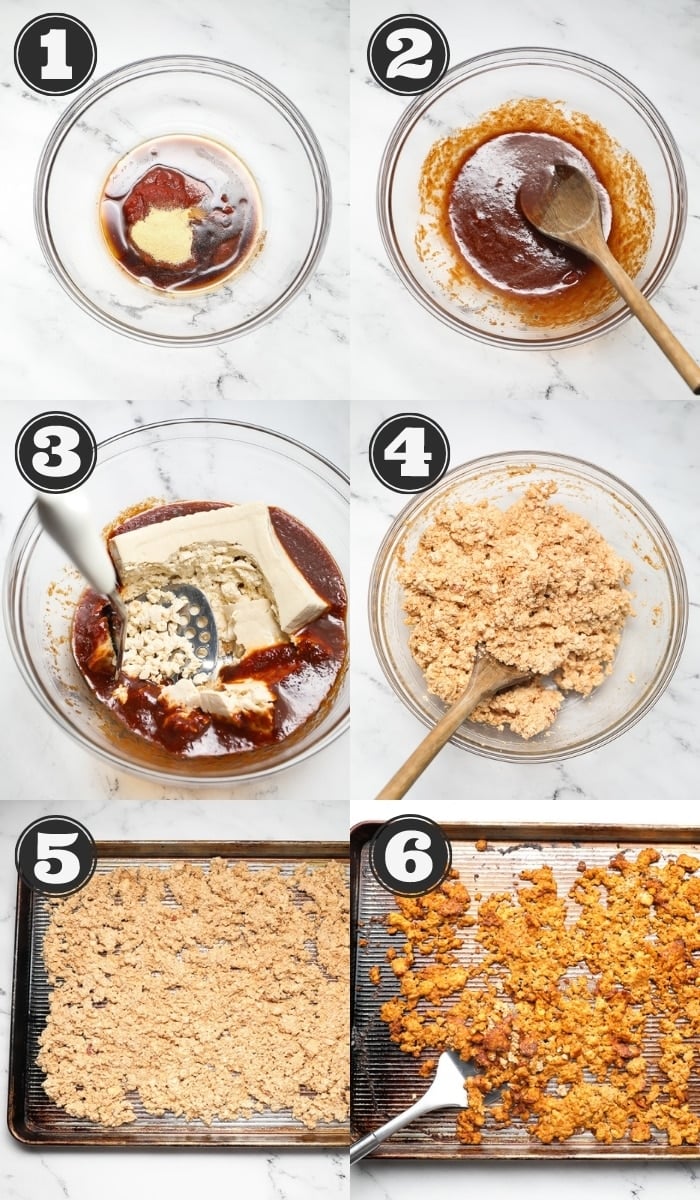 While the tofu bakes, cook your pasta and heat your marinara sauce on the stovetop. When the tofu is done baking, add to the sauce and stir to create your meaty, easy vegan bolognese sauce! Serve with vegan parmesan and enjoy!
Consider serving alongside Vegan Caesar Salad and Dutch Oven Bread.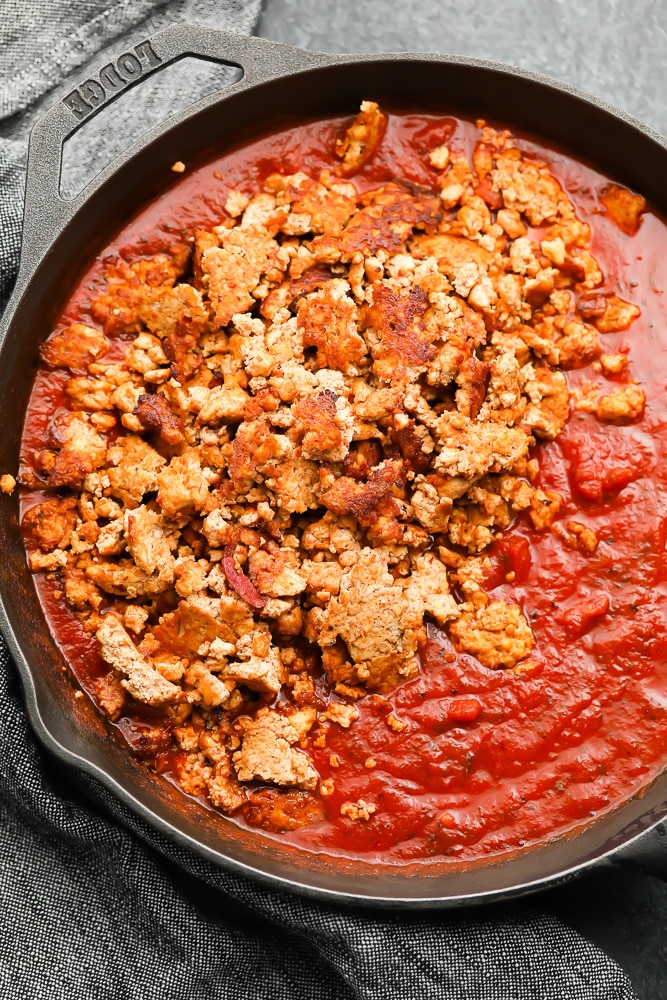 Frequently asked questions
How long will vegan bolognese sauce stay fresh? If you happen to have any leftover bolognese sauce, it keeps very well in the refrigerator for 3-4 days in an airtight container. Reheat on the stovetop or in the microwave until warm.
Can I freeze it? Yes! Simply store it in a freezer safe food storage container and pop it in the freezer, where it'll stay fresh for up to 3 months. 
Can I make this sauce spicy? You sure can. If you want your vegan bolognese to have a little spice, sprinkle in some crushed red pepper flakes along with the other seasonings.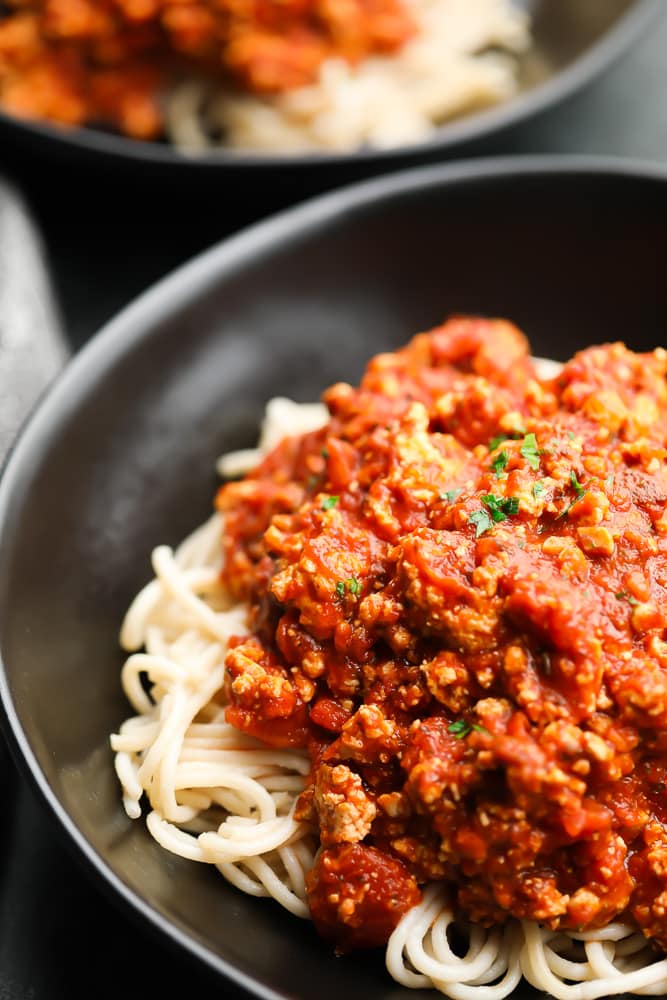 More vegan pasta recipes you'll love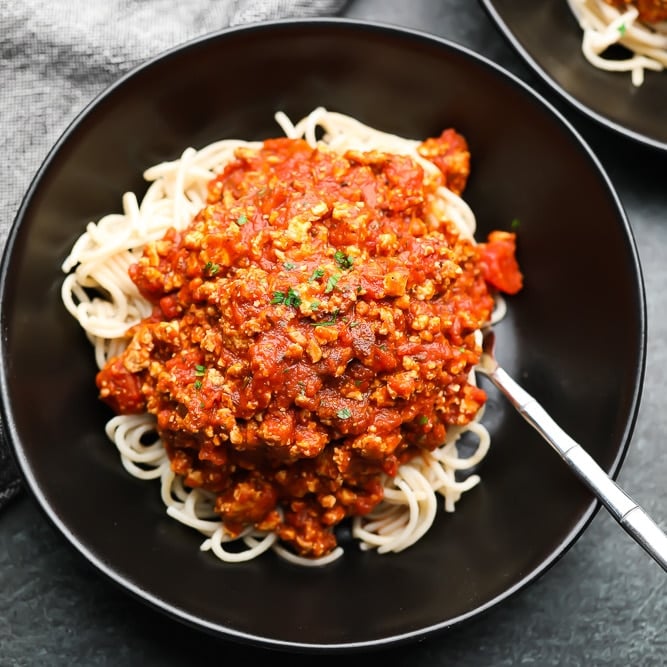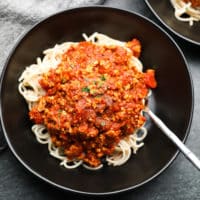 Prevent your screen from going dark
Preheat oven to 375 degrees F and line a large baking sheet with parchment paper or spray well with oil.

In a large bowl, stir together the soy sauce, 2 tablespoons of the marinara sauce (adjust if doubling/halving the recipe), olive oil, smoked paprika, garlic powder and onion powder until well combined.

Now drain the tofu from the package, pat with paper towels and crumble into the bowl with the sauce. You can use your hands OR use a potato masher to mash it right in the bowl.

Stir to coat the tofu crumbles in the sauce, then transfer to the prepared baking sheet, spreading it out into a layer (see photos above for visual reference). Bake in the center rack of the oven for 25-40 minutes, until chewy and golden in spots, but be careful not to burn it. You can give it a stir halfway, if the edges start to burn.

While the tofu is baking, cook your pasta according to package instructions, then drain and set aside.

Add the rest of the marinara sauce to a medium sized pot and warm on low heat. Once the tofu is done baking, remove it from the oven and add to the pot with the marinara. Stir to make a meaty bolognese sauce!

Serve immediately over pasta, sprinkled with vegan parmesan, if desired, and some crusty bread. Enjoy!
Gluten free: Easy! Use gluten free tamari instead of soy sauce and gluten free pasta. I used Trader Joe's brown rice quinoa spaghetti!
Tofu free: Try substituting tempeh instead! But don't bake it as long, probably only 15-20 minutes instead of 25-40. Or make my lentil bolognese instead.
Omit oil for oil free and use parchment paper. You will also need to find a marinara sauce that doesn't contain oil, as most do.
Tofu bolognese sauce will keep in the refrigerator for 3-4 days and reheats well either in the microwave or stovetop. It may also be frozen.
Serving: 1of 4 servings, Calories: 363kcal, Carbohydrates: 56g, Protein: 20g, Fat: 9g, Saturated Fat: 1g, Sodium: 816mg, Potassium: 756mg, Fiber: 4g, Sugar: 8g, Vitamin A: 1042IU, Vitamin C: 13mg, Calcium: 170mg, Iron: 5mg
We are a participant in the Amazon Services LLC Associates Program, an affiliate advertising program designed to provide a means for sites to earn advertising fees by advertising and linking to amazon.com. Read my full disclosure here