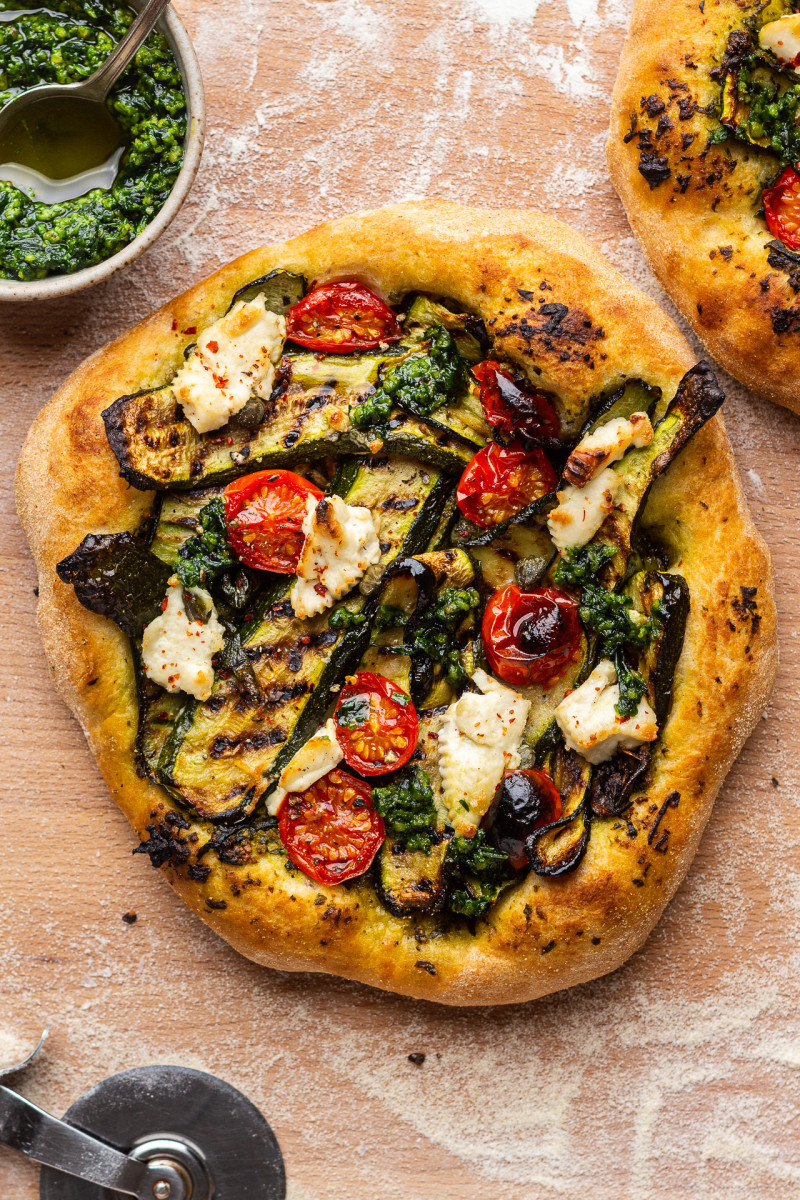 If you are sometimes in the mood for pizza but too busy or tired to knead the dough, I have some good news. It is perfectly possible to make a delicious tasting pizza with a beautifully chewy crust without any kneading whatsoever. I actually don't mind kneading, but sometimes it's just too much effort especially if, like me, you spend too much time in the kitchen already.
All this recipe wants from you is to mix three dry ingredients together in a bowl with some water, cover it and leave well alone for hours. I often do it just before I go to sleep knowing that I will have a ready pizza dough by dinner time. It's so simple!
I may be wrong, but what I think is at play here is a chemical process known as autolyse combined with some yeast action. Autolyse is a common technique used in bread baking and it's the act of combining flour and water and letting them do their thing – during the resting time gluten forms and the dough gathers strength and elasticity. To be honest, you don't need to concern yourself with why it works, it just does.
This is not my first venture into no knead bread baking (pizza, after all, is bread albeit flat). I used to live on this no knead Turkish bread when I moved away from a place that was right next to a Turkish bakery (now I live right next to one again and I am there every other day!) so I had high hopes for this pizza dough based on this Jim Lahe's recipe and it absolutely delivered.
In terms of toppings, I used wild garlic pesto I had stashed in my freezer, sliced of grilled zucchini, sweet cherry tomatoes, briny capers and creamy vegan ricotta, but put whatever you like on yours including a pineapple if that's what you are into – don't let any rules hold you back ???? – that's a motto I am trying to learn to incorporate into my entire life lately.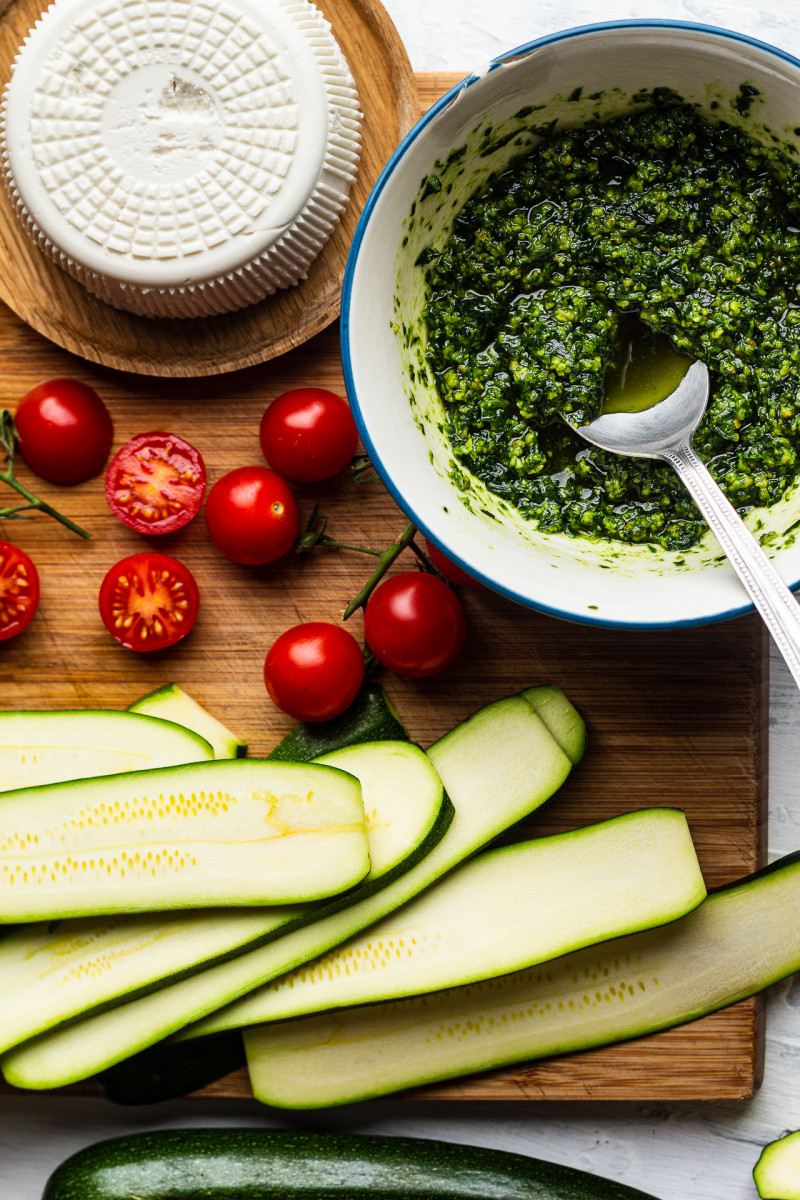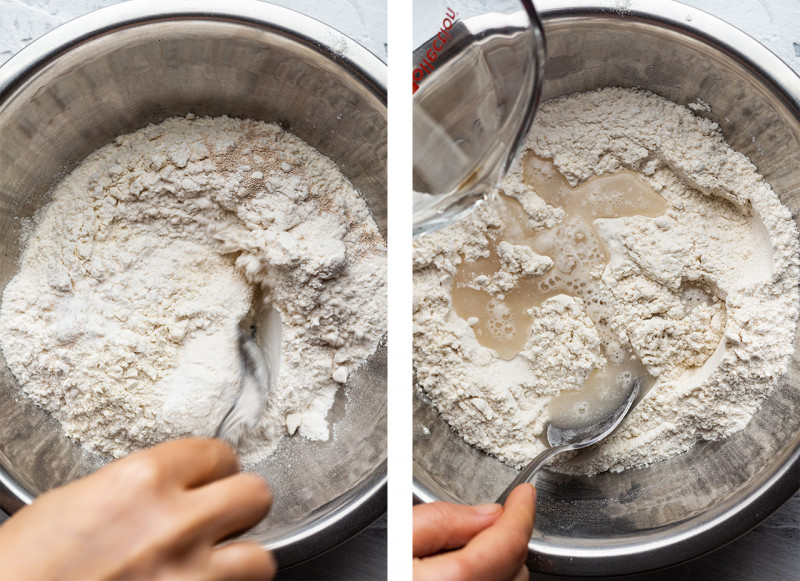 Mix flour, salt and instant yeast in a bowl until well combined. Add water, stirring with a spoon initially then using your hands to form the dough ball.
Cover the dough (I used an old bread bag) and leave it to ferment on a kitchen counter for 18-20 hours (depending on ambient temperature). The dough should have doubled in size, risen to form a flat surface and be full of tiny bubbles and a few holes when ready.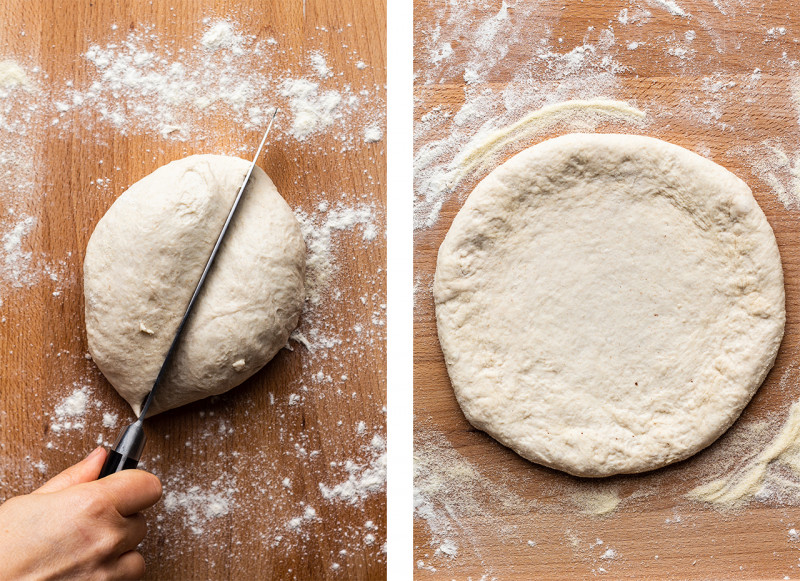 Transfer the dough onto a well floured surface, shape into a ball (dust in flour if sticky) and divide into 4 equal portions. Shape each portion into a pizza (as big as you can manage) remembering that the crusts will rise a lot.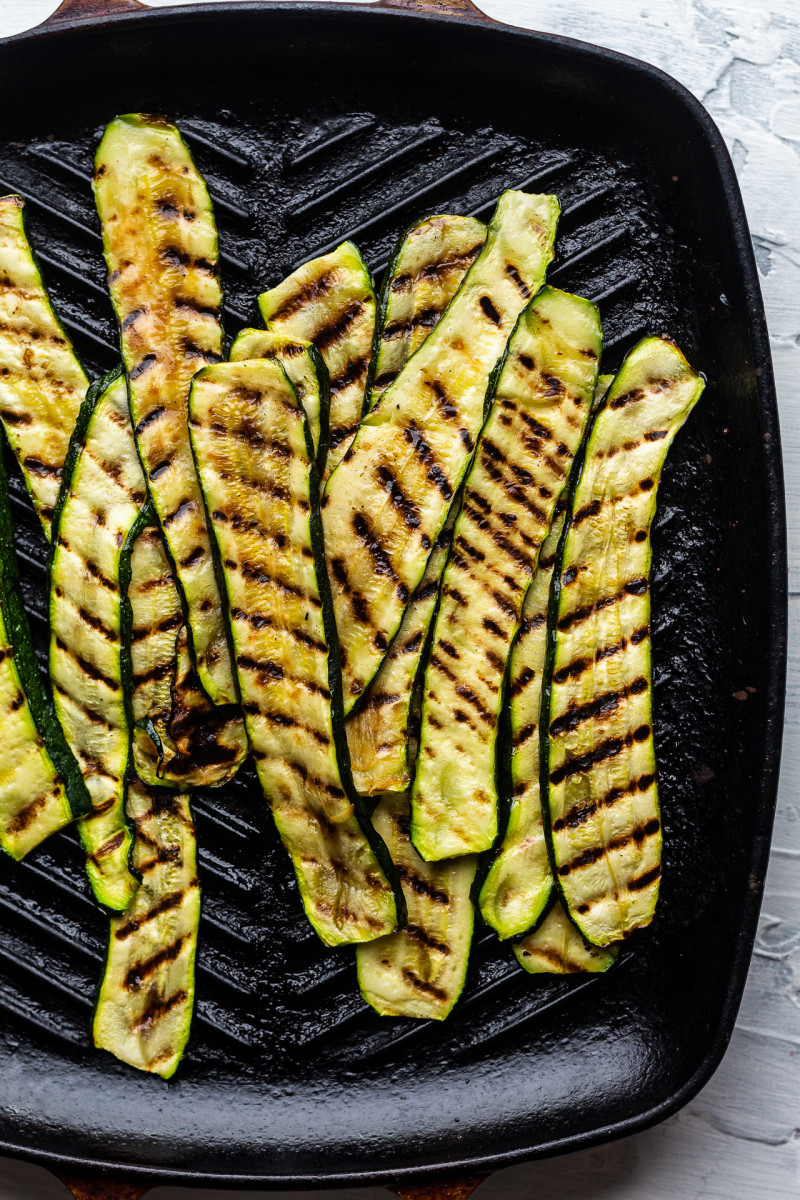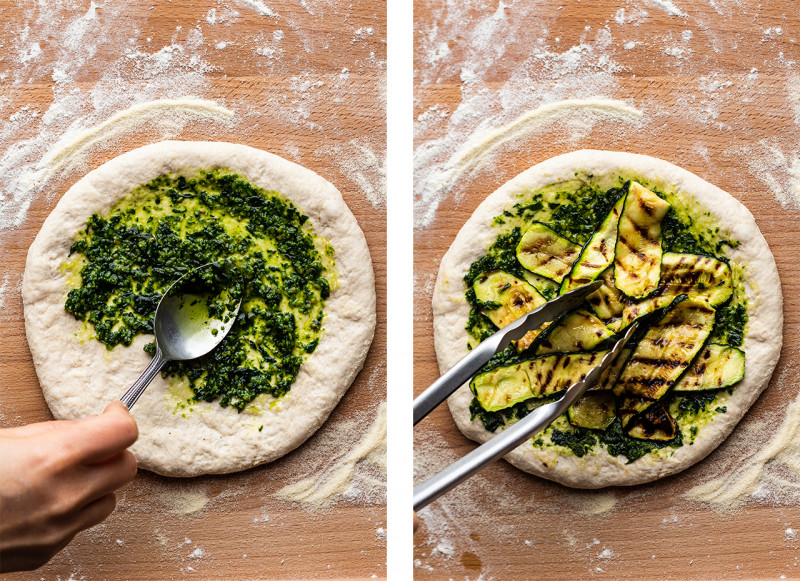 Top with your favourite things. I used wild garlic pesto, grilled zucchini ribbons, cherry toms cut in half, capers and small amount of my vegan ricotta.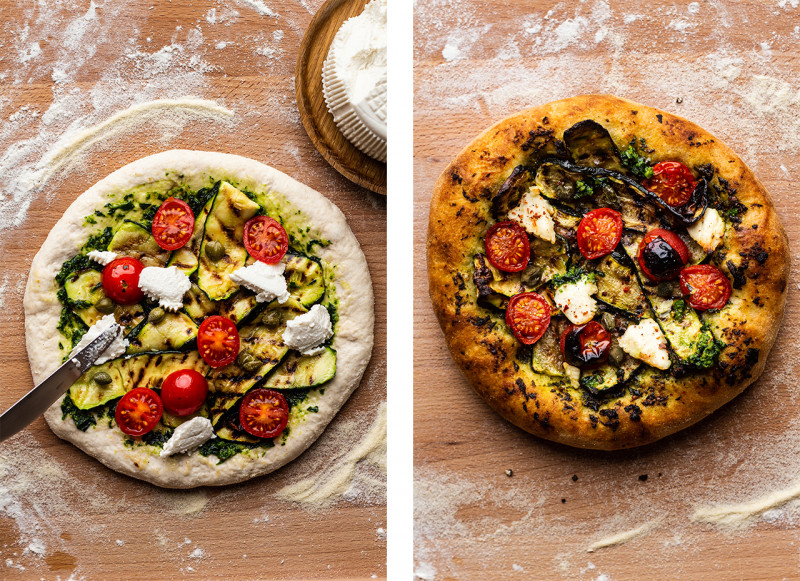 Bake in a pre-heated oven until the base is cooked and the top is lightly charred.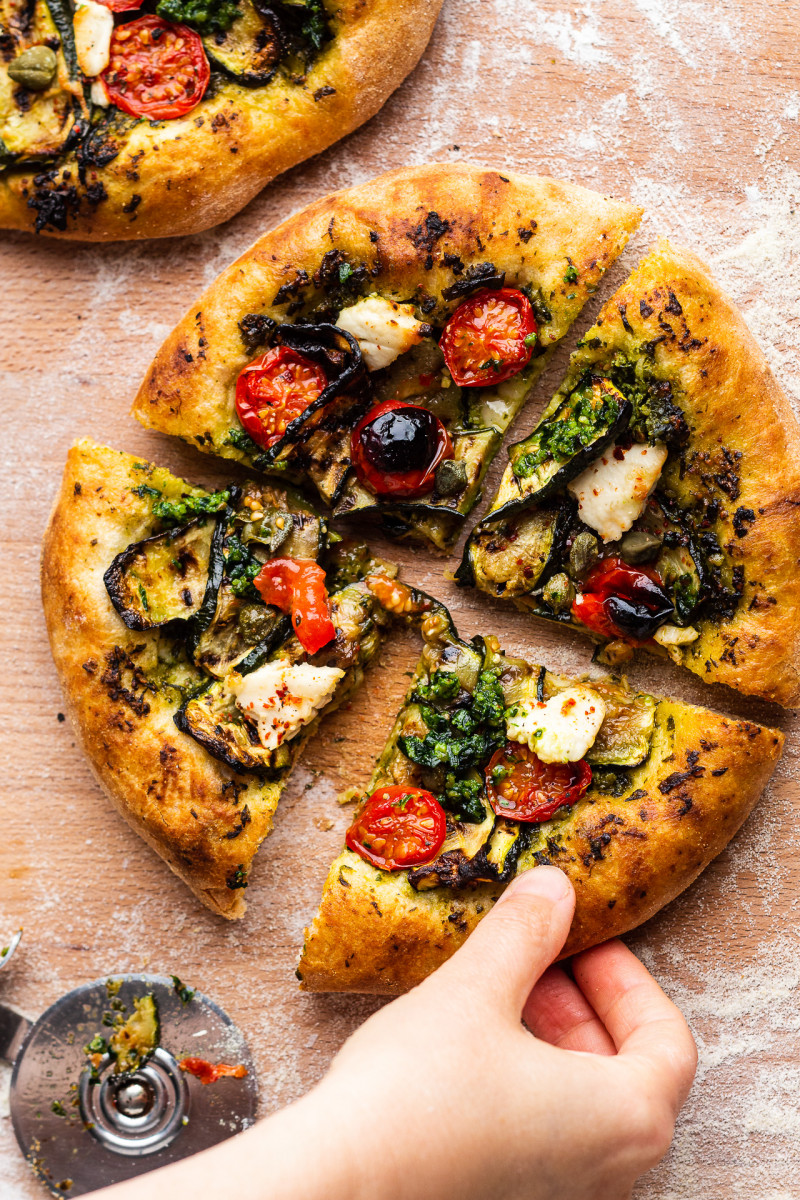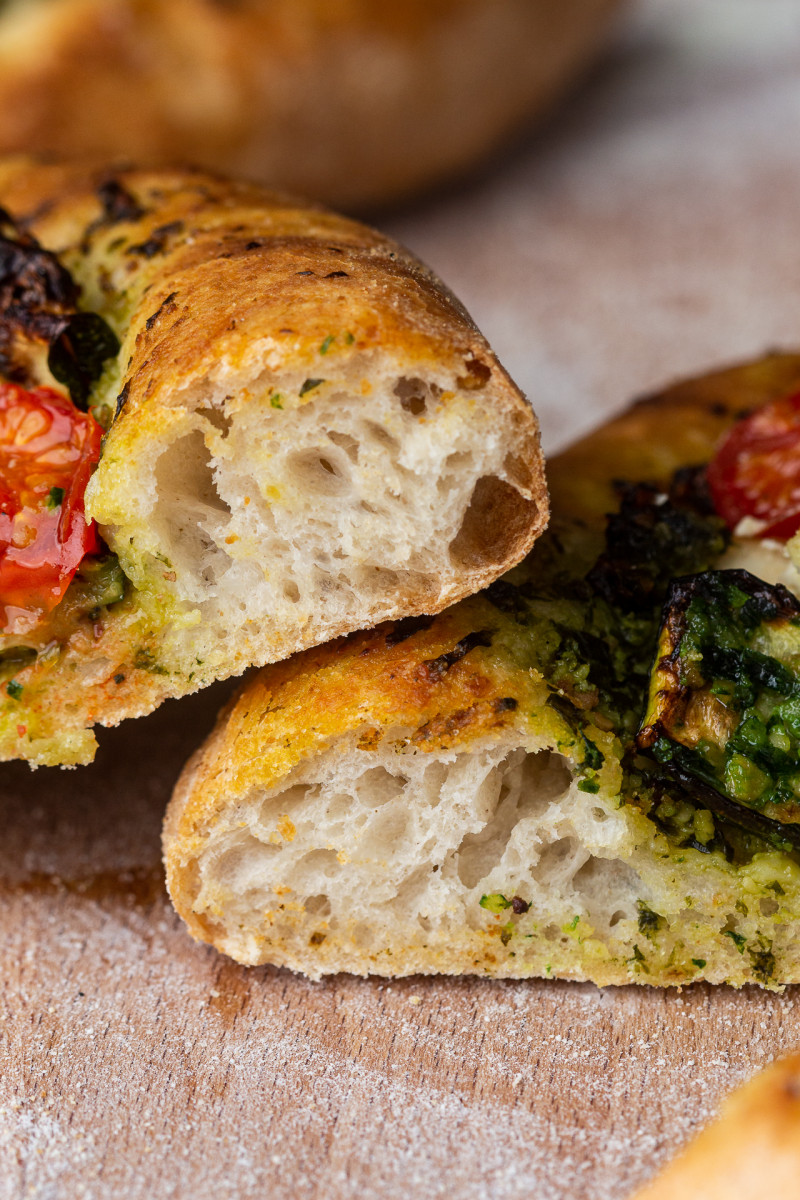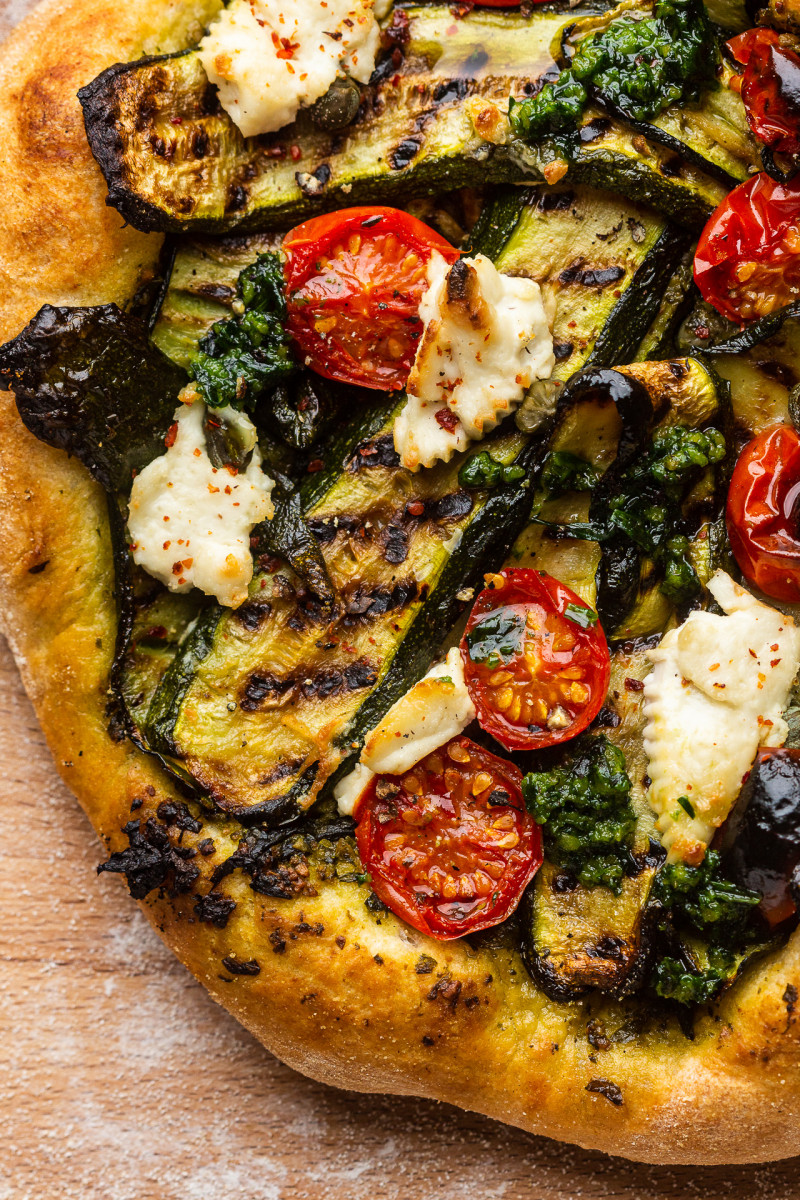 NO KNEAD DOUGH (make a day ahead)
500 g / 4 cups AP flour, plus extra for dusting
12 g / 2 tsp salt
1 tsp instant dried yeast
approx. 360 ml / 1½ cups water
semolina flour* (optional)
TOPPING SUGGESTIONS
METHOD
Mix the flour, salt and yeast in a large mixing bowl.
Pour in water while mixing in with a spoon.
Once most of the water has been added, use your hands to bring the dough together, it should all stick together easily without any dry pockets, if there are, add a touch more water but in very small, incremental doses as you don't want the dough too wet.
Cover the bowl with a piece of cling film or a plastic bag and leave on the counter to proof for 18-24 hours – until it has doubled in size, risen and the surface has little holes. Proofing time depends on the ambient temperature, the cooler it is the longer it takes. An ideal temperature is about 22° C / 72° F.
45 minutes before you are ready to shape your pizzas, preheat the oven with a pizza stone* in it to 250° C / 480° F.
If you don't have a pizza peel or are not quite experienced in using one, you may want to place a piece of oven-proof paper underneath each pizza to use as a sling later.
Sprinkle the countertop or the paper laid on top of it with regular flour and semolina flour to prevent the dough from sticking.
Divide the dough into 4 equal portions. Shape each portion into a pizza using whatever technique you usually use. I like to stretch it with my hands in combination with using a pizza roller. I managed to stretch dough to roughly 22 cm / 9″.
Top your pizza with your favourite toppings. I spread wild garlic pesto at the bottom, piled grilled zucchini on top, decorated with cherry tomato halves, chopped capers and dollops of vegan ricotta.
Using a pizza peel or the paper sling, carefully transfer each pizza to the oven.
Bake each pizza for about 12-14 minutes, until the base is cooked and the crust and the toppings are gently charred.
NOTES
*SEMOLINA FLOUR: it's used to prevent raw pizza dough from sticking to the counter / pizza peel. Skip if you don't have it.
*PIZZA STONE: pizza stone is a great thing to own if you like making pizzas, flatbreads, galettes etc. as it makes sure the bottom cooks properly. If you don't own one, use an old-fashioned metal tray placed upside down. It won't need as much pre-heating so pop it into the oven 20 minutes before you are ready to bake.
My method has been adapted slightly from this Jim Lahe's recipe.
NUTRITIONAL INFO
*per one pizza (without toppings)