Learn how to make Vegan Salmon fillets using tofu and a "fresh from the sea" flavored marinade! Drizzle the homemade lemon dill sauce overtop for a realistic and delicious seafood-inspired meal.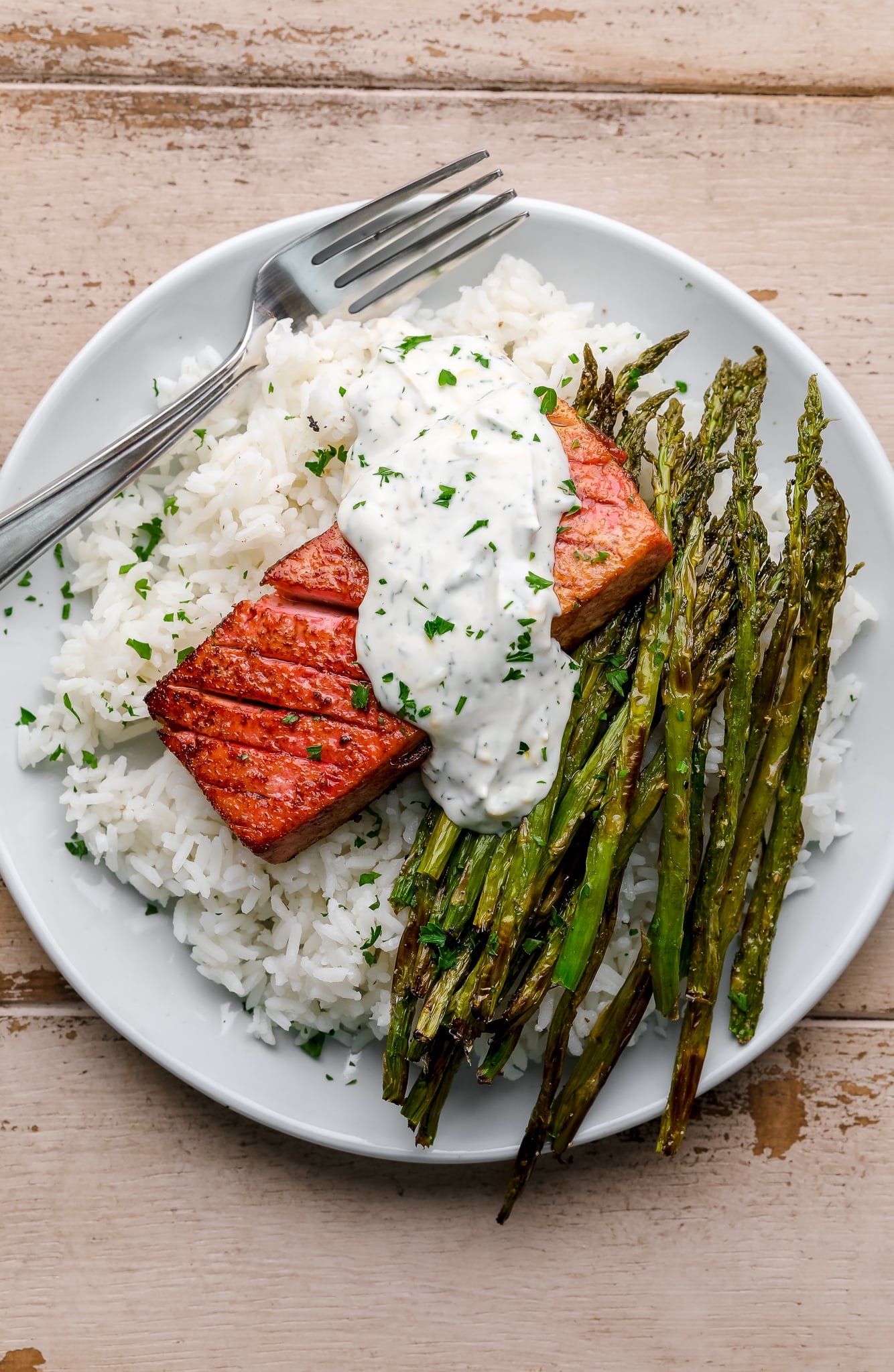 Homemade vegan salmon with tofu
If there's one thing that always amazes me, it's vegan seafood recipes. These are the dishes that are notoriously challenging to recreate with plants because of their unique textures and flavors. But thanks to a few tricks up my sleeves, I've been able to get it done and create a handful of realistic vegan seafood, like Vegan Scallops, Beer Battered Fish, and now, Vegan Salmon!
Tofu slabs are soaked in a simple beet and umami marinade to not only give them the signature orange-red salmon color but a "fresh from the sea" flavor as well! 
And you know how real salmon flakes once it's cooked to perfection? Tofu salmon does the same thing after it's pan-fried or grilled. The texture is unreal!
You're going to want to give this tofu salmon recipe a try with simple vegetables or grains and a hefty serving of homemade lemon dill sauce on top. You won't be able to get enough of the light and fresh flavors.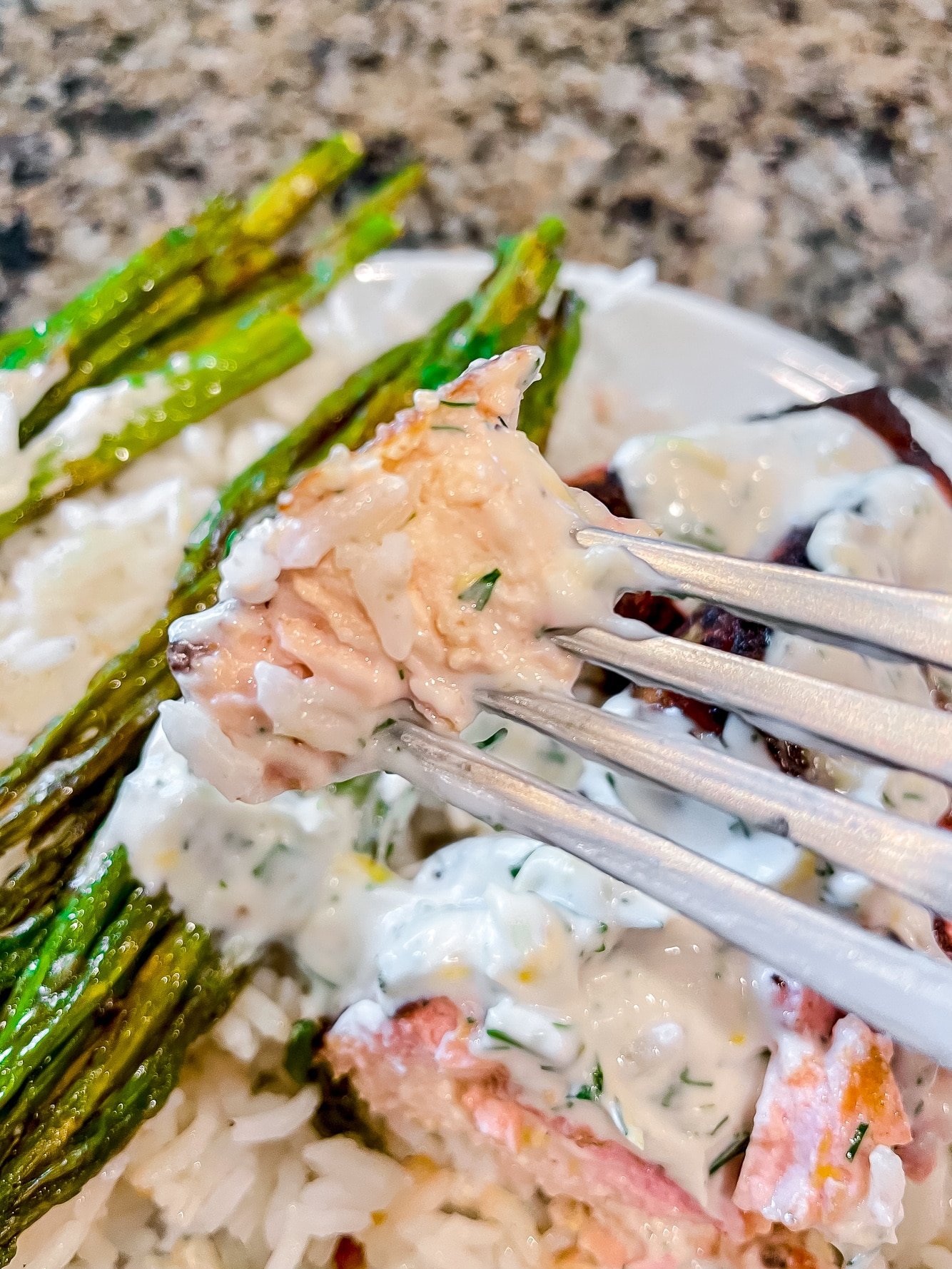 Ingredients needed (with substitutions)
Extra-firm tofu – This is the best option because the tofu has to be marinated and cooked over high heat. A softer variety of tofu with more moisture is more likely to fall apart.
Beet – Red beets are known for their vibrant color (just look at the color in this gorgeous beet risotto) and talent for staining clothing and your fingers. This is the reason why it's a key player in the marinade. The color seeps into the tofu over several hours, helping it look like a real piece of salmon.
Nori – Nori sheets are traditionally used to make sushi, but because of their strong umami and salty flavor, they provide vegan salmon with that fishy, ocean-like flavor.
Vegetable broth – I like using Better than Bouillon Paste mixed with water.
Seasoned rice vinegar – While this is the best option, you can substitute it for apple cider vinegar or lemon juice in a pinch.
Liquid smoke
White miso paste – Just like nori, miso provides the marinade with an umami-forward flavor profile. Don't replace it with red miso paste or else the flavor will be too strong. 
Garlic cloves
Salt
Turmeric – Just a little to help balance the color in the marinade.
Cornstarch – To help the fillets crisp as they cook. Arrowroot starch might work instead.
Vegetable oil
Lemon dill sauce – This is an easy and light sauce that complements the "salmon" beautifully. It's easy to make with vegan mayo, fresh dill, lemon, and simple spices. Feel free to keep a batch in your fridge at all times! It's a wonderful dipping sauce or dressing for salad, vegan fried fish, vegan fish sticks, roasted potatoes, and more.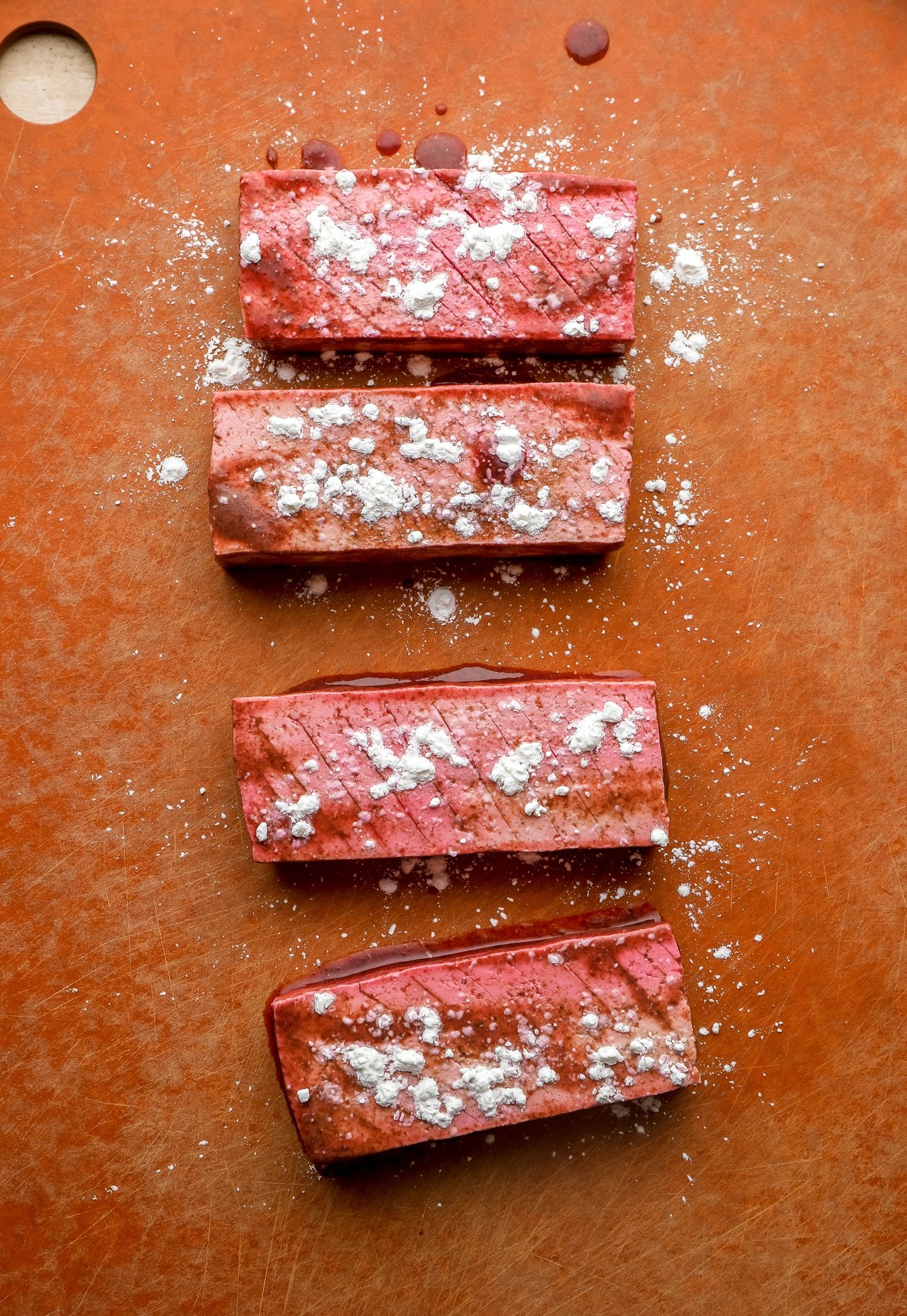 How to make vegan salmon
Find the complete printable recipe with measurements below in the recipe card.
As with most tofu recipes, you need to begin by pressing the tofu for about 30 minutes. Wrap the tofu in paper towels and place a heavy plate or pan on top and a few heavy books on top of that to drain the excess moisture.
While you wait, make the marinade by blending the peeled beet, nori sheet, broth, vinegar, liquid smoke, miso paste, garlic, salt, and turmeric until smooth.
Pat the pressed tofu dry and cut each block into 4 parts lengthwise.
Slice the top of each part on a diagonal ¾ of the way through. Keep the slices close together to create a flaky texture.
To marinate the tofu, place the pieces in a large shallow container. Pour the marinade over the tofu, helping it seep into the cuts and slices you made earlier. Cover with a lid and let the pieces marinate for at least 6 hours.
To make the lemon dill sauce, whisk all of the sauce ingredients together in a bowl. You can do this right before pan-frying the "salmon" or the day before.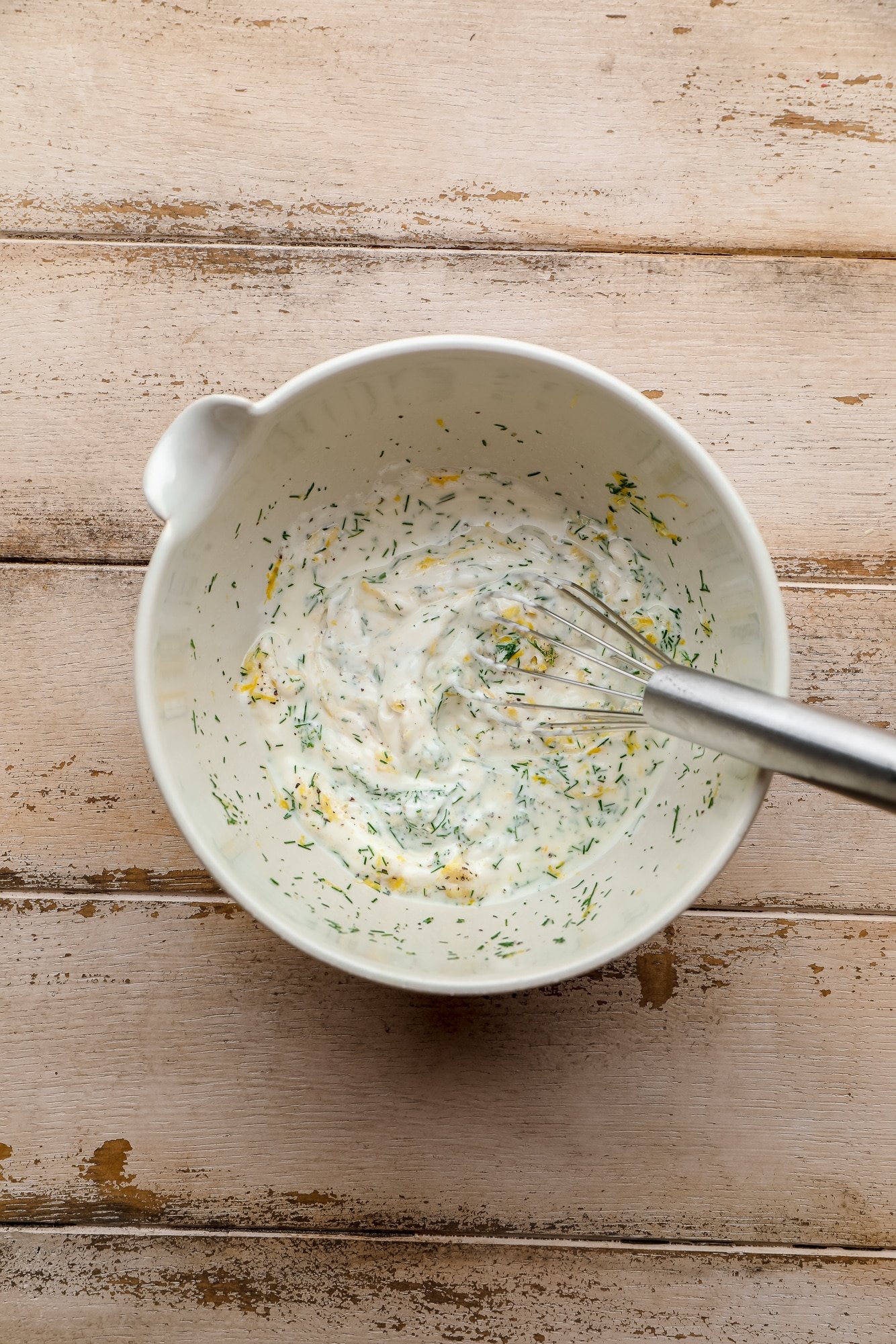 After the tofu is done marinating, lay the pieces out on a cutting board. Sprinkle some cornstarch on all sides to help the outside crisp.
Heat some oil in a non-stick skillet or preheat a grill. Pan fry or grill the vegan salmon until each side is golden and starting to char. Once it's done, serve the fillets over a bed of basmati rice, quinoa, or asparagus. Drizzle the lemon dill sauce on top and enjoy!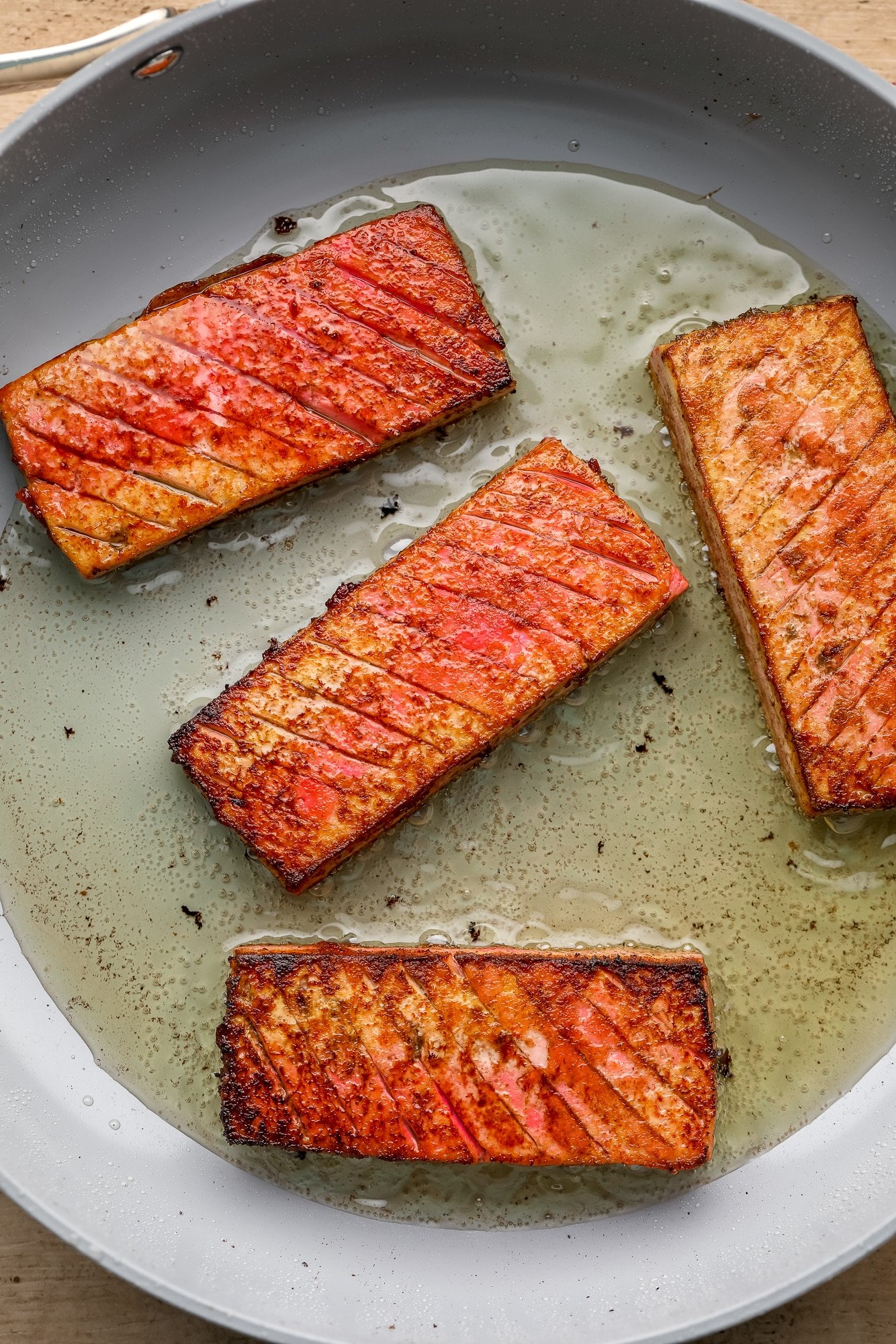 Serving suggestions
Just like real salmon, a piece of tofu salmon makes for a healthy and protein-packed lunch or dinner. Serve a piece over a bed of rice, quinoa, cauliflower rice, or steamed vegetables, like asparagus. Feel free to take it up a notch with extra healthy sides, such as potato wedges, roasted squash and zucchini, and chickpea salad.
A drizzle of lemon dill sauce on top is best. If you want to switch things up, use my tartar sauce instead or a homemade vegan hollandaise.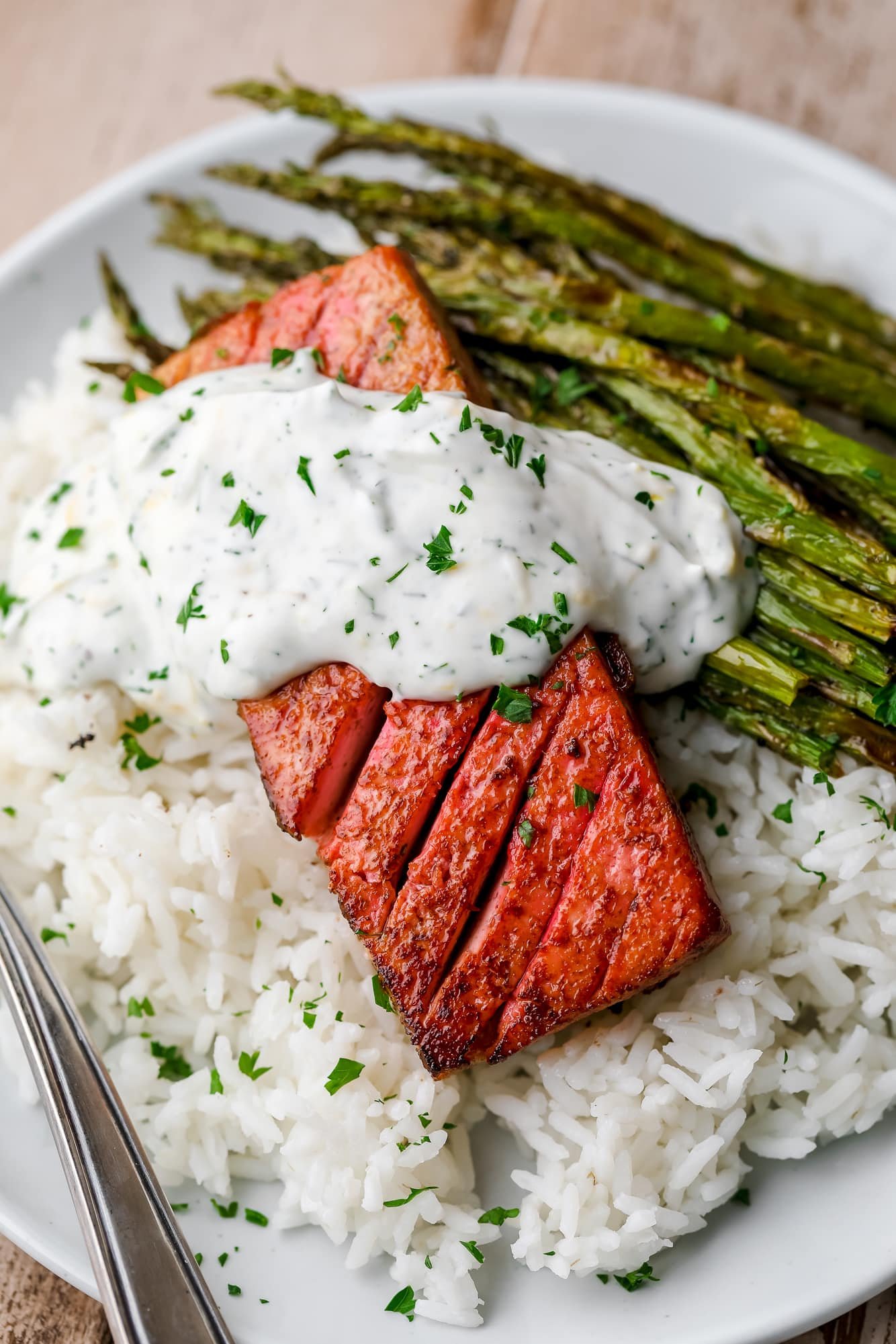 Frequently asked questions
Can you bake vegan salmon fillets? I haven't tried it, so I'm not sure if baking the vegan salmon will work or not. I like pan frying best because it crisps the outside, just like real pan-fried salmon.
How do you store tofu salmon? Any leftovers can be kept in an airtight container in the fridge for 3 to 4 days.
Does it freeze well? It does, but the texture of the tofu changes after it thaws.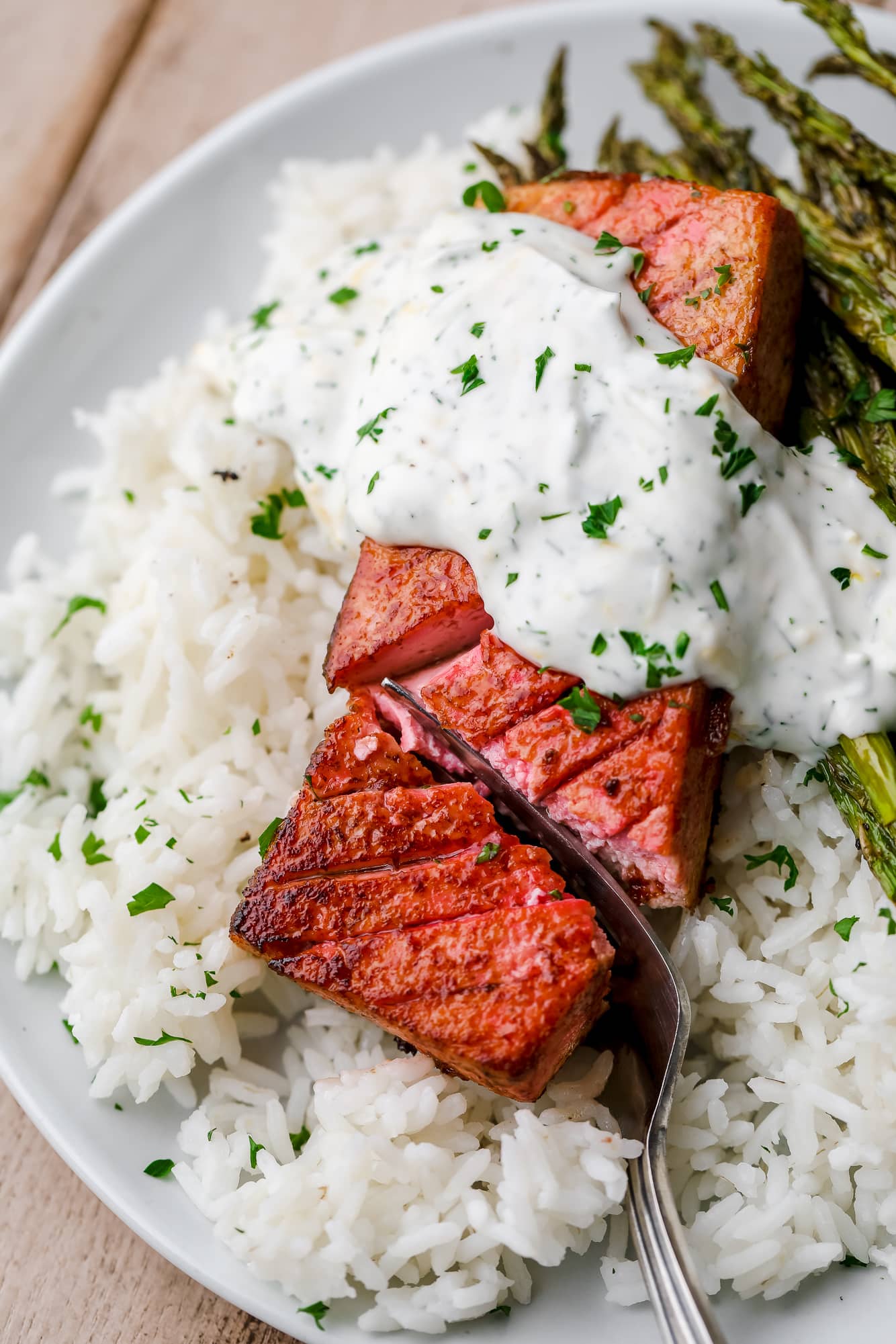 Want more vegan seafood recipes?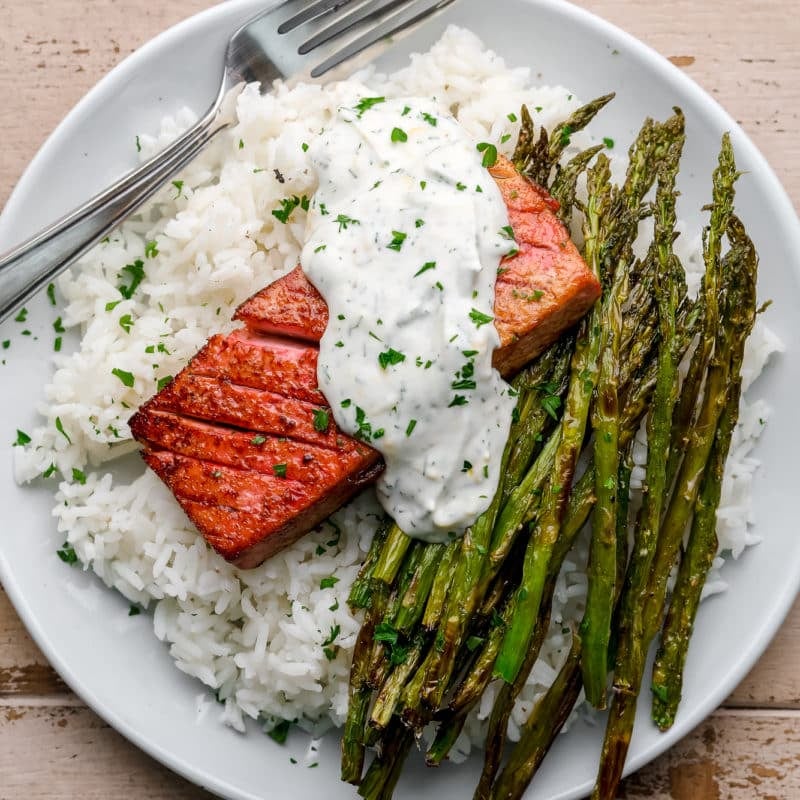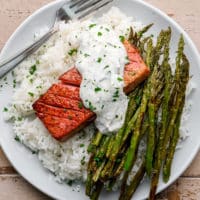 Prevent your screen from going dark
Press the tofu: Press the tofu by wrapping in paper towels (or a clean dry tea towel). Place a plate or pan on top of the wrapped tofu, and put a couple of heavy books or cast iron pan on top of that. Let the tofu press for about 30 minutes.

While the tofu presses, make the marinade: To a high powered blender, add the peeled beet, nori sheet, broth, rice vinegar, liquid smoke, white miso paste, garlic, salt and turmeric. Blend until smooth and set aside.

Cut the tofu: Once the tofu is pressed, pat dry and cut each block into 4 parts, lengthwise (see photos for visual). At an angle, slice the tofu 3/4 of the way through, diagonally, being careful not to cut all the way through. Continue, cutting close together to make a flaky texture. This will also allow the marinade to seep through everywhere.

Marinate: Gently place the tofu into a large container for marinating, being careful not to break them as they will be fragile. Pour the marinade from the blender over the tofu, gently helping it in those cuts you made if possible. Cover and place in the refrigerator for at least 6 hours or overnight.

Prepare the lemon dill sauce: In a bowl, whisk together all sauce ingredients. Set aside.

Pan fry: Once it's marinated, take the tofu pieces out and lay on a cutting board. Sprinkle with a little cornstarch on all sides, to make it a bit crispy. Heat a few tablespoons of oil at a time on a non-stick or cast iron pan. You could also cook the tofu on a grill. Cook for a few minutes on each side, until golden all over and a little blackened, if desired. Continue until all the pieces are cooked.

Serve! Serve immediately over rice or quinoa with cooked asparagus or other vegetable and spoon some of the lemon dill sauce over the top. Enjoy!
Vegan Salmon will keep for 3-4 days in the refrigerator. It can be frozen but it will change the texture of the tofu.

This recipe was inspired by several recipes I've seen floating around the internet: Woon Heng, It Doesn't Taste Like Chicken, and Carlo Cao. 
We are a participant in the Amazon Services LLC Associates Program, an affiliate advertising program designed to provide a means for sites to earn advertising fees by advertising and linking to amazon.com. Read my full disclosure here