Treat yourself to a worthy indulgence with Vegan Salted Caramel! You only need 4 simple ingredients to make this silky smooth salty and sweet concoction. Drizzle this delight onto ice cream, brownies, coffee, or any other treat of your choice!
If you love caramel in desserts as much as I do, make sure to go make my Vegan Millionaire Shortbread Bars!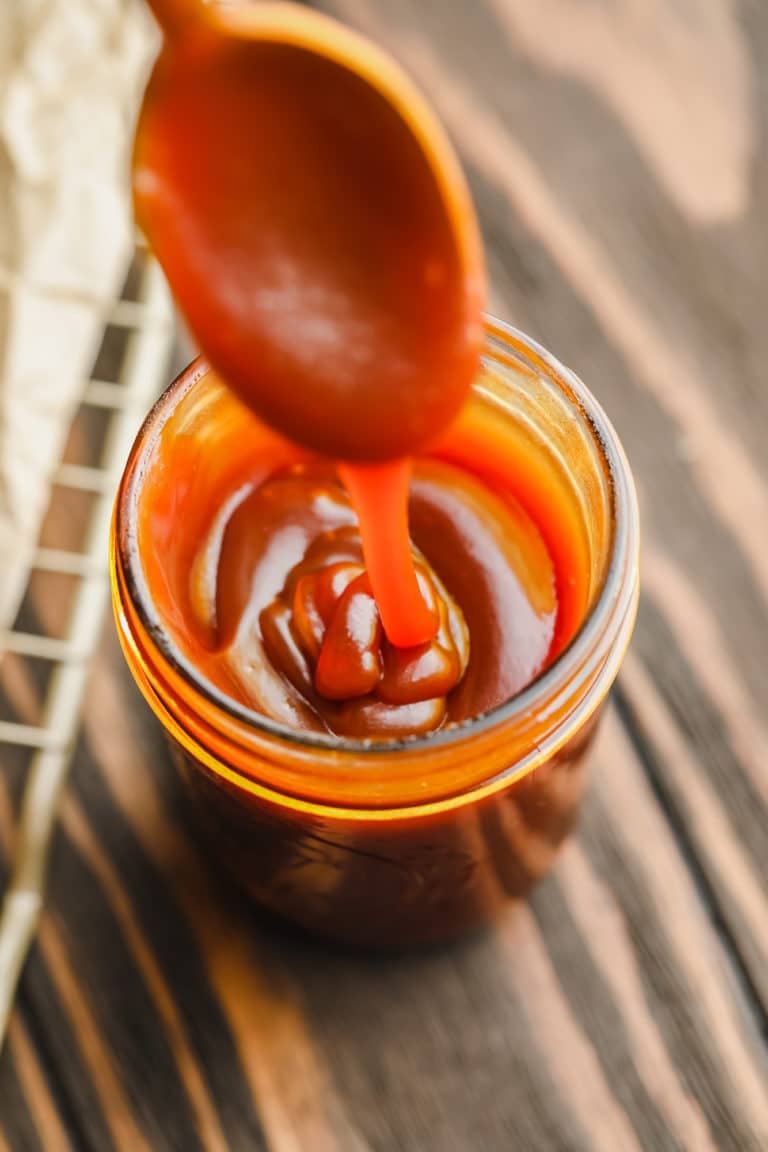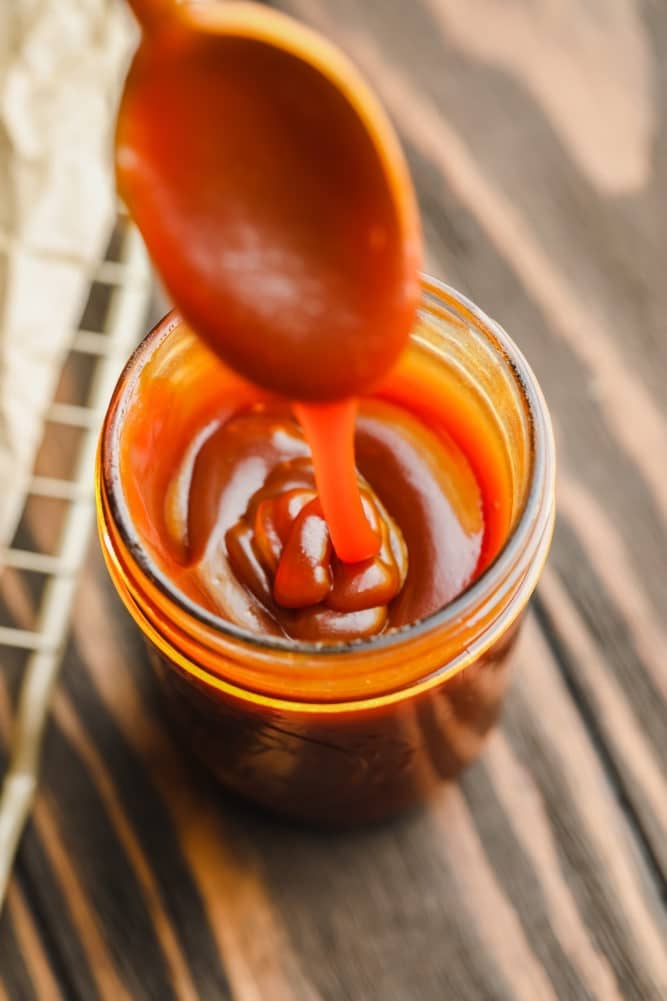 Is there anything on earth more heavenly than sticky sweet caramel? I don't think so! I love stocking up on my favorite vegan recipes that feature caramel, especially during the cozy fall months. Some of the best include Vegan Salted Caramel Skillet Cookie, Vegan Caramel Monkey Bread, and my classic 3 Ingredient Vegan Caramel Sauce.
What's to love about this vegan salted caramel?
It's a budget friendly recipe. You only need 4 ingredients to make this delicious sauce! If you eat vegan regularly, you likely already have everything you need in your kitchen at this very moment. 
The balance of salty and sweet is drool-worthy. I love a good salty sweet combo, especially when it's done just right. There's enough salt in this sauce to excite your taste buds, but not too much to overpower the sweet vegan caramel. 
You can drizzle it on anything! The list of desserts that this sauce does not compliment is way shorter than the list of desserts it does go well with… Which is virtually everything.
Ingredients you need
Sugar – When making caramel sauce, it's best to use granulated sugar. Organic granulated sugar is vegan, while some white sugars are not.
Vegan Butter – The salty flavor in this sauce is also enhanced by the salted butter! If you have to use unsalted butter, you may need to add an extra sprinkle of salt. I have used Earth Balance, Melt and my favorite is Miyoko's.
Soy Creamer – In a pinch, you can substitute this with coconut cream, or any other vegan creamer of your choice. Just make sure it's not heavily flavored.
Salt – Be careful not to be too heavy handed when sprinkling this in!
Frequently asked questions
How long will Vegan Salted Caramel stay fresh? In an airtight container in the fridge, this sweet sauce will stay fresh for about a week.
How do I reheat it? The microwave actually works best! Reheat the chilled caramel in 20-30 seconds intervals in the microwave, stirring every time it stops. 
Where should I serve salted caramel? Drizzle this mouthwatering sweet/salty sauce on desserts like Vegan Ice Cream, Vegan Brownies, Vegan Hot Chocolate, Apple Crisp, Apple Cake or whatever else your heart desires. Get creative!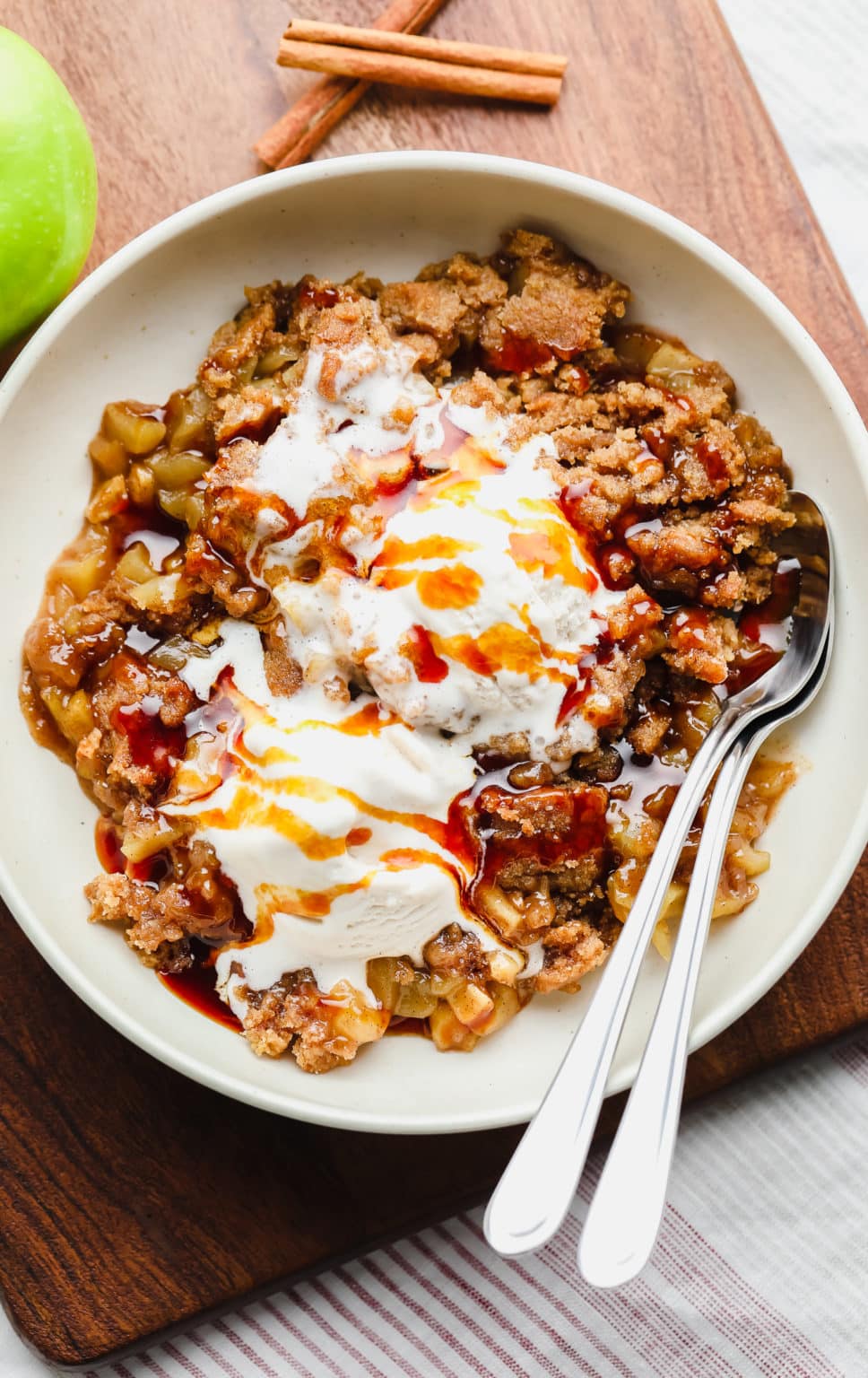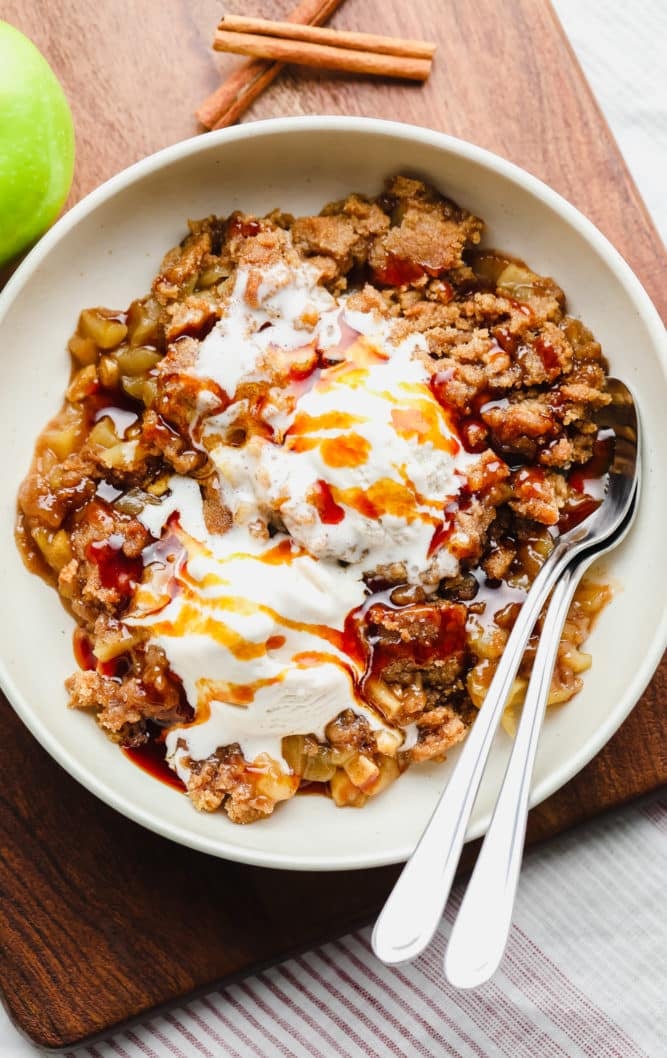 Want more ideas on how to use this salted caramel?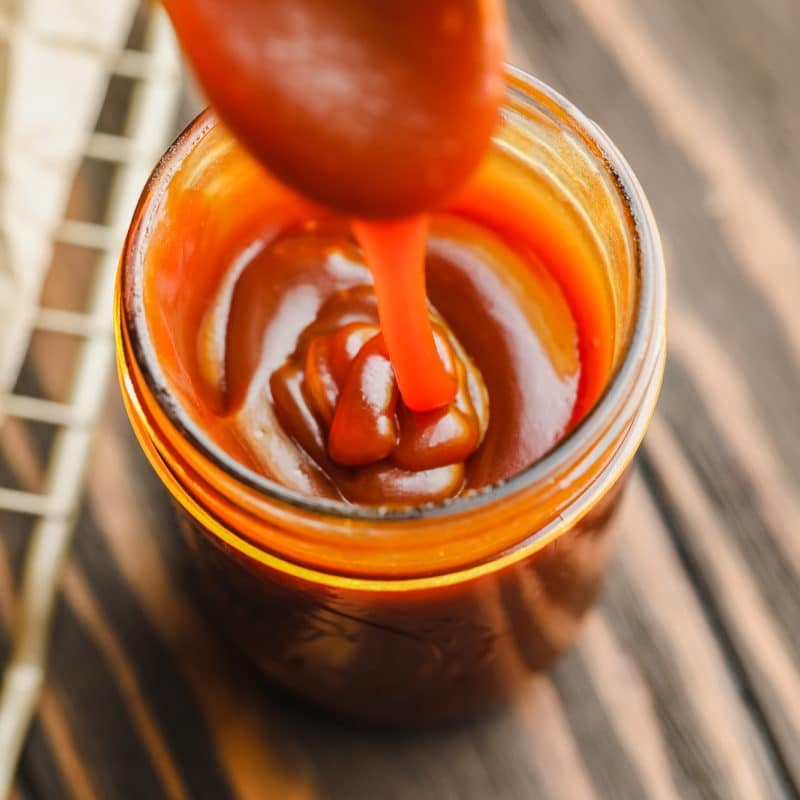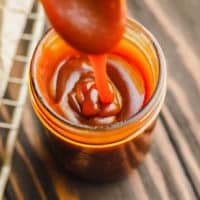 Prevent your screen from going dark
In a medium saucepan, add the sugar and cook over medium heat, stirring constantly with a heat resistant spatula or wooden spoon. The sugar will get clumpy, then eventually start to melt until it's a dark brown liquid.

Once the sugar is all the way melted, carefully stir in 1 tablespoon of butter at a time until combined. Be very careful as the butter will bubble up as soon as you add it. If the butter looks a bit separated from the sugar (like a layer of oil on top), remove it from the heat and carefully whisk until it comes together. Watch out for oil splatter though!

Once the butter and sugar are combined, very slowly pour in the soy creamer, stirring as you pour. Once combined, let the mixture boil for 1 minute without stirring. It will bubble up in the pan, but don't let it bubble over.

Remove from the heat and stir in the salt. Let it cool down until it thickens up. It will be quite thin when hot, but thicken as it cools.
Instead of soy creamer, you can use coconut cream or possibly another dairy free creamer as well. Just make sure it's plain and not vanilla flavored or any other flavor. Use an unsweetened version.
I prefer using Miyoko's vegan butter but other brands work just fine.
Organic granulated sugar is vegan. Not all white sugars are vegan, but some are depending on where you live. You must use a granulated sugar though; no other sweetener will work as well.
Serving: 1of 12 servings, Calories: 119kcal, Carbohydrates: 18g, Protein: 0.1g, Fat: 6g, Saturated Fat: 1g, Polyunsaturated Fat: 1g, Monounsaturated Fat: 3g, Sodium: 246mg, Potassium: 21mg, Sugar: 18g, Vitamin A: 269IU, Calcium: 1mg, Iron: 0.01mg
We are a participant in the Amazon Services LLC Associates Program, an affiliate advertising program designed to provide a means for sites to earn advertising fees by advertising and linking to amazon.com. Read my full disclosure here