A good brunch plate is made up of some key components. You need a classic tofu scramble or something eggy, like a chickpea flour omelet. Barring any allergies, some form of potato is mandatory, such as hash browns, home fries, or tater tots. And then, the last main for your brunch is usually vegan bacon—perhaps with a side of broccoli, if you're craving something green. Truly, we're the type to opt for both. There are a lot of options out there these days—so, how do you pick the best vegan bacon? 
We'll dive into the answer to that question in this guide, but first, how do you cook with vegan bacon?
How to use vegan bacon
Vegan bacon doesn't just have to make an appearance at brunch. It can be wrapped around dairy-free chevre-stuffed dates, asparagus, or jalapeño poppers as an appetizer. You can add it to a veggie BLT sandwich, sprinkle it over a cobb salad, or bake it into an eggless quiche. If there's an omnivore recipe out there that uses bacon in any way, shape, or form, there's a vegan bacon that'll be well-suited for the job.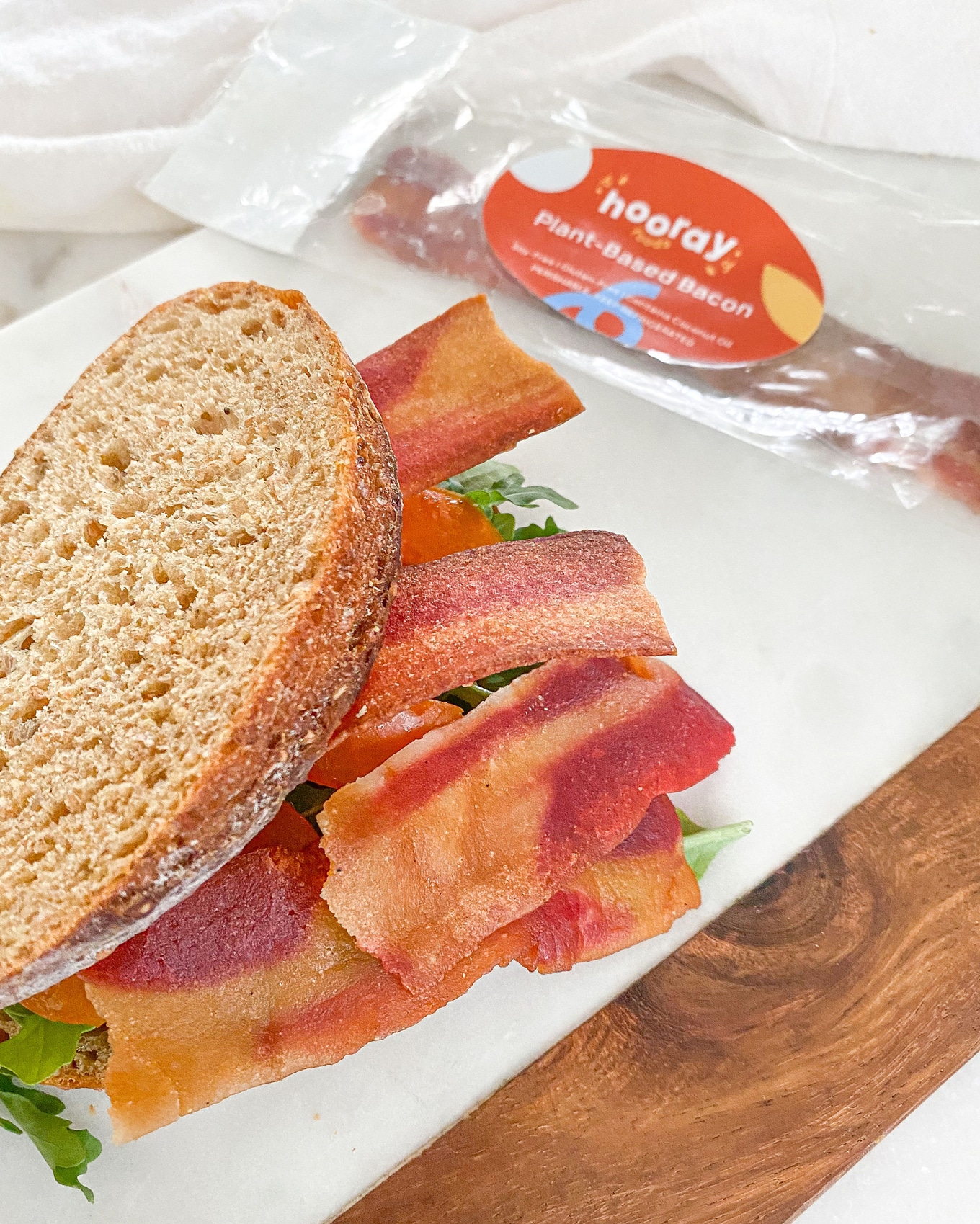 Hooray Foods
Which vegan bacon you choose depends on the job. If you're wrapping it around food, then you want something that's pliable enough to not break when bent. Plant-based bacon made from seitan or wheat gluten is best for this because it has a slight stretch to it, all thanks to gluten. If you're making a sandwich or a wrap, then you have a little more freedom—any kind of vegan bacon will do, such as tempeh bacon or homemade tofu bacon. Or, take TikTok star Tabitha Brown's famous carrot bacon for a spin.
On a salad, you'll want mushroom bacon, plant-based bacon bits, or you can cut strips that you've crisped in the skillet into bite-size pieces. (FYI, many "bacon bits" are actually vegan, so it's worth it to check the label if you find a bottle in the grocery store. McCormick Bac'n Pieces are 100 percent vegan.)
Is vegan bacon healthier?
From an ethical standpoint, plant-based bacon isn't made from pigs and it has a much lower carbon footprint compared to the factory-farmed version. But, is veggie bacon better for your health? 
Traditional bacon is made from pork and is cut from the belly of a pig and to a lesser extent, it's made from turkey meat. To make bacon, the meat is cured using salt and nitrates, a type of compound used in meats as a preservative. In most cases, it's smoked afterward.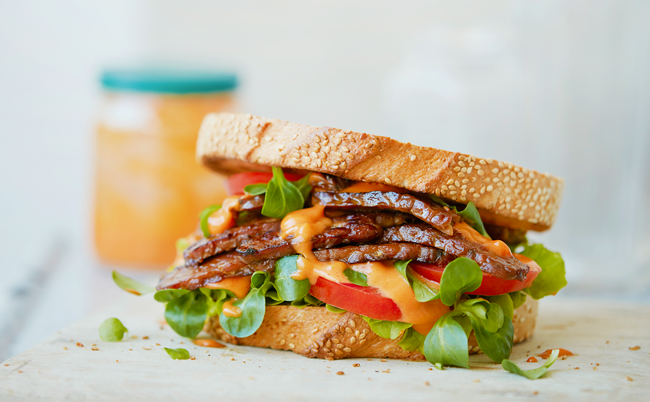 Clare Winfield
Studies have associated processed meats such as bacon with a number of health conditions, including breast, lung, liver, and colon cancers. A number of studies have suggested that red and processed meat consumption are linked to a higher risk of heart disease and diabetes. Bacon is also high in salt, and too much salt can lead to high blood pressure. 
Plant-based meats tend to be lower in saturated fat and calories compared to their traditional counterparts. They tend to be high in sodium, but are generally healthier than animal-derived meat when eaten in moderation, as part of a balanced diet. In other words, don't base all of your meals around vegan bacon, but do enjoy it on a breakfast sandwich.
The best vegan bacon brands
Bacon's chewy texture and savory, salty flavors make it delicious. Luckily, there are a growing number of options on the market. Some of them have caught some celebrity attention—Natalie Portman backed France-based brand La Vie in January 2022. Eventually, the brand plans to expand to the US. But for now, here are some of our favorite vegan bacon brands.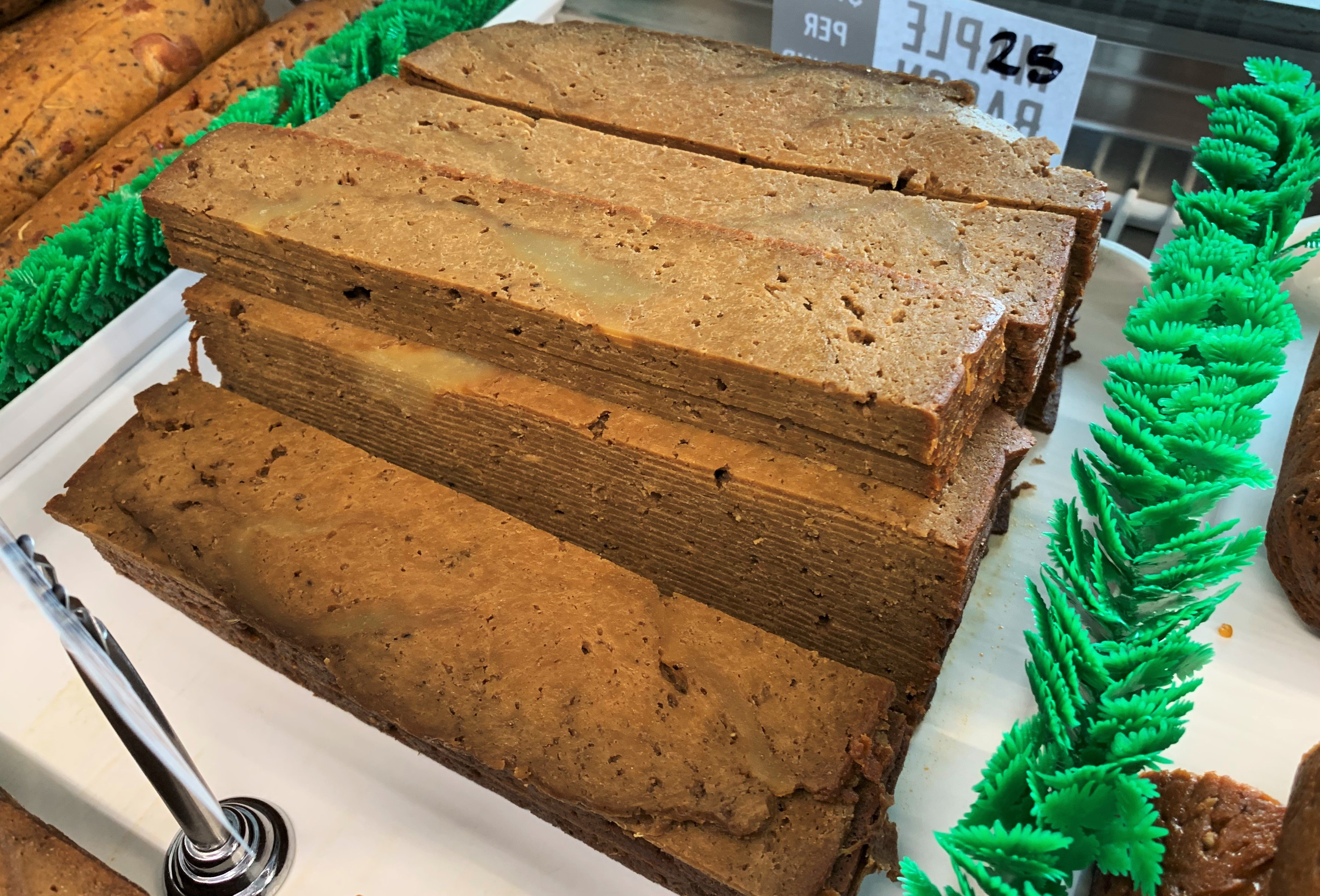 The Herbivorous Butcher
1 The Herbivorous Butcher Maple Glazed Bacon and Hickory Smoked Bacon
Similar to all-things Herbivorous Butcher, these faux bacons are meaty (in all the right ways). Chewy and with the ability to crisp to perfection, these bacons are great stacked in sandwiches or alongside vegan flapjacks, waffles, and French toast. Even better? Eat them over the frying pan while they're still hot. Don't worry—we won't judge. If you live in Minnesota, you can pick up these plant-based treats locally. Otherwise, they ship!
Learn more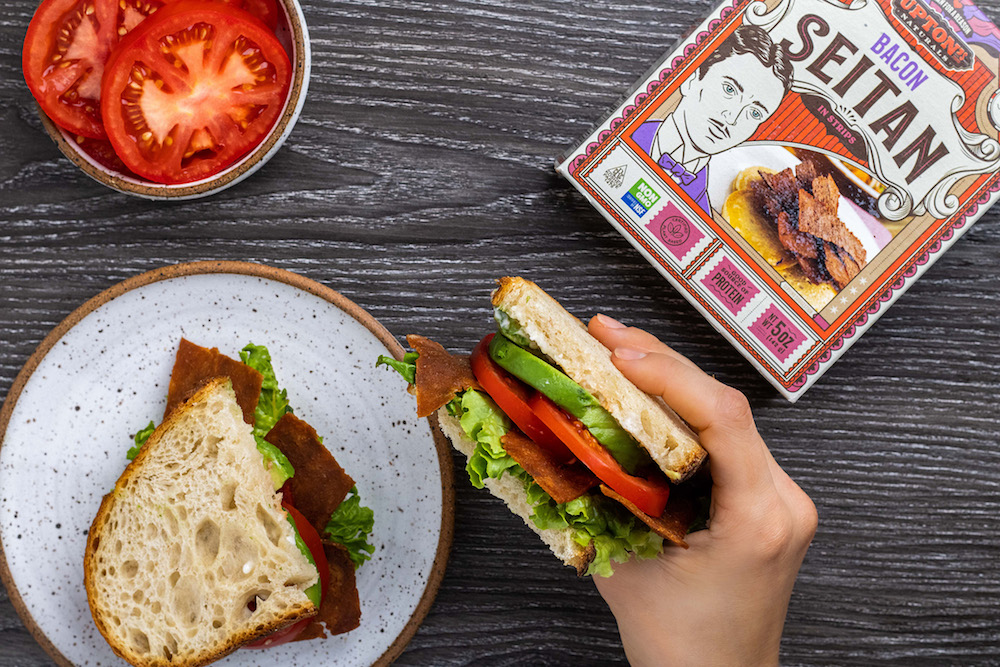 Upton's Naturals
2 Upton's Naturals Bacon Seitan
This meaty, chewy, versatile seitan bacon makes a most excellent BLT loaded with heirloom tomatoes, vegan mayonnaise, arugula, and sprouted grain toast. Cook it long if you like your bacon super crisp or just slightly warm them in a pan if you're a chewy bacon fan. Available in many natural food stores and Whole Foods Markets, this bacon is ideal for a quick, on-the-go breakfast or a bountiful Sunday brunch.
Learn more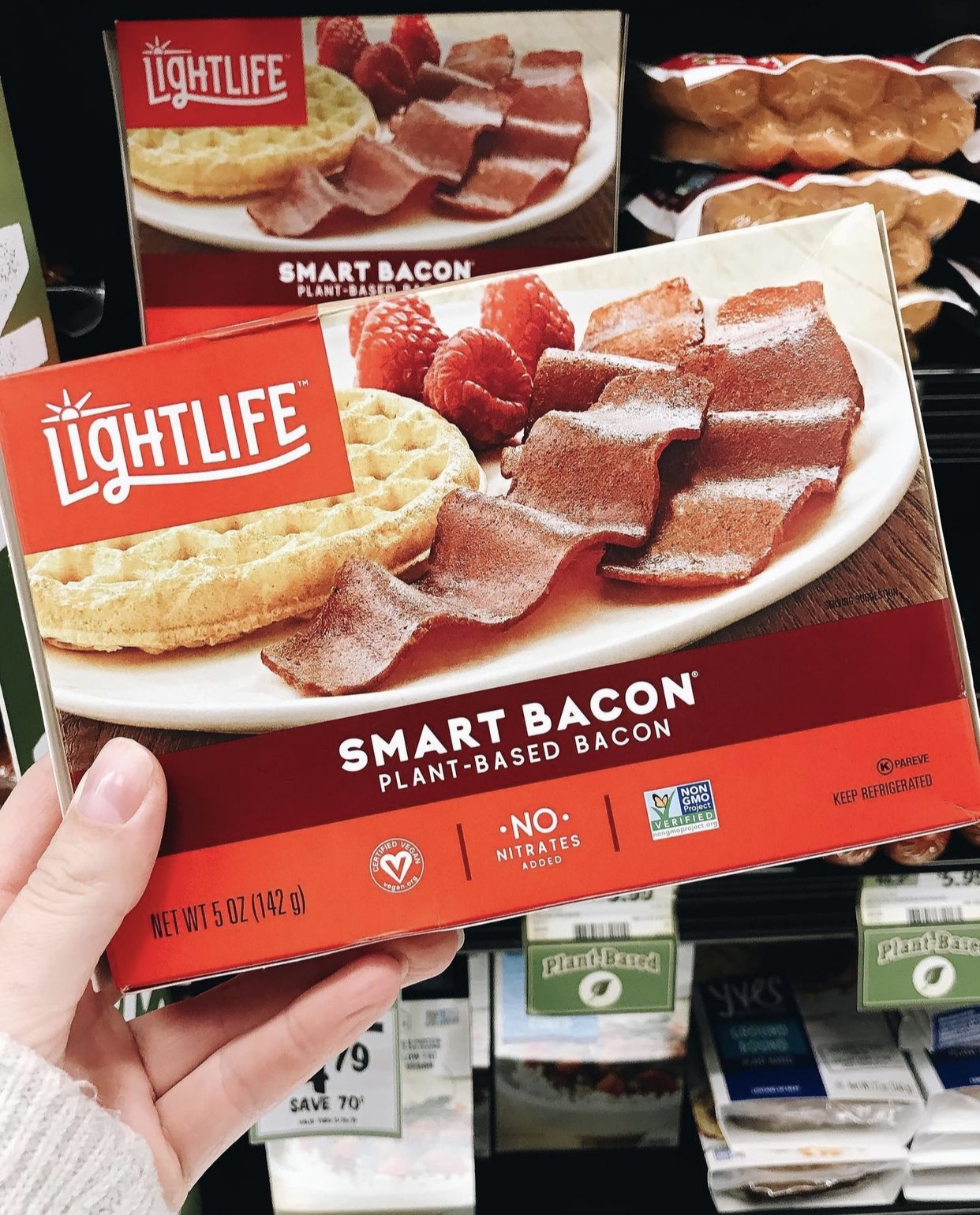 Lightlife Foods
3 Lightlife Smart Bacon
Amazing on sandwiches and bagels with avocado, Lightlife's Smart Bacon is made from wheat gluten and soy protein, which help give it a chewy texture when fried up in the skillet. It's also one of the easiest-to-find vegan bacons in supermarkets.
Learn more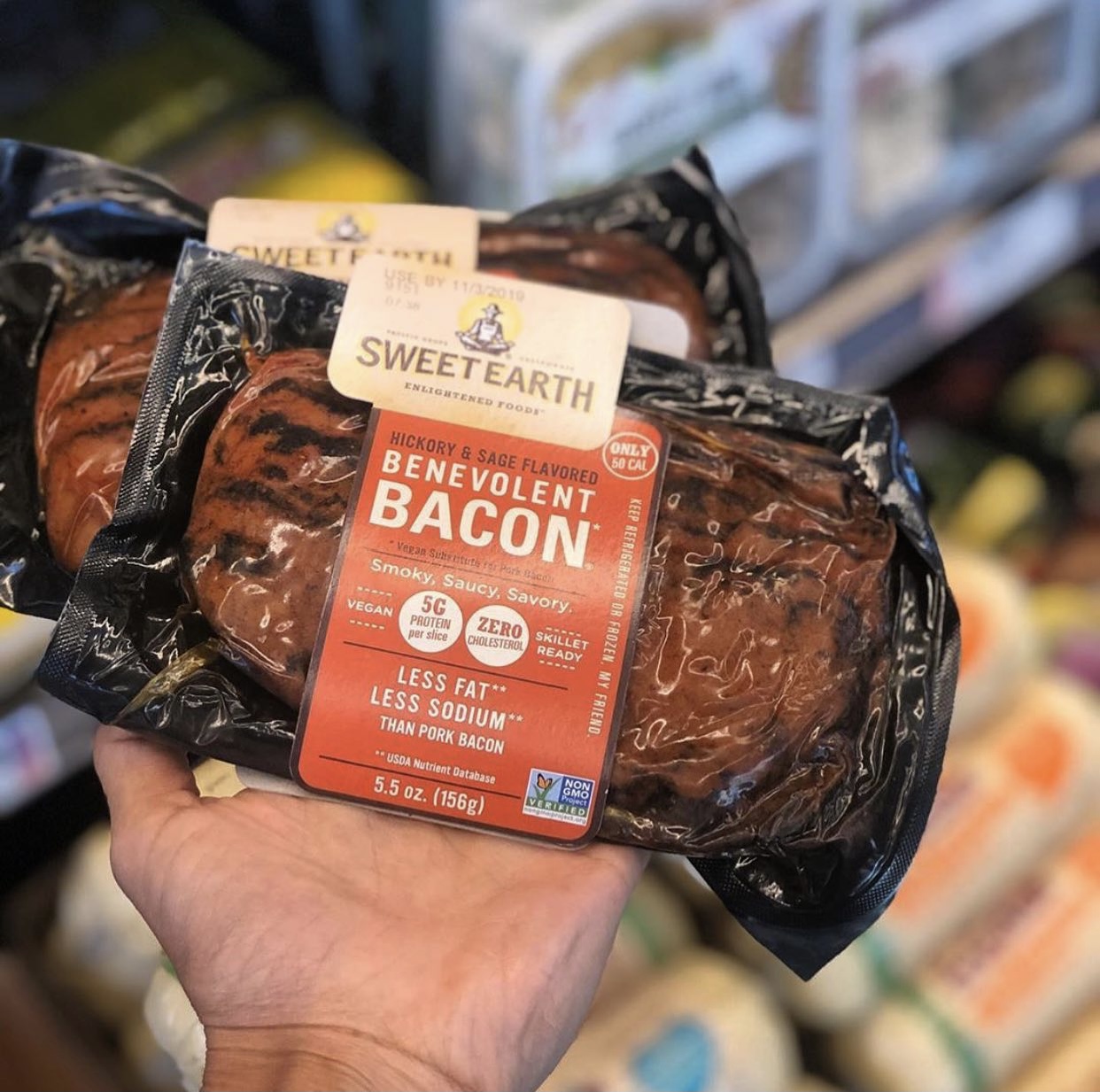 @emilythefitfoodie/Instagram
4 Sweet Earth Benevolent Bacon
A winner of the 2023 Veggie Awards, Sweet Earth's wheat gluten-based bacon has notes of hickory smoke, sage, and garlic. Try it in a sandwich or a wrap with a creamy dressing, like a vegan BLT or in something a little more decadent, like a vegan grilled cheese sandwich with "bacon" and thinly sliced dill pickles.
Learn more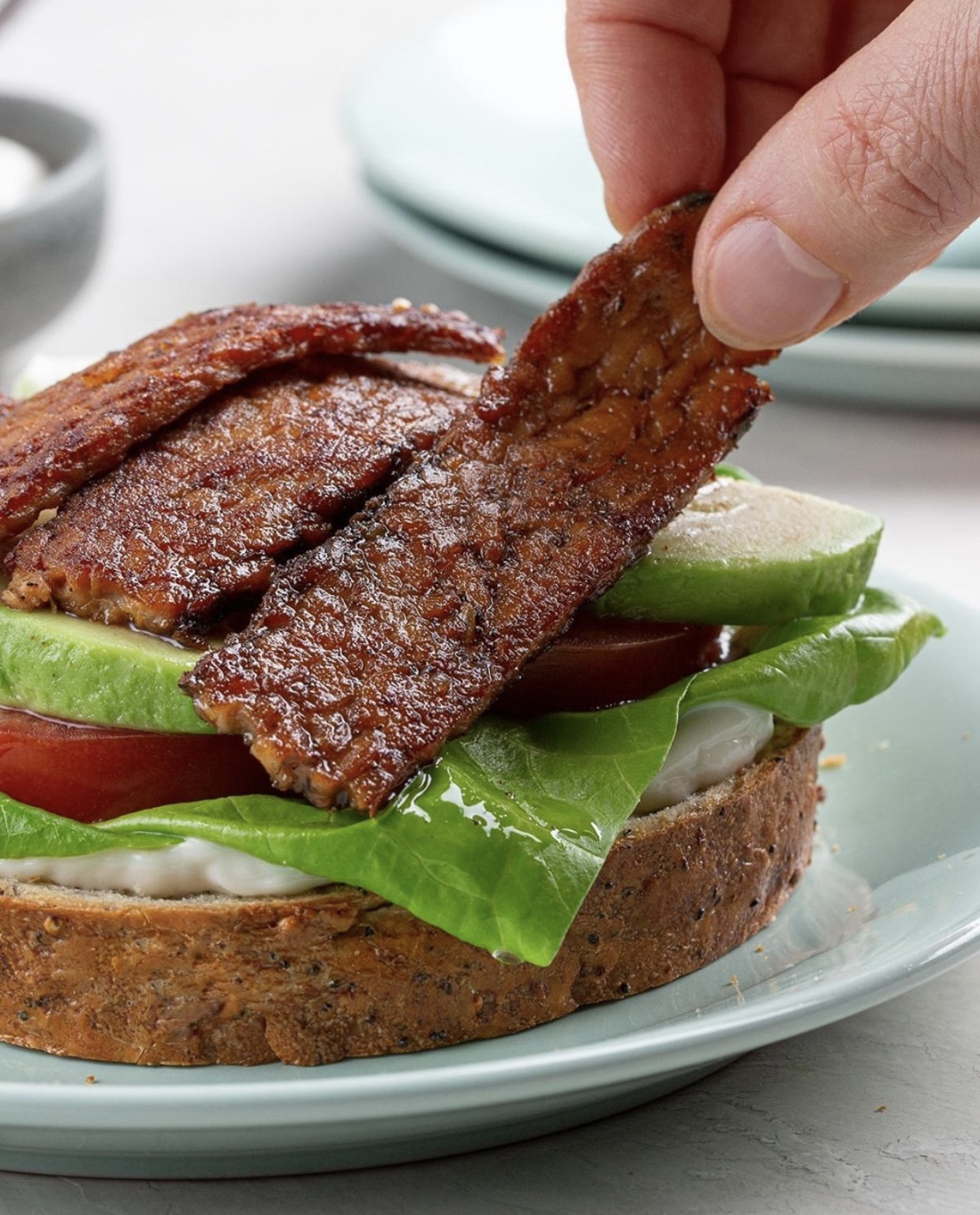 Lightlife Foods
5 Lightlife Tempeh Smoky Bacon Strips
Lightlife's tempeh bacon is excellent on your barbecue grill! Just be sure not to drop it through the slats. Serve alongside grilled vegetables and corn for an excellent al fresco meal.
Learn more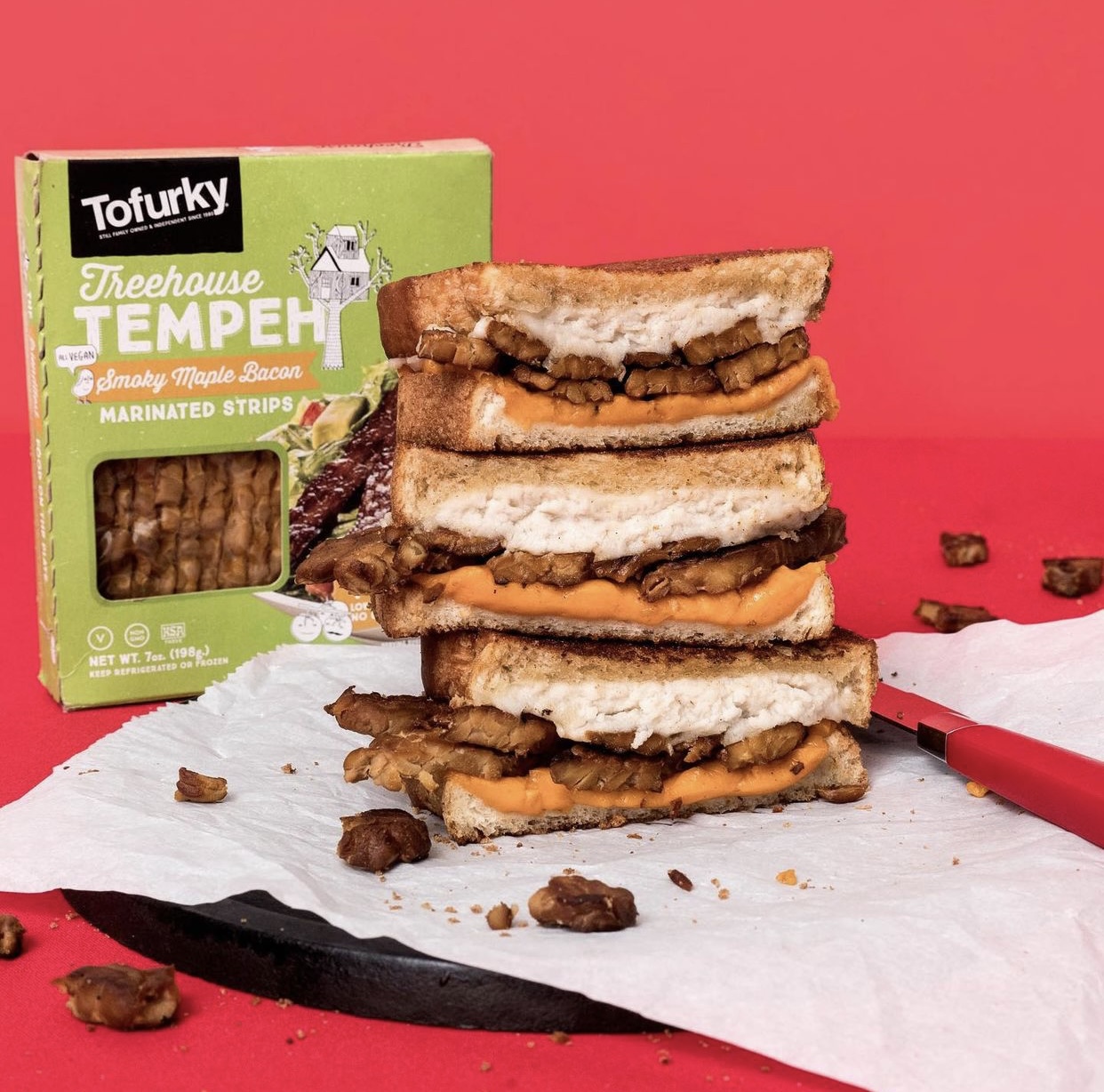 Tofurky
6 Tofurky Smoky Maple Bacon Marinated Tempeh
Tempeh bacon is no facsimile of pork-based bacon—but don't let that deter you from trying it. This fermented soy-based protein, which food historians estimate originates from Indonesia anywhere from several centuries to thousands of years ago, marinates beautifully. Thanks to that, Tofurky's tempeh bacon has all of the flavors of bacon: savory, smoky, and a little bit sweet and salty.
Learn more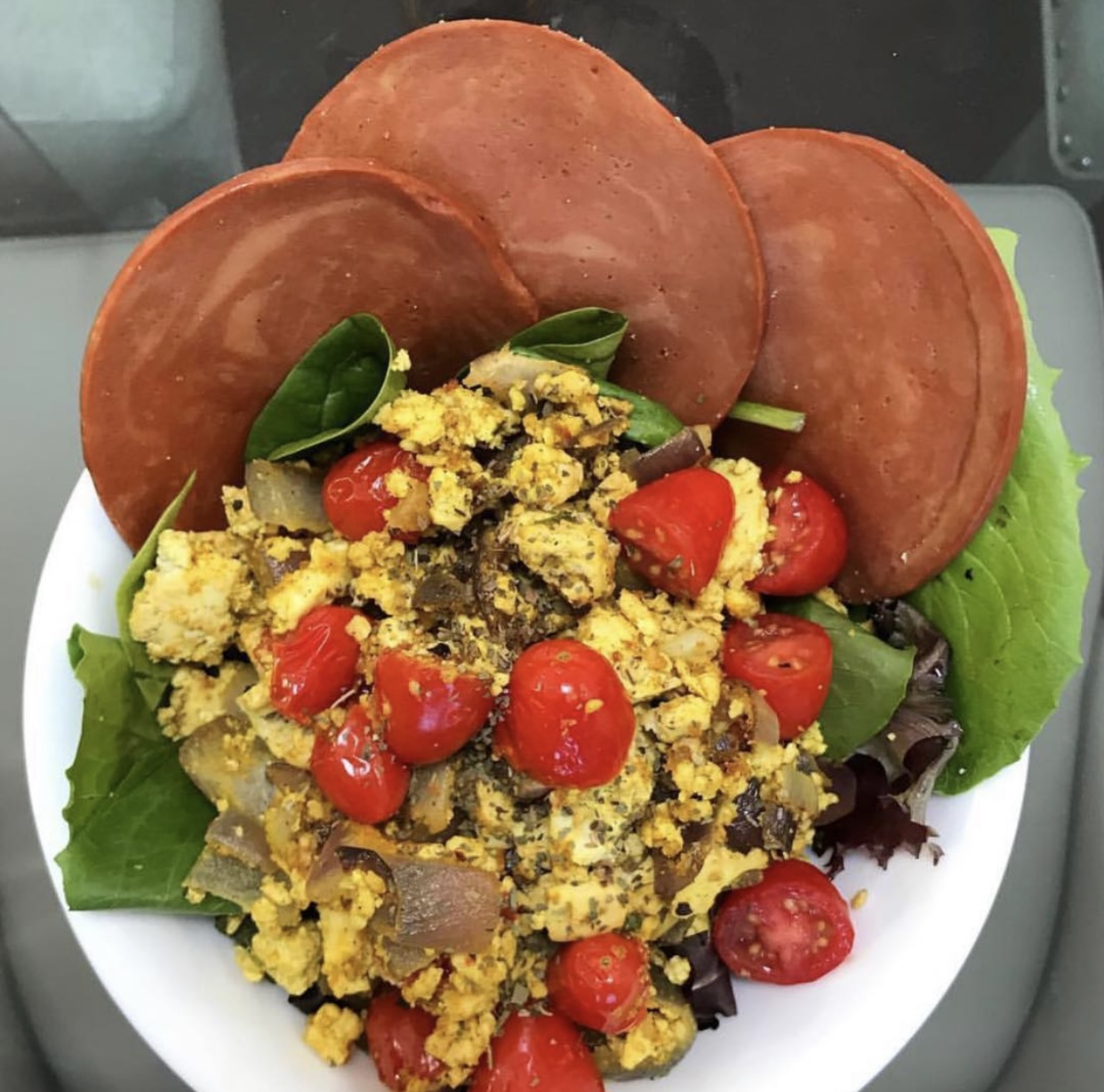 @beautifitdesi/Instagram
7 Yves Veggie Bacon
Lower in fat and cholesterol than "real" bacon, Yves' Veggie Bacon is great on sandwiches, breakfast plates, and right out of the package.
Learn more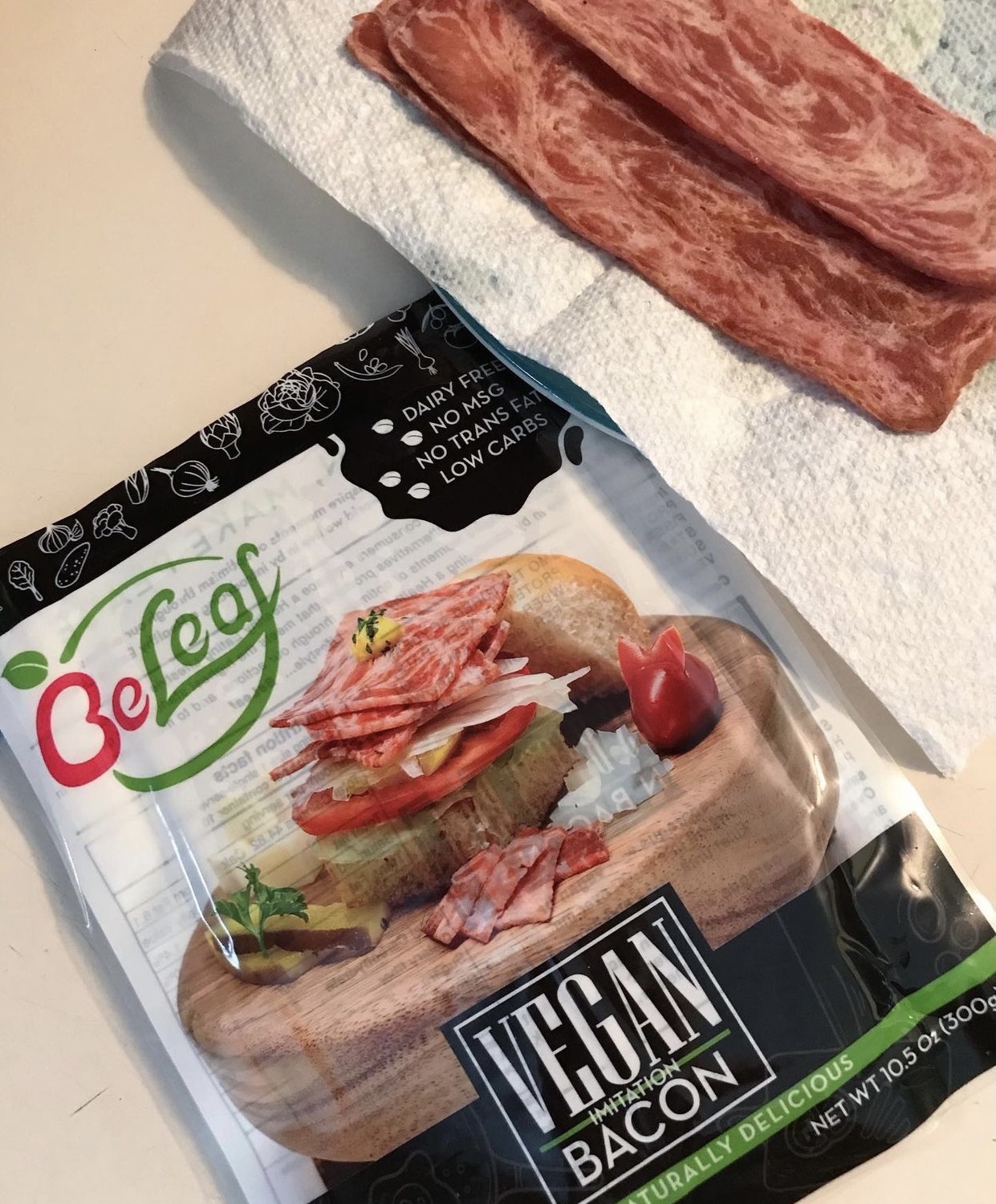 @kristenjc89/Instagram
8 BeLeaf Vegan Bacon
BeLeaf's vegan bacon looks marbled, similar to a cut of extra-fatty bacon. It fries up nice and crunchy or with just a little bit of chew, all depending on your preference or what you're making. Its realistic appearance makes for great presentation on a vegan breakfast platter, like a full English breakfast. 
Learn more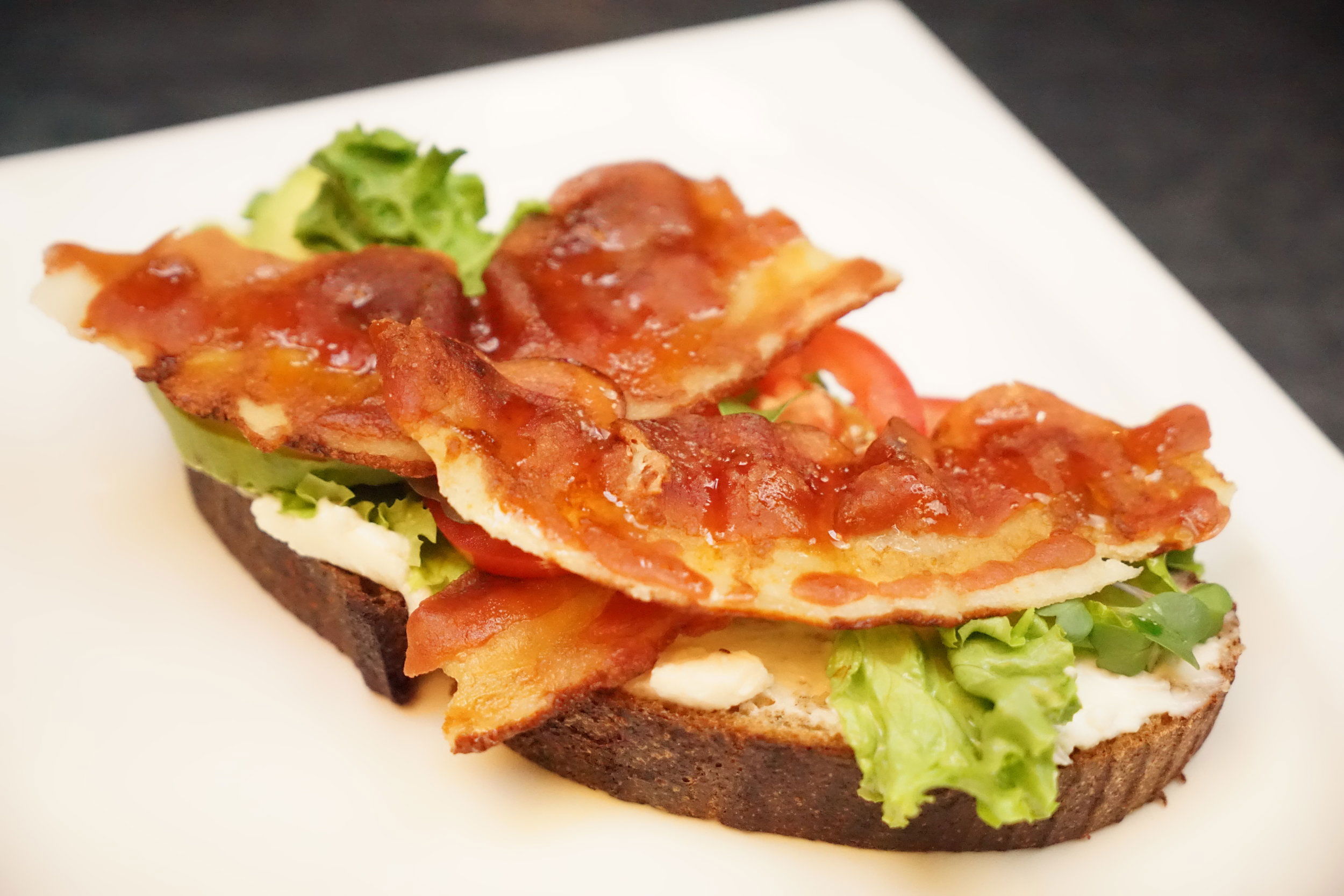 Hooray Foods
9 Hooray Foods
California's Hooray Foods makes vegan bacon that looks like, well, bacon. It has the appearance of having fatty streaks but instead of pork, it's made from rice flour, tapioca starch, and uses mushrooms to give it a meaty flavor. The strips crisp up when fried, but are pliable enough to wrap around veggie hors d'oeuvres.
LEARN MORE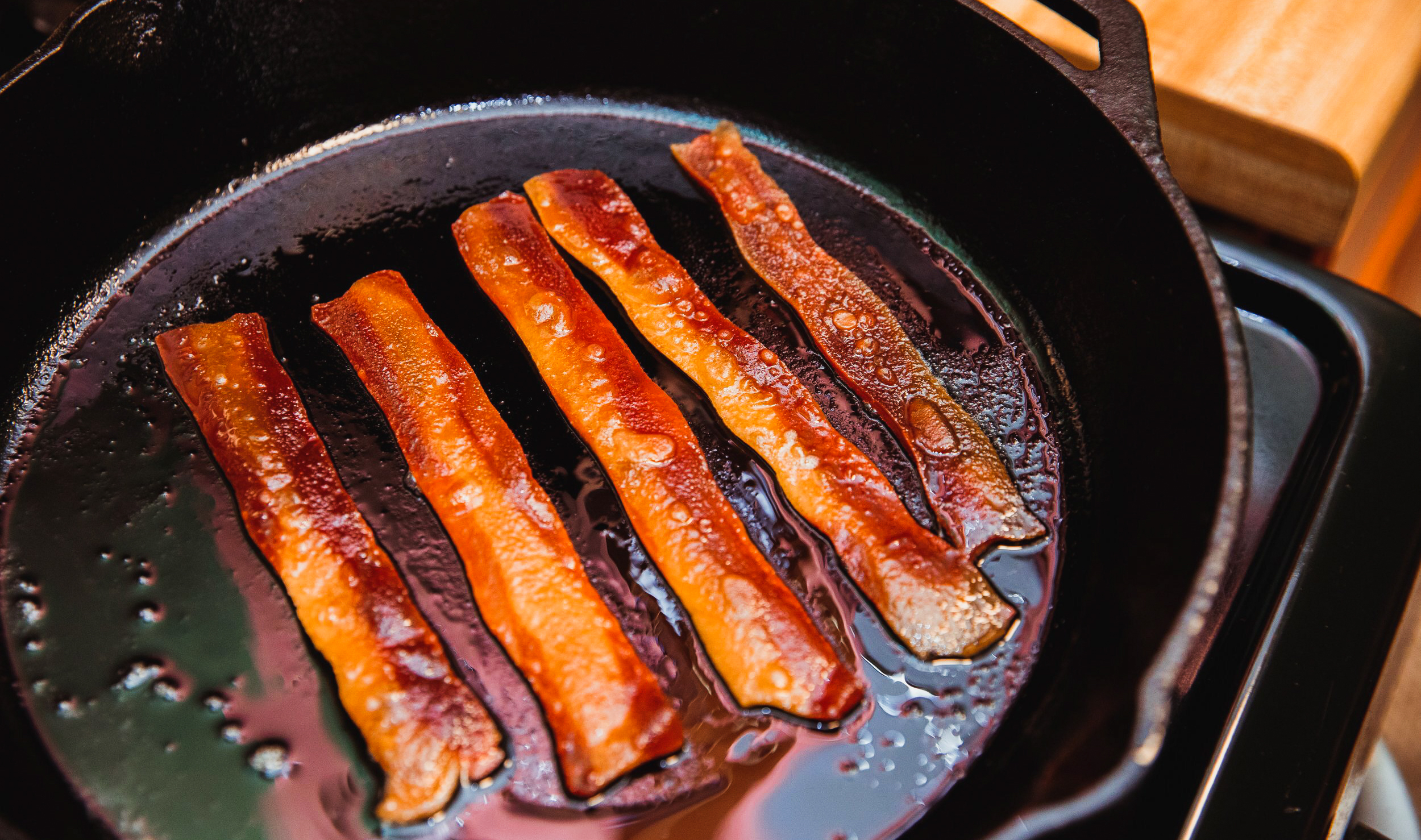 Umaro Foods
10Umaro Foods
The plant-based food industry is also figuring out new ways to use different foods as a protein source. Backed by serial investor Mark Cuban on Season 13 of ABC's Shark Tank, Umaro Foods is making bacon with red algae. It's currently only available at select restaurants across the country.
Learn more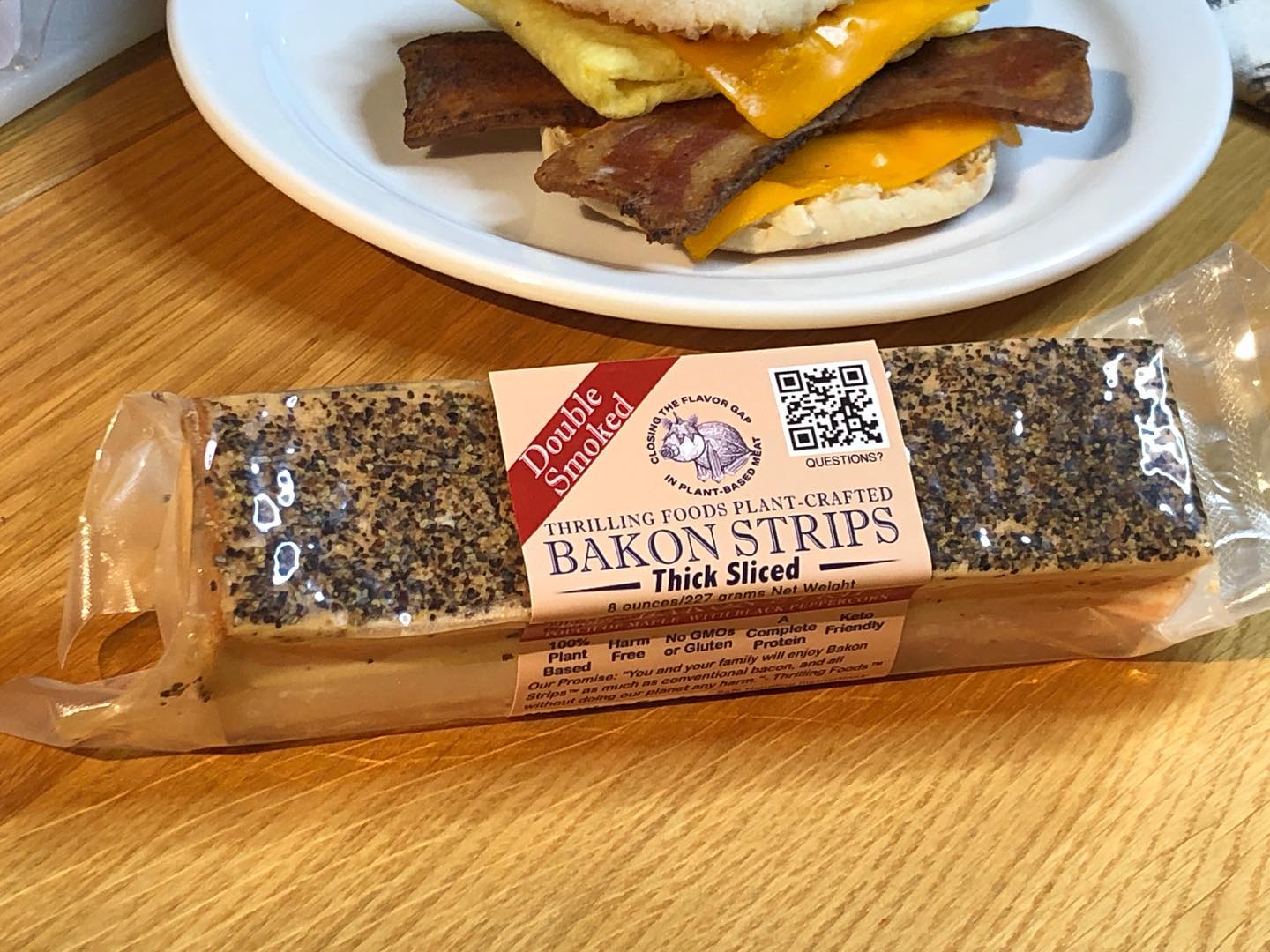 Thrilling Foods
11Thrilling Foods Bakon
These tofu-based strips of bacon are made from tofu. But, don't think of them as thinly-sliced slabs of extra-firm tofu with savory sauce that we have for lunch whenever we don't feel like cooking. Thrilling foods salt cures and smokes its vegan bacon the traditional way, giving it an authentic flavor.
Learn more
MyForest Foods
12 MyBacon
MyBacon owes its extra meaty bite to mycelium, the fast-growing root systems of mushrooms. Made with minimal ingredients—salt, coconut oil, beet juice, and sugar—this vegan bacon crisps up just like its animal-based counterpart. Watch it brown, sizzle, and stuff it into morning BLTs. 
Learn more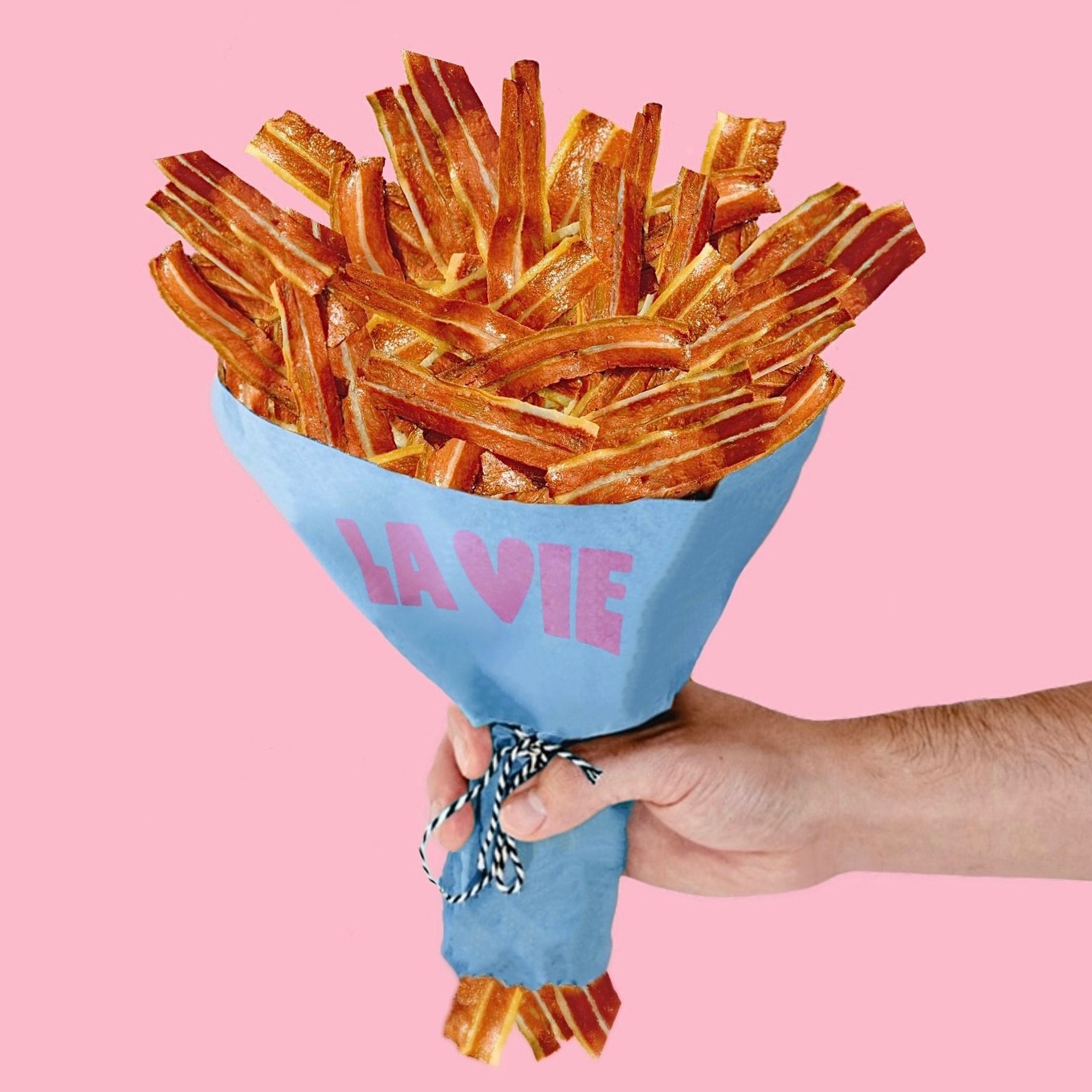 La Vie
13La Vie
Made by French startup La Vie, this pig-free bacon is backed by vegan actress Natalie Portman and has even been featured on specialty menu items at Burger King France locations. While unavailable stateside, UK vegans can find La Vie at Whole Foods, Sainsbury's, Waitrose, and Planet Organic. 
Learn more
For more vegan breakfast staples, read: